Main content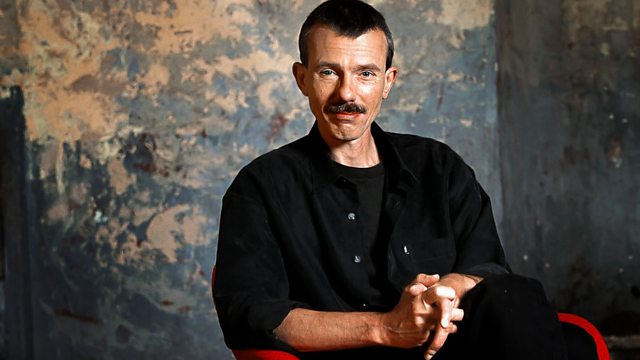 For Orthodox Easter: Rachmaninov's Vespers from the BBC Singers
Jonathan Swain presents a performance of Rachmaninov's Vespers given in Liverpool Cathedral by the BBC Singers under conductor Stephen Cleobury.
Jonathan Swain presents a performance of Rachmaninov's Vespers from the BBC Singers and conductor Stephen Cleobury in Liverpool Cathedral.
1:01 AM
Rachmaninov, Sergey (1873-1943)
Vespers (All-night vigil) for chorus (Op.37)
BBC Singers, Stephen Cleobury (director)
1:57 AM
Franck, César [1822-1890]
Sonata for violin and piano (M.8) in A major
Jennifer Pike (violin), Tom Blach (piano)
2:27 AM
Elgar, Edward [1857-1934]
Variations on an original theme ('Enigma') Op.36 for orchestra
BBC Symphony Orchestra, Sakari Oramo (conductor)
3:01 AM
Bach, Johann Sebastian (1685-1750)
Suite in A minor (BWV.818a)
Wolfgang Glüxam (harpsichord)
3:15 AM
Bach, Johann Sebastian (1685-1750)
Sinfonias (15 three-part Inventions) (BWV.787-801)
Glenn Gould (piano)
3:42 AM
Heinichen, Johann David (1683-1729)
"Se mai, Tirsi, mio bene" - from the cantata 'Clori e Tirsi'
Nancy Argenta (soprano), Nigel Short (countertenor), Cappella Coloniensis, Hans-Martin Linde (conductor)
4:01 AM
Matušic, Frano (b.1961)
Two Croatian Folksongs
Dubrovnik Guitar Trio
4:07 AM
Trad. Danish, arr. by the Danish String Quartet
Nordic Folk Music
Danish String Quartet: Rune Tonsgaard Sørensen (violin), Frederik Øland (violin), Asbjørn Nørgaard (viola), Fredrik Schøyen Sjölln (cello)
4:14 AM
Grieg, Edvard (1843-1907)
Symphonic dance no.2 (Allegro grazioso) (Op.64 No.2)
Norwegian Radio Orchestra, Ingar Bergby (conductor)
4:21 AM
Falla, Manuel de [1876-1946]
7 Canciones populares espanolas arr. for trumpet and piano
Alison Balsom (trumpet), Alisdair Beatson (piano)
4:33 AM
Chopin, Fryderyk (1810-1849)
3 Nocturnes for piano, Op.15: No.1 in F major; No.2 in F sharp major; No.3 in G minor
Julien Brocal (piano)
4:46 AM
Mozart, Wolfgang Amadeus (1756-1791)
Aria: "O wie ängstlich, o wie feurig" - from 'Die Entführung aus dem Serail'
Michael Schade (tenor), Canadian Opera Company Orchestra, Richard Bradshaw (conductor)
4:51 AM
Vivaldi, Antonio (1678-1741)
Concerto in F major (RV.442) for treble recorder
Michael Schneider (recorder), Camerata Köln
5:01 AM
Schubert, Franz (1797-1828)
Overture in B flat major D.470
Saarbrucken Radio Symphony Orchestra, Marcello Viotti (Conductor)
5:07 AM
Vitols, Jazeps (1863-1948)
Romance
Valdis Zarins (violin), Ieva Zarina (piano)
5:14 AM
Dinev, Petar [1889-1980]
Milost mira No.6 (A Mercy of Peace No.6)
Holy Trinity Choir, Plovdiv, Vessela Geleva (conductor)
5:18 AM
Kuhlau, Friedrich (1786-1832)
Variations on the old Swedish air 'Och liten Karin tjente' in E minor, Op.91
Folmer Jensen (piano) (MONO studio recording from 1958-1963)
5:33 AM
Sibelius, Jean (1865-1957)
Pohjola's daughter - symphonic fantasia (Op.49)
Swedish Radio Symphony Orchestra, Paavo Berglund (conductor)
5:47 AM
Strauss, Richard (1864-1949)
Horn Concerto No.2 in E flat major
Markus Maskuniitty (horn), Finnish Radio Symphony Orchestra, Junichi Hirokami (conductor)
6:08 AM
Halévy, Jacques-François (1799-1862)
Aria: "Quand de la nuit l'epais nuage" (from "L'eclair", Act 3)
Benjamin Butterfield (tenor); Canadian Opera Company Orchestra; Richard Bradshaw (conductor)
6:14 AM
Debussy, Claude (1862-1918)
Piano Trio in G major 'Premier Trio' (c.1879)
Grumiaux Trio: Luc Devos (piano), Philippe Koch (violin), Luc Dewez (cello)
6:37 AM
Groneman, Johannes (c.1710-1778)
Flute Sonata in E minor
Jed Wentz (flute), Balazs Mate (cello), Marcelo Bussi (harpsichord)
6:49 AM
Piston, Walter (1894-1976)
Prelude and Allegro (for organ and orchestra) (1943)
David Schrader (organ), Grant Park Orchestra, Carlos Kalmar (conductor).