Main content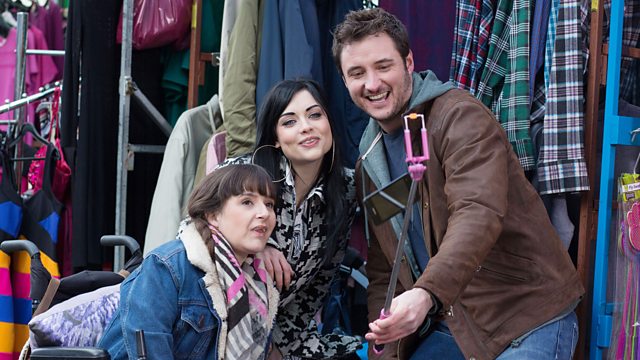 19/04/2016
Sharon reaches out to Ben and Jay, while Masood receives some surprising news.
Jay is shocked to find out that Linzi is fourteen and Bex informs him that her real name is Star. They return to the Square and Bex tells Jay that she knows about the hotel. Jay ignores Linzi's calls. At Phil's Jay cancels the hotel booking which was in Ben's name. At the Vic, Ben tells Sharon they miss her and Jay joins them at the bar. He tells Sharon that he's not seeing Linzi anymore. She notices him screening Phil's calls and he tells her Louise was in a fight at school. Jay receives a message from Linzi; she's waiting for him at the Arches. He takes her inside to talk but they are interrupted when Sharon comes looking for Jay. Linzi hides and overhears their conversation. Sharon suggests they get Linda to step in if Louise is causing grief. Jay thanks her and she leaves.
Linzi thinks that the reason Jay is angry is because of Louise. She tries to gain his sympathy by telling him she was named Star because her mum was too drunk to name her when she was born and that was the name the regulars gave her. Jay shuts the conversation down. Their relationship is over. Back in Phil's living room Louise sits with Jay. He asks her not to tell anyone about Linzi. Phil returns from his first AA meeting and tells Louise to explain herself.
In the Vic kitchen Johnny, Tamwar and Nancy talk about Rome. Linda enters and Nancy tells her that Tamwar is going with her. Tamwar leaves to tell the council that he is quitting his job. He hasn't told Masood yet. They bump into each other in the Vic and Masood informs Tamwar that Zainab is getting re-married. She has sent money for Tamwar and Kamil to fly first class to Pakistan. Tamwar doesn't want to go and suggests Masood takes Kamil. Upstairs, Nancy looks for her prescription and walks into the living room where Whitney, Lee and Linda are fussing over Ollie. Later Tamwar returns home to find Masood getting ready for a date with a woman he has met online- Jill, 34 from Southwark. Tamwar seizes the opportunity to tell him that he has quit his job and is going to Italy.
Masood decides to give Tamwar the money Zainab sent for his flight. Tamwar relays this to Nancy and they tell Mick and Linda that they are going to travel the world. Tamwar suggests leaving drinks for their last night and asks Mick to take a look at a speech he has written. Masood enters, deflated after his date. Tamwar follows him onto the Square and reminds him that he is the one who held their family together when Zainab walked away. None of them should go to the wedding and he is going to stay in Walford with his dad…
Masood receives a call from Zainab; she's getting married. Masood takes Kamil to the Café and Jane overhears them talking about the wedding. Masood is less than enthusiastic about the idea. Tina decides to introduce him to the world of online dating. Carmel enters the Café and warns Tina to make sure the women on the app are under 40. In the Minute Mart Denise thinks she has a temperature as she is boiling up. Carmel enters and suggests they go for a drink later and Denise suggests Beales' Restaurant. Masood goes to Beales' to meet his date and bumps into Carmel and Denise. When his date arrives she sees him and turns to leave; he's not what she expected. Carmel tries to persuade her to give him a chance. Masood comes over and assumes that Carmel scared her off. Denise steps in and sets him straight.
Sharon relays the darts league information to Linda. It will cost £100 to join the league and then £25 per player. They need a team name and captain. Linda is distracted and Sharon comforts her. Linda asks after Ben and Jay but Sharon says they have their own lives now. Linda places Sharon as the darts team captain. Sharon returns home with a bottle of wine and Ronnie hands her a letter. It's her divorce papers.
Whitney takes back the selfie stick that she bought from Martin; it's broken. He gets her a new one and offers to test it but that is broken too. Donna points out that Fat Elvis won't give him a refund. Stacey pops out to get some supplies and asks Martin for money. Kathy notices he has none to offer and steps in with some cash making out that she owes it to Martin.
Music Played
Timings (where shown) are from the start of the programme in hours and minutes
Grace

You Don't Own Me (feat. G‐Eazy)

Jags Klimax

&

Angrej Ali

Nazara

Bups Saggu

&

Master Saleem

Miss Kaur

David Guetta

Bang My Head (feat. Sia & Fetty Wap)

AlunaGeorge

&

Popcaan

I'm In Control

Rudimental

&

Ed Sheeran

Lay it All on Me

Ella Fitzgerald

Cheek to Cheek

Taylor Swift

Out Of The Woods

Bring Me The Horizon

Follow You
Credits
| Role | Contributor |
| --- | --- |
| Tamwar Masood | Himesh Patel |
| Masood Ahmed | Nitin Ganatra |
| Nancy Carter | Maddy Hill |
| Mick Carter | Danny Dyer |
| Linda Carter | Kellie Bright |
| Johnny Carter | Ted Reilly |
| Lee Carter | Danny-Boy Hatchard |
| Whitney Dean | Shona McGarty |
| Tina Carter | Luisa Bradshaw-White |
| Paul Coker | Jonny Labey |
| Ben Mitchell | Harry Reid |
| Louise Mitchell | Tilly Keeper |
| Phil Mitchell | Steve McFadden |
| Sharon Mitchell | Letitia Dean |
| Ronnie Mitchell | Samantha Womack |
| Honey Mitchell | Emma Barton |
| Jay Brown | Jamie Borthwick |
| Bex Fowler | Jasmine Armfield |
| Stacey Branning | Lacey Turner |
| Martin Fowler | James Bye |
| Ian Beale | Adam Woodyatt |
| Jane Beale | Laurie Brett |
| Kathy Sullivan | Gillian Taylforth |
| Donna Yates | Lisa Hammond |
| Carmel Kazemi | Bonnie Langford |
| Denise Fox | Diane Parish |
| Kamil Masood | Arian Chikhlia |
| Linzi Bragg | Amy-Leigh Hickman |
| Jill Hanson | Elly Condron |
| Lorna Cartwright | Janet Dibley |
| Thelma Bragg | Lorraine Stanley |
| Executive Producer | Dominic Treadwell-Collins |
| Director | John Howlett |
| Writer | Maya Sondhi |