Main content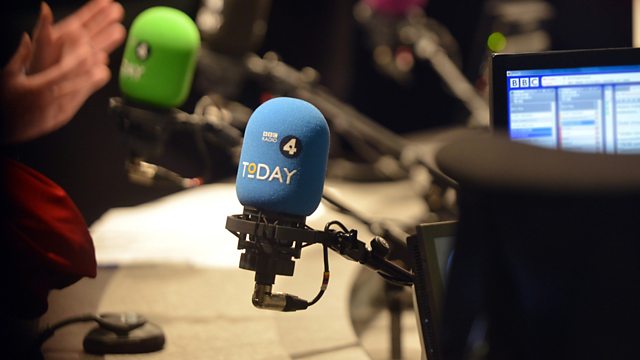 28/04/2016
Morning news and current affairs. Includes Sports Desk, Yesterday in Parliament, Weather and Thought for the Day.
Last on

Today's running order
0650
A new report from the Global Priorities Project is urging our governments to do more to prepare for global catastrophes. Seb Farquhar is director of the Global Priorities Project.
0655
Smokers should be offered and encouraged to use e-cigarettes to help them quit, according to the Royal College of Physicians. Dr Nick Hopkinson is member of the Royal College of Physicians' tobacco advisory group and co-author of the report.
0710
Retired police officers who served in the South Yorkshire force have been told to be proud of their achievements, despite the findings of the Hillsborough inquests. Peter Neyroud is former head of the National Police Improvement Agency.
0715
Labour are trying to call the government's bluff on its plan for forced 'academisation' in England. Lucy Powell is shadow secretary of state for education.
0720
It is the first quarter results from the world's biggest advertising group today. CEO of WPP Martin Sorrell is in line for a pay package of over £60m. We speak live to Martin Sorrell.
0730
The Labour Party has suspended an MP for making comments which Jeremy Corbyn described as "offensive and unacceptable". Before she was elected, Naz Shah said on social media that Israelis should be moved to America. Speaking on the programme is Rudi Leavor, chairman of the Bradford Reform Synagogue, Rabbi Laura Janner- Klausner, senior rabbi with Reform Judaism, and David Baddiel, comedian, novelist and broadcaster.
0740
It is almost a month since George Osborne's national living wage came into effect, a new minimum wage of £7.20 per hour for everyone aged 25 and over. The BBC's Emma Simpson reports from Grimsby.
0750
Priti Patel will make a speech on Brexit today, arguing that EU membership is stifling the potential of British businesses to thrive. Speaking on the programme is Priti Patel, minister for employment and member of the Vote Leave campaign.
0810
Retired police officers who served in the South Yorkshire force have been told to be proud of their achievements, despite the findings of the Hillsborough inquests. Speaking on the programme is Mike Barton, chief constable of Durham Police, and Lord Blunkett, former Labour Home Secretary.
0820
Eurovision gets a medal today for bringing Europeans together in music. Bjorn from Abba is set to hand over the Charlemagne award to organisers of the song contest at a ceremony in Germany. The UK has been accused of not taking this seriously - Radio 4's Paddy O'Connell wonders out if this mirrors the arguments over the EU itself.
0830
As part of our coverage ahead of the local elections in May, we speak to Natalie Bennett, leader of the Green Party.
0840
Current director general of the United Nations at Geneva, Michael Moller, has called for a more constructive approach to news coverage. We speak live to Michael Moller.
0845
A commission on education inequality has found that poorer students are more likely to be taught by someone who does not have a formal teaching qualification. Nick Clegg MP is chair of the Social Market Foundation's Commission on Inequality in Education.
0850
'Alison', who was in a relationship with an undercover police officer for five years without knowing his true identity, has criticised a new BBC drama for sensationalising her experiences and those of women like her. We hear from Alison and we speak live to Peter Moffat, the writer of the drama Undercover.
All subject to change.
Broadcast