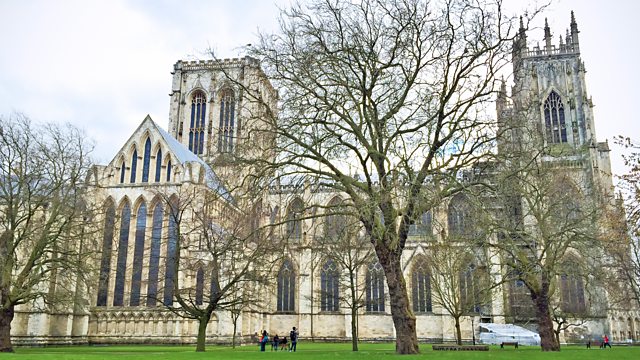 Eric Robson hosts the horticultural panel programme from York. Christine Walkden, Matthew Wilson and Bob Flowerdew answer the questions from the audience.
Eric Robson hosts the horticultural panel programme from York.
Christine Walkden, Matthew Wilson and Bob Flowerdew answer the questions from the audience, discussing the purposes and positives of show gardens and advising on how to get the most out of supermarket herbs. They also recommend climbing plants fit for adorning a child's climbing frame and unusual plants to put in raised planters.
Produced by Darby Dorras
Assistant producer: Laurence Bassett
A Somethin' Else production for BBC Radio 4.
Fact Sheet
Q – Why do the herbs that I buy from the supermarket not grow long term?
Christine – Often the plants are forced and pumped full of fertiliser to make them attractive to buy and this can't last.  You're better growing your own from seed.
Bob – Because they've been grown quickly they are often missing flavour too
Matthew – You could get some 9cm(3.5inch)/1l pots, fill them with compost, pop them on the windowsill and sow directly into those.  Harvest at micro veg size and you'll get even more flavour because there's less water in them.
Eric – Also, the plants are too crowded in supermarket pots so it's often a good idea to split them up and repot them and they'll have a better chance of survival.
Q – What can I do to help my garlic?  The leaves are yellowing and they're looking a bit sad.
Bob – Garlic has to make big leaves and then the leaves make the bulbs swell.  So you want lots of leaves for big bulbs.  You could improve the drainage.  I grow mine in buckets and keep them indoors through winter and then move them out in spring and this gives a longer growing season.  Try putting open-topped cloches on them to keep them a bit warmer. 
Q – About 16 years ago, following the advice of Bunny Guinness, we created a wooden climbing frame for our young child that could be converted into a trellis for climbing plants later.  Now that our child is preparing to go to university we are about to move the frame into its second life.  What hardy, vigorous climbers can the panel recommend? It's in a shady area.
Matthew – You're going to have to improve the soil first and foremost.  Then you could run some Ivy up it.       
Bob – Could you move it to a sunny position? That would make the climbers flower much better, though they will grow in shade.  Try climbing roses – not ramblers, they will swamp it.  There's one – 'Zepherine Drouhin' – that's famous because it's thornless which is nice.  Then, Akebias are nice early flowerers.  Jasmines too, Clematis montanas like the 'Wilsonii' would be great. 
Christine – Look at the early-flowering Clematis like macropetala and alpina.  You could look at annual climbers like Sweet Peas, the 'Chilean Glory' vine, the 'Cup-and-Saucer' vine, or 'Morning Glory'.  But they would do better in the sun.
Q – I want to turn my small, concrete yard into a wildlife oasis.  I want to grow a tree that's beneficial for both birds and pollinators, what can you suggest to grow in a large pot?
Matthew – Crabapples – you can get a whole variety of sizes.  I like 'Red Sentinel' and Maylus sargentii which over a decade will only get to 1.6-1.7m (5.2-5.5ft) high and 1.8m across. 
Christine – Have a look at the smaller Sorbuses (the 'Mountain Ashes') and their relatives like cashmiriana, vilmorinii, and 'Joseph Rock'.
Bob – I'd put a post in the middle of a big pot and grow a bramble
Q – I have a Cercidiphyllum japonicum 'Pendulum' and every year it suffers scorch from late frost.  Apparently spraying with cold water before the sun appears can stop this.  Is this true or, if not, could you suggest other methods please?
Matthew – This is a weeping type of Katsura with a very interesting scent.  Scorch is caused by the defrosting, not the frost itself, so westward plants scorch less than the eastward ones because they warm up more slowly throughout the day. 
Bob – Easiest thing to do is cover it with something like a net curtain the night before.  To spray with water, you'd need to be out at 5am every day!  You could try putting a sprinkler on overnight to stop it frosting.
Q – I grow flowers for cutting but my Gladioli have been water damaged in recent years.  As I planted well over 90 over a six-week period this was disappointing.  What am I doing wrong or is the weather to blame?
Christine – Unless you're going to put a physical cover over them I'm afraid heavy rain will damage Gladioli. 
Bob – You could try new varieties of gladioli called 'Glamourglads' and their not quite as big and because the patterns are more varied you don't see the water damage as badly.
Q – We are planning a community garden.  We want to plant something fun and unusual in the raised planters – ideas?  The planters will be 2m x 1m (6.5ft x 3.2ft) and there will be three or four of them.
Christine – Mandrakes
Matthew – Long-term: plant Yew or Box that you can gradually train into topiary.  Short-term: go crazy with Canners and lush Lilies and big blowsy Geraniums and Pelargoniums, half-hardy Salvias – things with lots of colour.