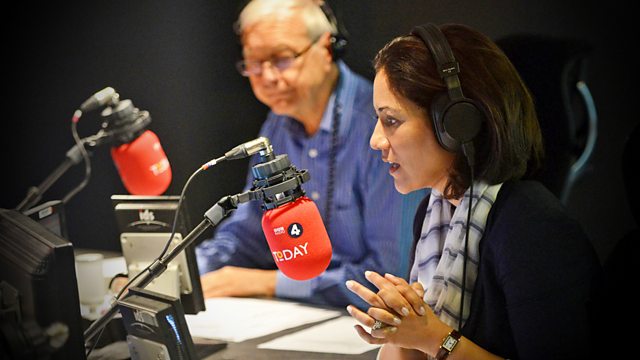 25/04/2016
Morning news and current affairs. Including Sports Desk, Weather and Thought for the Day.
Today's running order
0650
A year ago today Nepal was hit by a massive earthquake. In the initial shock and a substantial aftershock in May nearly 9,000 people were killed. The country is still rebuilding, and aid agencies say millions remain homeless. Ben Fetton is Nepal country director for Adam Smith International and was in Kathmandu a year ago.
0655
Companies whose staff 'cold call' customers will no longer be able to hide or disguise their phone numbers, under government plans to target nuisance calls. Speaking on the programme is information commissioner Christopher Graham.
0710
The Health secretary has dismissed a set of cross party proposals to find a way forward in the dispute with Junior Doctors as political opportunism. Speaking on the programme is Karen Smith, who had her spinal procedure cancelled for this Thursday, and Clare Marx, president of the Royal College of Surgeons.
0715
The Leave and Remain campaigns in the EU referendum have been putting out misleading and inaccurate information, according to a group of leading academics. Will Moy is director of Full Fact.
0720
A group of nurseries and childcare organisations is warning that parents will need to give up work to look after their children if the government doesn't axe the requirement for nursery staff to have at least a C in GCSE English and maths. June O'Sullivan is chief executive of the London Early Years Foundation.
0730
The BBC has been told by sources close to the owners of BHS that 'things don't look good'. The struggling retailer could file for administration as early as Monday - something which could threaten 11,000 jobs. Speaking on the programme is Nick Hood, business risk adviser at the insolvency practitioners Opus, and John Hannett, general secretary of the shop workers' union USDAW.
0740
The leader of the Kurdish militant group, the PKK has told the BBC that he is prepared to escalate the war in Turkey unless there are negotiations. Speaking exclusively to the BBC from his mountain hideout in Northern Iraq, Cemil Bajik has told our international Correspondent Ian Pannell that unless there's a ceasefire, his fighters will escalate the war across Turkey.
0750
The Health Secretary has dismissed a set of cross party proposals to find a way forward in the dispute with Junior Doctors as political opportunism. Speaking on the programme is BMA chairman Dr Mark Porter.
0810
Iain Duncan Smith has suggested David Cameron and George Osborne have lied to the public over the EU referendum. Speaking on the programme is Iain Duncan Smith, former secretary of state for Work and Pensions.
0820
When Glenn Close took ill before a performance of Sunset Boulevard at the London Coliseum, Ria Jones had to step into her shoes. Not only did Ria Jones step up to the plate, she also got some pretty good reviews after winning over an initially disappointed audience. Speaking on the programme is Angharad Lee, an opera director who was at Ria Jones' first performance on Thursday, and Kieran Brown, who is the understudy for the phantom in The Phantom of the Opera.
0830
Libya is expected to be high on the agenda at a meeting of G5 leaders in Hanover today. Speaking on the programme is Oliver Miles, former British Ambassador to Tripoli and Mohamed El Aassar, from the Middle East team at BBC Monitoring.
0840
Significant numbers of homeless people have no right to adequate help in England, even if they are sleeping rough. The BBC's Ross Hawkins reports and we speak live to John Sparkes, chief executive of Crisis, the national homelessness organisation.
0845
Philadelphia soul singer Billy Paul, best known for the 1972 hit Me and Mrs Jones, has died at the age of 81. Speaking on the programme is Beverly Gay, Billy Paul's manager.
0850
The sixth season of the internationally acclaimed and multi award-winning TV series Game of Thrones will air in the UK tonight at 9pm. Sarah Hughes is a Guardian journalist who writes Game of Thrones episode recaps and Ryan Broderick, deputy global news director at BuzzFeed and Game of Thrones fan.
All subject to change.
So you think you know the Today programme?