Main content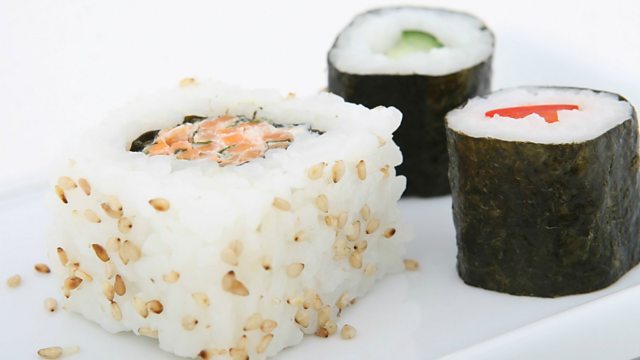 Is sushi permitted at Passover? Prince the Jehovah's Witness, The row over religious education in the UK
Some Jews are going to enjoy Sushi for the first time at Passover. How Prince's music reflects his faith as a Jehovah's Witness. Should non-religious views be taught in school?
For 1000 years, Ashkenazi Jews have been forbidden to eat foods classed as 'Kitniyot' (e.g. rice, corn, beans, legumes) during Passover. But now authorities in the US have lifted this ban which means that Ashkenazi Jews can eat a variety of foodstuffs from Sushi to Popcorn. Charles Carroll reports.
This week, the Foreign Office issued advice for LGBT people travelling to the US because of new 'religious freedom' laws allowing individuals and institutions to deny services to LGBT customers on religious grounds.
Concerns have been raised about the All Party Parliamentary Group on RE which has removed the promotion of non religious world views from its remit. Kevin Bocquet investigates.
For a number of years, he was referred to as 'The artist formerly known as Prince' but did you know that he was also formerly known as a Jehovah's Witness? Not many people in the UK were aware that pop superstar Prince - who died this week - was a member of this church or that his music reflected his Christian faith.
The Vatican has suspended the audit of its finances by PricewaterhouseCoopers because it says that "certain aspects" of the auditing arrangements need to be analysed. Does this signal the end of the Pope's attempt to make Vatican finances more transparent? Edward Stourton talks to the Pope's biographer, Paul Vallely.
ISIS has stunned the world with its savagery but how can its rise be explained? In his new book - 'ISIS: A History' - Fawaz Gerges sheds new light on these questions. He talks to Edward Stourton.
Producers:
Helen Lee
Catherine Earlam
Series Producer:
Amanda Hancox.
Clips

Chapters
Peter Ball

Peter Ball victim has refused to co-operate with an independent review

Duration: 04:45

Anti-LGBT Laws

The Foreign Office has issued travel warnings for LGBT travellers in two US states

Duration: 06:06

RE Row

The All Party Parliamentary Group on RE has removed the promotion of non religious views

Duration: 07:45

Prince & Religion

How his music reflected his Christian faith

Duration: 05:27

Vatican Finances

The Vatican has announced that it is suspending an audit by the accountancy firm PwC

Duration: 04:30

ISIS: A History

ISIS has stunned the world with its savagery but how can its rise be explained?

Duration: 07:27

Passover Food

Why Ashkenazi Jews have been forbidden to eat foods classed as 'Kitniyot' during Passover

Duration: 06:22