Main content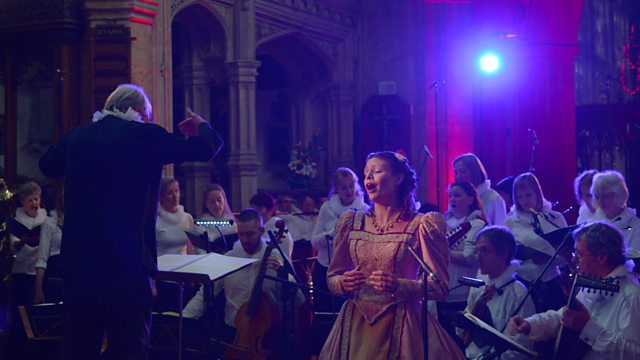 Sounds of Shakespeare
Live from Stratford-upon-Avon, a concert of Shakespeare-inspired works, with a reconstruction of Thomas Arne's The Garrick Ode and Sally Beamish's A Shakespeare Masque.
Holy Trinity, Stratford-upon-Avon, the church where Shakespeare was baptised, worshipped and is buried, is the setting for a spectacular commemorative concert of Shakespeare-inspired works from the eighteenth and twenty-first centuries, performed by Ex Cathedra and City Musick, directed by Jeffrey Skidmore.
It's 1769. A building 'in the neighbourhood of Stratford-upon-Avon' is to be dedicated to Shakespeare and David Garrick, superstar actor-manager, needs to mark the occasion fittingly. An Ode is the thing. Garrick's Ode celebrates his theatrical hero with 'Testimonies (both in prose and verse) of his unequalled original talents'. Some of the 'testimonies' were spoken by Garrick himself; others were set by England's leading composer, Dr Thomas 'Rule Britannia' Arne. As the London Magazine reported, it went down well. 'The performance was noble and affecting: it was like an exhibition in Athens or Rome. The whole audience were fixed in the most earnest attention, and I do believe, that if any one had attempted to disturb the performance, he would have been in danger of his life.'
For tonight's performance the Ode has been reconstructed for the first time since the eighteenth century. Samuel West takes the part of Garrick and Sally Beamish has written the music for the missing opening and closing choruses.
To end the concert, Sally Beamish and Poet Laureate Carol Ann Duffy have collaborated on a contemporary tribute to Shakespeare. The world premiere of A Shakespeare Masque includes children from local schools among the performers, and aims to develop a love of music, a love of singing and a love of Shakespeare.
Sara Mohr-Pietsch presents as part of Radio 3's Sounds of Shakespeare weekend, live from Stratford-upon-Avon (22-24th April), celebrating 400 years since his death.
Arne: The Garrick Ode
David Garrick .... Samuel West (narrator)
Mrs Bartelemon .... Katie Trethewey (soprano)
Mr Vernon .... Jeremy Budd (tenor)
Mr Champness .... Greg Skidmore (baritone)
Mrs Baddeley .... Louise Prickett (soprano)
Miss Weller .... Angela Hicks (soprano)
Master Brown .... Martha McLorinan (alto)
Ex Cathedra
Emilia Benjamin (violin)
Liam Byrne (bass viol)
James Johnstone (harpsichord)
Jeffrey Skidmore (conductor)
8.25pm: Interval
When did Stratford-upon-Avon and the country at large really begin to celebrate Shakespeare? Radio 3 presenter Suzy Klein is in conversation in Radio 3's pop-up studio with Professors Michael Dobson and Ewan Fernie of the Shakespeare Institute to tell the story of how Stratford grew to love the memory of the man and revived his writing.
8.45
Sally Beamish: A Shakespeare Masque
Anne Hathaway .... Katie Trethewey (soprano)
Shakespeare .... Greg Skidmore (baritone)
Young Shakespeare .... [TBC] (treble)
Ex Cathedra
Ex Cathedra Academy of Vocal Music
The City Musick
William Lyons (flute and recorder), Emilia Benjamin (treble viol), Liam Byrne (bass viol),
Jacob Heringman (cittern), Arngeir Hauksson (bandora), David Miller (lute), Simone Rebello (percussion)
Jeffrey Skidmore (conductor).
Last on
Music Played
Thomas Arne

The Garrick Ode

Beamish

A Shakespeare Masque
Broadcast