Main content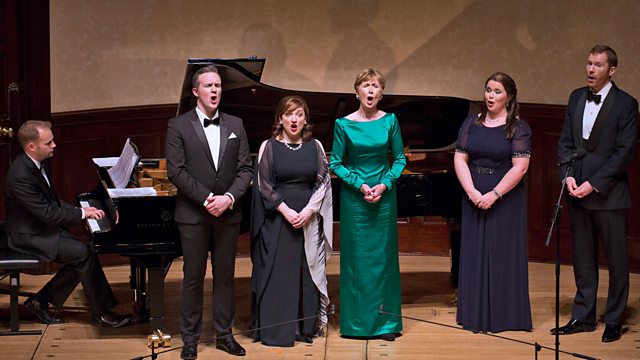 Irish Culture in Britain: A Centenary Celebration
Live from Wigmore Hall in London, Sean Rafferty introduces a concert celebrating Irish culture, for the 100th anniversary of the Easter Rising.
Live from Wigmore Hall in London, Sean Rafferty introduces a concert celebrating 100 years of Irish culture, marking the anniversary of the 1916 Easter Rising.
Part One is all-Schubert, Part Two is an Irish cultural gala, featuring celebrated Irish mezzo Ann Murray, with soprano Ailish Tynan, mezzo-soprano Tara Erraught, tenor Robin Tritschler, and baritone Gavan Ring, and Lucy Wakeford (harp), Jonathan Ware and Finghin Collins (piano), Michael Collins (clarinet), the RTÉ Contempo String Quartet, plus choirs from the Royal Academy of Music in London and the Royal Irish Academy of Music in Dublin.
God Save the Queen - British National Anthem (arranged Benjamin Britten)
Amhrán na bhFiann - Irish National Anthem (composed by Peadar Kearney and Patrick Heeney)
Schubert: Impromptu in C minor D899 No. 1
An die Musik D547; Nacht und Träume D827; Die Forelle D550; Die Sterne D939;
Licht und Liebe D352; Erlkönig D328; Ellens Gesang III (Ave Maria) D839;
Der Hirt auf dem Felsen (The Shepherd on the Rock) D965; Ständchen D920
8.40 Interval: Sean Rafferty talks to Ann Murray, who is being presented with The Wigmore Medal
9.00 Part 2
Gerald Barry: String Quartet No. 1 (revised)
John Field: Andante inédit
Michael William Balfe: I dreamt that I dwelt in Marble Halls
Trad Irish: Galway Bay; She moved thro' the fair
Britten: The Salley Gardens
James Lynam Molloy: The Kerry Dance
Michael Head: The ships of Arcady; A Blackbird Singing
Trad Irish: Phil the Fluter's Ball; I have a bonnet trimmed with blue
Presentation of The Wigmore Medal to Ann Murray
Trad Irish: Danny Boy
This month marks the 100th anniversary of the Easter Rising, seen as the start of the movement that led to the creation of the Irish Republic. This gala event, complementing the centenary events in Dublin, marks the anniversary in a celebration of Irish culture, including a special tribute to Ann Murray, one of the great Irish musicians of our time. The event also acknowledges the strong bond of friendship between Ireland and the UK, achieved through a continuing process of reconciliation. It also honours those who died at Easter 1918, Irish and British, as well as all the soldiers who lost their lives in the Great War.