Main content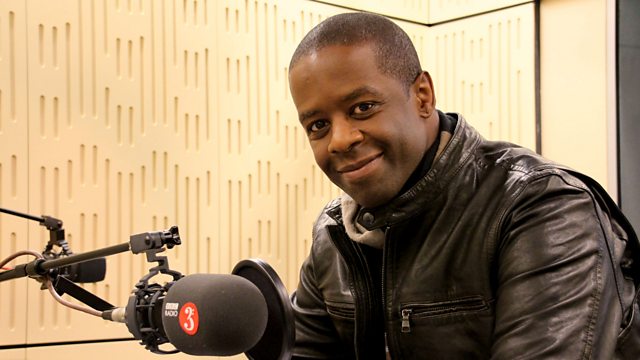 Friday - Sarah Walker with Adrian Lester
With Sarah Walker. Including My Favourite Debussy Preludes; Music in Time: diferencias; Artist of the Week: Nikolaus Harnoncourt, featured conducting Brahms's Symphony No 2.
9am
My favourite... Debussy Preludes. Sarah chooses five of her favourite preludes from Debussy's landmark collection of piano pieces, which brought a new perspective to the popular 19th century character piece. His pictorial subjects range from footprints in the snow and a submerged cathedral rising from the waves, to an ancient Egyptian jar, and an effervescent display of fireworks.
9.30am
Take part in our daily musical challenge: Two pieces of music have been altered. Can you identify them?
10am
In the week leading up to Radio 3's celebrations of Shakespeare's life, Sarah's guest is the actor Adrian Lester. Adrian has taken on Shakespearean roles ranging from Rosalind in an all-male production of As You Like It to a critically acclaimed Hamlet, and won an Evening Standard Theatre Award for Best Actor for his performance of Othello. Adrian also recently starred in the West End play Red Velvet, about the first black actor to play Othello on a London stage, back in 1833. Adrian's television roles include conman Mickey in the long-running series Hustle and the assassin Myror in Merlin, and he is currently starring in the BBC political thriller Undercover. Adrian will be sharing a selection of his favourite classical music, including Byrd's Mass for Three Voices, which takes him back to his days as a chorister, and Stephen Sondheim's Company, in which he performed.
10:30am
Music in Time: Renaissance
Sarah places Music in Time as she travels back to the Renaissance and one of the earliest types of variation form, the diferencias, many of which were written for the vihuela.
11am
Sarah's artist of the week is Nikolaus Harnoncourt, one of the most influential conductors of the 20th century. Originally an orchestral cellist, Harnoncourt brought a new level of musical scholarship and historical sensibility to performances of works by composers such as Monteverdi, Bach, Beethoven and Dvorak, working with ensembles such as Concentus Musicus of Vienna (which he founded in the early 1950s), the Chamber Orchestra of Europe and the Concertgebouw Orchestra.
Brahms
Symphony No. 2 in D major, Op. 73
Berlin Philharmonic
Nikolaus Harnoncourt (conductor).
Music Played
MY FAVOURITE...DEBUSSY PRELUDES

ADRIAN LESTER'S CHOICE NO.1

ADRIAN LESTER'S CHOICE NO.2

MUSIC IN TIME: RENAISSANCE

ARTIST OF THE WEEK: NIKOLAUS HARNONCOURT
Imperfect Harmony
The music played:
Bruckner
I. Bewegt, nicht zu schnell (Symphony No.4)
Berlin Philharmonic
Eugen Jochum (conductor)
DG
 
Wagner
Siegfried Idyll
Vienna Philharmonic
Herbert von Karajan (conductor)
DG
Time Travellers: the podcast