Main content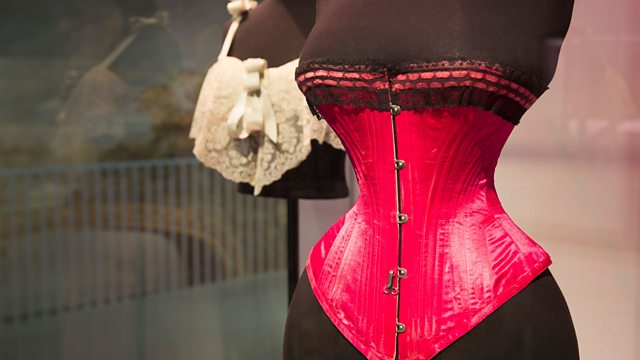 The history of underwear, Sylvia Day, Sexual harassment in schools.
Sylvia Day on her Crossfire series. The impact of changed sleep cycles on women, knickers at the V&A, early Shakespearean actresses. How to tackle sexual harassment in schools.
Sylvia Day is the best selling author of the Crossfire series. As the fifth and final instalment is published, Sylvia talks about sex, romance and selling over a hundred thousand books in 5 days in the UK alone.
Research from the University of Surrey's Sleep Research Centre has found that the disruption of sleep cycles can impact more negatively on women than men. We hear from the report co-author and Research Fellow Dr Nayantara Santhi.
The first parliamentary inquiry into the scale and impact of sexual harassment and sexual violence in schools is launched today by the Women and Equalities Committee. Evidence from their pre-consultation work shows sexting, online bullying and the normalisation of pornography are all issues for students and they want more support in dealing with them. Jane speaks to Kat Banyard, Founder and Co-Director of UKFeminista who takes sexual harassment workshops into school, and Niamh Sweeney, Executive member of the Association of Teacher and Lecturers.
The Victoria and Albert Museum's new exhibition is Undressed: A Brief History Of Underwear and features over 200 examples of underwear from the 18th century to the modern day. Jane Garvey was shown everyday stays and fetishwear by the curator Edwina Ehrman.
In Shakespeare's day, there were no professional female actresses acting on the stage in England. Shakespeare's female roles were played by boys or young men until 1660. New research uncovered by the British Library reveals the prejudice the first few ground breaking women faced when they were eventually allowed to take on the major Shakespearean characters. Zoe Wilcox is the lead curator at the 'Shakespeare in Ten Acts' exhibition at the British Library. She talks to Jane about these female acting pioneers.
Women and Equalities Committee
Credits
| Role | Contributor |
| --- | --- |
| Presenter | Jane Garvey |
| Interviewed Guest | Sylvia Day |
| Interviewed Guest | Nayantara Santhi |
| Interviewed Guest | Kat Banyard |
| Interviewed Guest | Niamh Sweeney |
| Interviewed Guest | Edwina Ehrman |
| Interviewed Guest | Zoe WIlcox |