Main content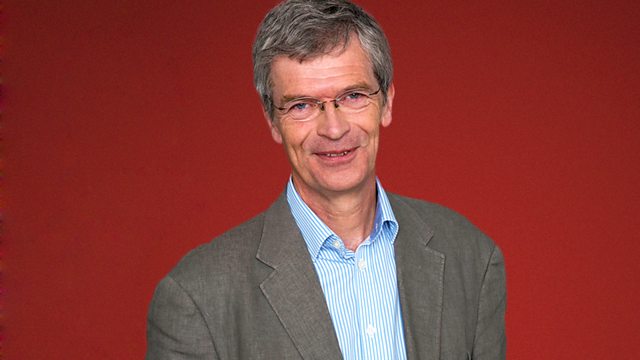 16/04/2016
Among listeners' requests this week is one of the classic jazz vocal routines by Louis Armstrong's All Stars. Alyn Shipton presents their vocal version of "Don't Fence Me In" featuring singer Velma Middleton.
Performers:
Artist  Louis Armstrong
Title  Don't Fence Me In
Composer Cole Porter, Robert Fletcher
Album  The Armstrong Box
Label  Storyville
Number  0717101860920  Disc 2 Track 6
Duration  4.57
Performers:  Louis Armstrong, t; Barney Bigard, cl; Jack Teagarden, tb; Earl Hines, p; Arvell Shaw, b; Sid Catlett, d; Velma Middleton, v. Ciro's, Philadelphia, 1948.

Artist  Irakere
Title  Adagio on a Mozart Theme
Composer Mozart arr Valdes
Album  Best of Irakere
Label  Columbia
Number  57119 Track 8
Duration  4.38
Performers: Arturo Sandoval, Jorge Varona, t; Carlos Averhof, fl; Paquito D'Rivera, reeds; Chucho Valdes, p; Carlos Morales, g; Carlos De Puerto, b; Enrique Pla, d; Oscar Valdes, perc. 1978-9.

Artist  Jelly Roll Morton
Title  Original Jelly Roll Blues
Composer Morton
Album  Doctor Jazz
Label  Proper
Number  Properbox 113 CD 2 Track 19
Duration  2.58
Performers; George Mitchell, c; Omer Simeon, cl; Kid Ory Tb; Jelly Roll Morton, p; Johnny St Cyr, bj; John Lindsay, b; Andrew Hilaire, d. 1926

Artist  Bob Crosby
Title  Spain
Composer FJones
Album  A Proper Introduction to Bob Crosby
Label  Proper
Number  Track 23
Duration  3.10
Performers: Irving Fazola, cl; Eddie Miller, ts; Nappy Lamare, g; Bob Haggart, b; Ray Bauduc, d.

Artist  hr Big Band
Title  Mussorgsky arr Fischer
Composer Gate of Kiev
Album  Pictures at an Exhibition – Echoes of Aranjuez
Label  hr media
Number   Track 15
Duration  3.45
Performers hr big band arr and dir Clare and Brent Fischer

DISC
Artist  Olivia Sellerio
Title  Quanna Moru
Composer Leveratto
Album  Accabbanna
Label  Egea
Number  SCA 117 Track 8
Duration  4.45
Performers Olivia Sellerio, v; Mauro Schiavone, p; Giovanni Apprindi, d. Pietro Leveratto, b; 2004.
 
Artist  Elmo Hope
Title  Boa
Composer Hope
Album  Complete Trio Studio Masters
Label  Gambit
Number  CD 2 Track 3
Duration  5.57
Performers: Elmo Hope, p; Jimmy Bond, b; Frank Butler, d. 1959

Artist  Gerry Mulligan / Thelonious Monk
Title  Straight No Chaser
Composer Monk
Album  Mulligan Meets Monk
Label  Riverside
Number  RLP 12-247 Track 5
Duration  7.00
Performers: Gerry Mulligan, bars; Thelonious Monk, p; Wilbur Ware, b; Shadow Wilson, d. Aug 1957.

Artist  Stan Kenton
Title  Quintile
Composer Johnny Richards
Album  Adventures in Time: A Concerto For Orchestra
Label  Capitol
Number  1844 Track 2
Duration  6.58
Performers Dalton Smith, Bob Behrendt, Gary Slavo, Keith Lamotte, Marv Stamm, t; Bob Fitzpatrick, Bud Parker, Tom Ringo, Joe Amlotte, tb; Dave Wheeler, tu; Ray Starling, Dwight Carver, Joe Burnett, Luke Gasker, mellophone; Gabe Baltazar, Allen Buetler, Don Menza, Ray Florian, Joel Kaye, reeds; Stan Kenton, p; Bucky Calabrese, b; Dee Barton, d. 1962

Artist  Let's Dream in the Moonlight
Title  Billie Holiday
Composer Walsh / Malneck
Album  Lady Day: The Complete Billie Holiday on Columbia
Label  Columbia
Number  CD 5 Track 10
Duration  2.53
Performers: Bobby Hackett (cornet) Trummy Young (tb) Toots Mondello, Ted Buckner (as) Bud Freeman, Chu Berry (ts) Teddy Wilson (p) Al Casey (g) Milt Hinton string (b) Cozy Cole (d) Billie Holiday (v) 28 Nov 1938

Artist  Benny Goodman
Title  A Fine Romance
Composer Kern, Fields
Album  Complete Benny In Brussels
Label  Solar
Number  CD 3 Track 19
Duration  2.44
Performers Benny Goodman Orchestra with Ethel Ennis and Jimmy Rushing v.

Artist  Harry Gold and His Pieces of Eight
Title  Miss Jenny's Ball
Composer Smith
Album  Simply The Best British Jazz from the 50s
Label  Upbeat
Number  209 Track 5
Duration  3.51
Performers FreddieTomasso, t; Ernie Tomasso, cl; Laurie Gold, ts; Harry Gold bsx; Bert Weedon g; Johnny Wise, d.