Main content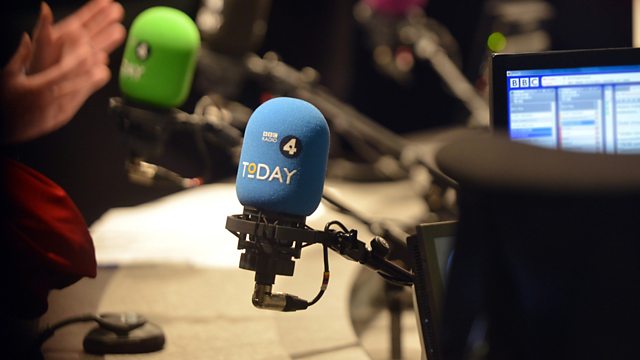 01/04/2016
Morning news and current affairs. Including Sports Desk, Weather and Thought for the Day.
Last on

Today's running order
0650
For the first time in 111 years, an expedition team has successfully completed the journey known as the Northwest passage. The last person to do it was the Norweigan Roald Amundsen in 1905. We hear from Tim Oakley, explorer with the Royal Geographical Society, who is leading their current expedition to Alsaka.
0655
The Royal Society for Public Health is warning that people in the UK public are under-sleeping by an average of almost an hour every night - which amounts to losing an entire night's sleep over the course of a week. The RSPH which represents around 6000 health professionals is calling on the Government to introduce national sleep guidance. We're joined by its chief executive, Shirley Cramer
0709
Today sees the introduction of two important personal finance changes; the National Living Wage (NLW), and a new buy-to-let stamp duty. Sarah Pennels, founder of savvywoman.co.uk and personal finance expert, joins us in the studio.
0712
The Business Secretary, Sajid Javid, is due to visit the threatened steel works in Port Talbot today after cutting short a trade visit to Australia. We hear from Charles De Lusignan, spokesperson for the European Steel Association.
0720
A major research project has found that more adults in the world are now obese than underweight. The study, led by Imperial College London, concludes that a worldwide target to halt the rise in obesity stands almost no chance of being met. We hear from Professor Majid Ezzati, from Imperial College London, led the study.
0725
Should the cost of producing great music be hearing damage to the musician? Our legal affairs correspondent Clive Coleman reports on an unusual case of a glittering musical career that has ended in litigation.
0730
Today brings a new 3% stamp duty charge for most buy-to-let landlords, days after the Bank of England announced restrictions on lending for buy-to-let properties, intended to cool the sector's growth. Rosie Millard, who wrote a great deal about buy-to-let in the boom times and is a small scale buy-to-let landlord, and Bill Davis, Senior Research Fellow specialising in housing at the Institute of Public Policy Research, join us in the studio.
0740
Leicester is caught up in a whirlwind of success. It's football team Leicester City have had a miraculous rise to the top of the premier league - a classic tale of the rise of the underdog or fox. Walker's crisps, based in Leicester have upset food purists and campaigners by turning Red Leicester blue for a new Blue crisp to cheer the team on. Nicola Stanbridge reports.
0750
Greater Manchester becomes the first English region to take responsibility for running its own health services today. A total of thirty-eight organisations will come together to take charge of a budget of billions of pounds. We are joined by Professor Kath Checkland, GP and Professor of Health Policy and Primary Care at the University of Manchester and Tony Lloyd, interim Mayor of Manchester.
0810
The new national living wage comes into force today. All workers aged 25 or over - approximately 1.8 million people - will be legally entitled to be paid at least £7.20 an hour. The hourly rate will rise to around £9 by 2020, an ambitious target that has been welcomed by economists, but with concerns about the way it is implemented and the effect on unemployment. Zoe Conway reports and we hear from Sir George Bain, former Chair of the Low Pay Commission and our Economics Editor Kamal Ahmed.
0820
The architect Dame Zaha Hadid has died at the age of 65. Thought by many in her industry to be one of the greatest architects of all time, she died of a heart attack in hospital in Miami, where she was being treated for bronchitis. We hear from the sculptor Anish Kapoor.
0830
For the first time researchers have used a gene-editing technology not only to "snip out" HIV from infected cells, but also to make uninfected cells resistant to the virus. It could ultimately mean a cure for HIV will become possible in the future. Professor Matthew Cobb is from Manchester University and recently made a programme for Radio 4 about gene editing.
0840
Residents in a town in Cornwall are being offered ultra-cheap energy when the sun is out. They're on a sunshine tariff - aimed at persuading households to shift energy use to take advantage of locally generated solar power. The trial is possible due to smart meters. We hear from Professor Stephen Thomas, Emeritus Professor of Energy Policy at the University of Greenwich and Sacha Deshmukh, Chief Executive of Smart Energy GB.
0850
Amnesty International says there are 'fatal flaws' in a refugee deal signed between Turkey and the European Union earlier this month. John Dalhuisen, Amnesty International's Director for Europe and Central Asia, joins us in the studio.
0855
A poem looking at the anger that every day family life brings and the shame that is carries with it, has been chosen from more than 12,000 entries for one of the UK's most prestigious poetry prizes. We hear from Eric Berlin, winner of the Poetry Society's National Poetry Competition 2015 and Esther Morgan, poet and judge for the competition.
Broadcast