Main content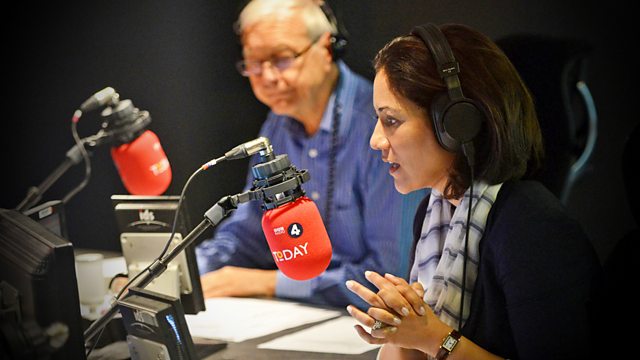 11/04/2016
Morning news and current affairs. Including Sports Desk, Weather and Thought for the Day.
Today's running order
0650
Prosecutors in Belgium say the Islamist extremists, who carried out attacks in Brussels last month, were originally plotting an attack in France. Damian Grammaticus is the BBC's correspondent in Brussels.
0655
Nearly a quarter of children referred to specialist mental health services in England are turned away – that is one of the conclusions of a report out today from the think tank Centre Forum. Speaking on the programme is Tanya Byron, clinical psychologist and TV presenter.
0710
Labour has suggested that there could be a case to re-examine how inheritance tax works after Downing Street confirmed the Prime Minister received £200,000 as a gift from his mother on top of a tax-free inheritance of £300,000 when his father died. Richard Brooks is a British investigative journalist for Private Eye and former tax inspector at HMRC; Graham Aaronson is a partner at specialist law firm Joseph Hage Aarronson. 
0715
"There is a life-and-death struggle for the soul of British Islam – and this is not a battle that the rest of us can afford to sit out. We need to take sides". That is the reaction of Trevor Philips, former head of the Equality and Human Rights Commission, to a survey of attitudes among British Muslims carried out by Channel 4. Joining us live in the studio is Trevor Philips.
0720
Global tiger figures are up after years of serious decline according to new figures. Colin Butfield is director of the World Wildlife Fund. 
0730
Amid all the high profile cases of people being accused of child abuse and then seeing the whole matter  dropped, are there many more cases of ordinary people, about whom we never hear, having the same experience? We have been speaking to a man we are calling Peter about what he says happened to him.
0740
England's Danny Willett has become the first British player to win the Masters for 20 years. Speaking on the programme is Iain Carter, the BBC's golf correspondent, and Reverend Stephen and Elisabeth Willett, the parents of Danny Willett.
0750
Around 9,000 children face an uncertain start to the new school term after 17 schools and a community centre are closed due to concerns about their structural safety. We have been hearing from Eileen Prior, executive director of the Scottish Parent Teacher Council, and live on the programme is Andrew Kerr, chief executive of City of Edinburgh Council.
0810
The Prime Minister will make a statement in the Commons today setting out measures to tackle abuses of the tax system. Speaking on the programme is Stewart Hosie, deputy leader of the Scottish National Party, and Jacob Rees-Mogg, Conservative MP and member of the Treasury Select Committee.
0820
Amid all the high profile cases of people being accused of child abuse and then seeing the whole matter  dropped, are there many more cases of ordinary people, about whom we never hear, having the same experience? Speaking on the programme is Nazir Afzal, former chief crown prosecutor of the Crown Prosecution Service for North West England.
0830
Malik Jalal has come to Britain to try to persuade the Americans not to kill him. His home is in Waziristan between Pakistan and Afghanistan and he says he is on a US "kill list" and has been targeted by drone strikes at least four times. The former director of Public Prosecutions Lord Macdonald has invited Jalal to the House of Commons to speak to MPs today. We spoke to Malik Jalal via a BBC translator and asked what had happened that made him think he was being targeted.
0835
A deal to safeguard the future of the Scunthorpe Steelworks and more than 4000 jobs is expected to be signed today. Speaking on the programme is Sarah Corker, BBC Look North's Business correspondent, and Paul McBean, Community Union organiser.
0840
From hedgehogs to house sparrows, butterflies to bumblebees, the story of British wildlife is one of remorseless decline. There are, however, examples of species or places that are bucking the trend: so how do we turn these green shoots into a full-blown recovery? That is the focus of a new book Wild Kingdom by the natural history filmmaker Stephen Moss.
0845
In 1983, a group of young Georgians hijacked a Soviet plane and tried to escape to the West. They failed and were subsequently executed. In his novel Jeans Generation, Dato Turashvili tells their story and explores how their actions split public opinion in Georgia at the time. We speak live to Mr Turashvili.
0850
Seventeen schools in Edinburgh are to be closed indefinitely from Monday over safety concerns, leaving at least 9,000 pupils with nowhere to go. Speaking on the programme is Tony Travers, visiting professor in the LSE's Government Department, and Stella Creasey, a Labour MP who sat on the Public Accounts Committee during their review of Private Finance Initiatives.
All subject to change.