Main content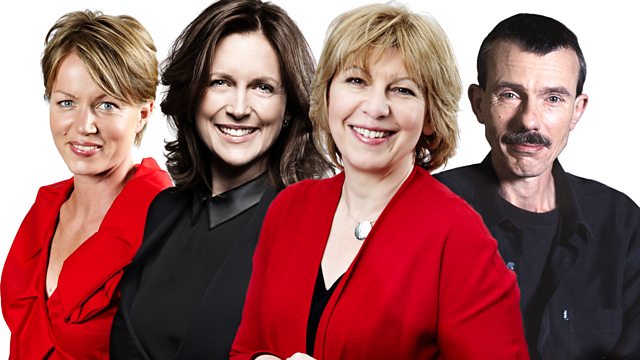 Bartok - Duke Bluebeard's Castle
Penny Gore introduces a concert performance of Bartok's one-act opera Duke Bluebeard's Castle, with soloists Michelle de Young and Matthias Goerne. Jaap van Zweden conducts.
Penny Gore presents today's opera matinee: a concert performance of Bartok's one-act opera Duke Bluebeard's Castle, recorded in 2014. With soloists Michelle de Young and Matthias Goerne, and the Dallas Symphony Orchestra conducted by Jaap van Zweden. Judith arrives at the castle home of her new husband, Duke Bluebeard. He tells her he loves her, and not to ask what is behind the mysterious closed doors, but she will not rest until she knows everything about him.
2pm:
Bartok: Duke Bluebeard's Castle
Judith......Michelle de Young (mezzo-soprano)
Bluebeard......Matthias Goerne (baritone)
Dallas Symphony Orchestra
conductor Jaap van Zweden
Followed by more from the Dallas Symphony in concert.
3pm:
Beethoven: Violin Concerto in D, op. 61
Augustin Hadelich (violin)
Dallas Symphony Orchestra
conductor Jaap van Zweden
3.45pm:
Bernstein: Serenade (after Plato's 'Symposium')
Dallas Symphony Orchestra
conductor Jaap van Zweden.
Music Played
Opera Matinee

Dallas Symphony Orchestra
Synopsis
Prologue
An old saga is announced, which speaks of joy as well as bitterness. Where the action takes place, and whence the music comes, no one knows. We are instructed only to hear it and wonder at it, and to applaud when it is finished.
Duke Bluebeard enters his castle, accompanied by his beloved Judith, who has left her family to be with him. She can still turn back, but decides to make the icy, gloomy castle her home. Even the walls themselves seem to weep. Judith considers it her duty to brighten and cheer up the castle, but is taken aback by the sight of seven bolted doors. They are not to be opened, instructs Bluebeard, but Judith persists until he finally gives her the key to the first door. It is Bluebeard's torture chamber. Judith is unafraid; the red light of the sunrise that streams from it emboldens her. She is determined to open all the remaining doors – not out of curiosity but out of her love for Bluebeard – regardless of what might lie behind them. The castle seems to shudder. The Duke relents, warning Judith to take care with the castle and their relationship. The second door reveals Bluebeard's armoury; here too, the blood-stained weapons do not deter her. As her love for Bluebeard is limitless, she desires to also know all his secrets. Bluebeard takes comfort in Judith's insistence – it soothes him in his sinister existence. He agrees to give her the keys to three more rooms, as long as she asks no questions. The third room, from which spills a brilliant light, is Bluebeard's treasury. But Judith notices that the gold, jewels and precious gems are likewise stained with blood. Bluebeard is anxious for her to open the remaining doors. Behind the next one is Bluebeard's secret garden. At first Judith is taken by the sumptuous plants and flowers, until she notices they too are tinged with blood. Bluebeard refuses to answer her questions; he takes pleasure in seeing his castle engulfed in light. The fifth door looks out onto Bluebeard's entire realm: everything, he promises, will be hers. But the clouds suddenly cast blood-red shadows over his kingdom. Bluebeard is pleased with the changes Judith has brought about. He desires to share his newly-found pleasure with his wife, but she insists on seeing what is behind the two remaining doors. Bluebeard begs her to take care, but Judith is determined and undaunted. He hands her the next key, hoping she will not use it. No sooner has Judith opened the sixth door than the castle darkens. The door reveals a lake of tears. The Duke insists that the last door remain closed forever: now it is time to enjoy their love. Judith asks Bluebeard if he truly loves her. And who were the women who came before her? But Bluebeard evades her questions. Judith suspects she knows what is behind the seventh door: until now, everything behind them was stained with blood – the blood of his former wives – and the lake is filled with their tears. Bluebeard can no longer resist her entreaties, and before the last door opens he tells her what is behind it: the women he loved before Judith came into his life. Judith is awed by their beauty. For Bluebeard his former wives now only embody the blissful personification of an entire day: morning, noon and evening. Judith, the most beautiful of all, represents the night. Adorned with a starry cloak, she walks through the seventh door, which shuts after her.
© De Nederlandse Opera