Main content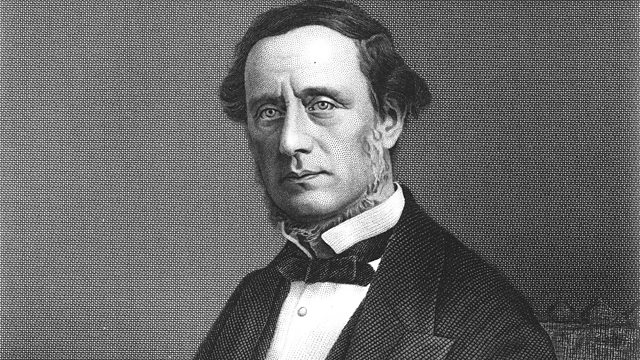 Donald Macleod explains how, following the departure of Moscheles from the London musical scene, Bennett became firmly established as a teacher, performer and composer in the city.
Sterndale Bennett becomes firmly established as a teacher, performer and composer in London, presented by Donald Macleod.
Reckoned by some as the most distinguished English composer of the Romantic School, Sir William Sterndale Bennett first made a significant name for himself in Germany as a composer and concert pianist. He became close friends with Mendelssohn and Schumann, and once his career started to develop back in England, he rose to become one of the country's most eminent musicians teaching at Cambridge, Principal of the Royal Academy of Music, and a Director of the Philharmonic Society. Dr Peter Horton discusses the importance of Sterndale Bennett's piano music, whilst the composer's great-great-grandson Barry Sterndale Bennett introduces the listener to scores, letters and diaries held at the Bodleian Library.
With the departure of Moscheles from the London music scene, and students now looking for a new piano teacher, Sterndale Bennett was able to develop his own career further. He was given the honour of conducting at Moscheles's farewell concert, and dedicated his own Piano Concerto No 4 in F minor to Moscheles. In the late 1840s Bennett received the sad news that his friend Mendelssohn had died. He wrote to a fellow musician, that he'd lost the dearest and kindest friend he'd ever had. Around this same time came a disagreement with the conductor Michael Costa, which was to have ramifications for the rest of Bennett's life. On top of those sad events, combined with the many hours teaching Bennett undertook daily, he did manage to continue composing.
Piano Sextet in F Sharp Minor, Op 8 (3rd mvt)
Ilona Prunyi, piano
András Kiss, violin
Ferenc Balogh, violin
László Bársony, viola
Károly Botvay, cello
Péter Kubina, double bass
Piano Concerto No 4 in F minor, Op 19
BBC Scottish Symphony
Howard Shelley, pianist and conductor
Remember now thy creator, WoO 54
Emma Tring, soprano
Rebecca Lodge, soprano
BBC Singers
Rupert Jeffcoat, organ
Stephen Cleobury, conductor
February, WoO 56
Hiroaki Takenouchi, piano
Producer Luke Whitlock.