Main content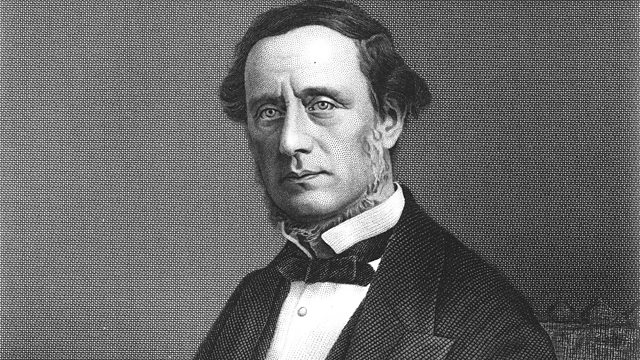 Donald Macleod focuses on Bennett's friendships with Schumann and Mendelssohn, and how Bennett was the first to hear the latter's just-completed Third Symphony.
Sterndale Bennett becomes the first person to hear Mendelssohn's just completed Scottish Symphony, presented by Donald Macleod.
Reckoned by some as the most distinguished English composer of the Romantic School, Sir William Sterndale Bennett first made a significant name for himself in Germany as a composer and concert pianist. He became close friends with Mendelssohn and Schumann, and once his career started to develop back in England, he rose to become one of the country's most eminent musicians teaching at Cambridge, Principal of the Royal Academy of Music, and a Director of the Philharmonic Society. Dr Peter Horton discusses the importance of Sterndale Bennett's piano music, whilst the composer's great-great-grandson Barry Sterndale Bennett introduces the listener to scores, letters and diaries held at the Bodleian Library.
Sterndale Bennett made a number of visits to Germany during his early career, where his friendship with both Mendelssohn and Schumann flourished. Schumann upon hearing Bennett's Caprice in E major, described it as a lovely flower bouquet, fresh and fragrant, beautifully coloured. He was even more generous upon hearing Bennett's overture The Wood Nymphs, rating it above similar works by Mendelssohn, Spohr, and Weber. Mendelssohn too also greatly honoured Bennett, treating him to a private play through of his Scottish Symphony completed that very day. It was during this period that the young Englishman made his debut with the Gewandhaus Orchestra, performing his own third Piano Concerto, whilst back on these shores he became engaged, and married Miss Mary Wood.
Caprice in E major, Op 22
BBC Scottish Symphony Orchestra
Howard Shelley, pianist and conductor
The Wood Nymphs Overture, Op 20
London Philharmonic Orchestra
Nicholas Braithwaite, conductor
Two Characteristic Studies, Op 29
Hiroaki Takenouchi, piano
Come, live with me, WoO 47
David James, countertenor
Paul Elliott, tenor
Leigh Nixon, tenor
Paul Hillier, bass
Piano Concerto No 3 in C minor, Op 9 (3rd mvt)
Malcolm Binns, piano
London Philharmonic Orchestra
Nicholas Braithwaite, conductor
Producer Luke Whitlock.