Main content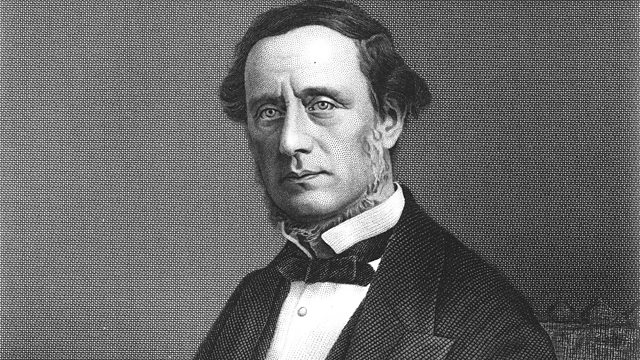 Donald Macleod focuses on Bennett's visit to Germany and the time he performed for Schumann, who dubbed him an 'angel musician'.
Sterndale Bennett visits Germany and is dubbed an Angel Musician by Robert Schumann, presented by Donald Macleod.
Reckoned by some as the most distinguished English composer of the Romantic School, Sir William Sterndale Bennett first made a significant name for himself in Germany as a composer and concert pianist. He became close friends with Mendelssohn and Schumann, and once his career started to develop back in England, he rose to become one of the country's most eminent musicians teaching at Cambridge, Principal of the Royal Academy of Music, and a Director of the Philharmonic Society. Dr Peter Horton discusses the importance of Sterndale Bennett's piano music, whilst the composer's great-great-grandson Barry Sterndale Bennett introduces the listener to scores, letters and diaries held at the Bodleian Library.
Life for Sterndale Bennett in London during the early 1830s was hard. He was busy composing and trying to earn money where he could, such as becoming organist at St Anne's in Wandsworth. It was during this period that he made his first visit to Germany where he kept a diary of his daily activities, including meetings with Mendelssohn and evenings drinking with Schumann. During this visit Bennett took a trip up the Rhine, and it was here that he got the inspiration for his concert overture The Naiades. Bennett during this visit dedicated his first Piano Sonata to Mendelssohn as a wedding present. It was also during this period that Schumann heard the young Englishman perform, and dubbed him an Angel Musician.
Etude No 2, Op 11
Hiroaki Takenouchi, piano
Piano Concerto No 2 in E flat major, Op 4 (1st mvt)
Malcolm Binns, piano
Philharmonic Orchestra
Nicholas Braithwaite, conductor
The Naiades Overture, Op 15
Royal Philharmonic Orchestra
Dirk Joeres, conductor
Piano Sonata No 1 in F minor, Op 13 (2nd mvt)
Ilona Prunyi, piano
Lord, who shall dwell in thy tabernacle? WoO 57
BBC Singers
Rupert Jeffcoat, organ
Stephen Cleobury, conductor
Producer Luke Whitlock.