Main content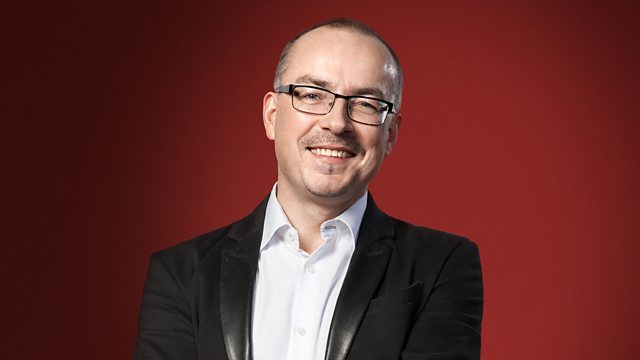 Building a Library: Bach: Concerto in C minor for Oboe, Violin and Strings, BWV1060
With Andrew McGregor. Including Building a Library: Bach: Concerto in C minor for Oboe, Violin and Strings, BWV1060; New discs: Panufnik, Mason Bates and Sorensen; Disc of the Week.
with Andrew McGregor
0930
Building a Library: Bach's Concerto for Oboe, Violin and strings in C minor BWV1060R
David Vickers recommends a version of this ever-popular Bach Concerto. Though the manuscript was lost, a reconstruction of it was made possible because, in 1736, Bach had arranged it as the Concerto for two harpsichords and orchestra in C minor.
1030
Andrew is joined by Gillian Moore discuss new releases of music by Andrzej Panufnik, Mason Bates, Bent Sorensen, Michael Finnissy and Witold Lutoslawski
1145
Andrew chooses an outstanding new release as his Disc of the Week.
9.00am
Bach - Secular Cantatas VI
BACH, J S: Psalm 51 from Pergolesi's Stabat Mater BWV1083 'Tilge, Hochster meine Sunden'; Cantata BWV53 'Schlage doch, gewunschte Stunde'; Cantata BWV198 'Lass, Furstin, lass noch einen Strahl' (Trauerode)
Carolyn Sampson (soprano), Joanne Lunn (soprano), Robin Blaze (counter-tenor), Gerd Turk (tenor), Dominik Worner (bass), Bach Collegium Japan, Masaaki Suzuki (conductor)
BIS BIS2181 (Hybrid SACD)
Schubert: String Quintet & Lieder
SCHUBERT: String Quintet in C major, D956; Die Gotter Griechenlands D677 (Schiller); Der Tod und das Madchen, D531; Der Jungling und der Tod, D545 (Spaun); Atys D585; Der liebliche Stern, D861 (Schulze)
Quatuor Ebene, Gautier Capucon (cello), Matthias Goerne (baritone), Laurene Durantel (double-bass)
ERATO 2564648761 (CD)
Virtuoso: Leonidas Kavakos
BRITTEN: Reveille
DOHNANYI: Ruralia hungarica: Gypsy Andante
DVORAK: Humoresque in G flat major Op. 101 No. 7
ELGAR: La Capricieuse Op. 17
FALLA: El sombrero de tres picos
PAGANINI: Introduction & Variations on 'Nel cor piu non mi sento' by Paisiello; Variations on 'God save the King' Op. 9
SARASATE: Caprice Basque Op. 24; Danza Espanola No. 3: Romanza Andaluza Op. 22, No. 1
STRAUSS, R: Der Rosenkavalier: Waltzes
STRAVINSKY: Danse Russe (from Petrouchka); Chanson Russe
TARREGA: Recuerdos de la Alhambra
TCHAIKOVSKY: Valse sentimentale Op. 51 No. 6
WIENIAWSKI: Capriccio Valse in E major Op. 7
Leonidas Kavakos (violin), Enrico Pace (piano)
DECCA 4789377 (CD)
Howells: Collegium Regale 'King's College Cambridge Service'
HOWELLS: Collegium Regale 'King's College Cambridge Service'; Psalm 122; Psalm 121; Behold, O God our defender; Rhapsody for Organ No. 1 in D flat major Op. 17 No. 1; I love all beauteous things
Owain Park (organ), Trinity College Choir Cambridge, Stephen Layton (conductor)
HYPERION CDA68105 (CD)
9.30am Building a Library
David Vickers recommends a version of J.S. Bach's Concerto for Oboe,Violin and Strings BWV 1060r
Building a Library Recommendations
Top recommendation:
JS Bach: Violin Concertos, BWV 1041-1043 & Oboe Concerto, BWV 1060R
BACH, J S: Violin Concerto No. 1 in A minor, BWV1041; Violin Concerto No. 2 in E major, BWV1042; Concerto for Two Violins in D minor, BWV1043; Concerto for Oboe, Violin and Strings BWV1060R
Antoine Torunczyk (oboe), Manfredo Kraemer (violin), Fredrik From (violin), Peter Spissky (violin), Bjarte Eike (violin), Concerto Copenhagen, Lars Ulrik Mortensen (conductor)
CPO 7779042 (CD mid-price)
Other recordings:
Below is a shortlist of other recordings which David Vickers also liked, although we can't guarantee the availability of these discs.
J S Bach - Oboe Concertos
BACH, J S: Oboe Concerto in F major, BWV1053; Oboe d'amore Concerto in A major, BWV1055; Oboe Concerto in D minor, BWV1059; Double concerto in C minor BWV1060a
Marcel Ponseele (oboes), Ryo Terakado (violin), Ensemble il Gardellino
ACCENT ACC24165 (CD mid-price)
Bach - Concertos for Several Instruments, Vol. 2
BACH, J S: Brandenburg Concerto No. 3 in G major, BWV1048; Concerto for Two Violins in D minor, BWV1043; Orchestral Suite No. 1 in C major, BWV1066; Concerto for Oboe & Violin in C minor, BWV1060
Cafe Zimmermann
ALPHA ALPHA048 (CD mid-price)
JS Bach: Double & Triple Concertos
BACH, J S: Concerto for Two Violins in D minor, BWV1043; Concerto for Flute, Violin & Harpsichord in A minor, BWV1044; Concerto for Oboe, Violin and Strings BWV1060R; Concerto for 3 violins, strings & continuo in D major (reconstruction), BWV 1064R
Alexandra Bellamy (oboe), Rachel Podger (violin/director), Bojan Cicic (violin II), Katy Bircher (flute), Johannes Pramsohler, Anna Nowak-Pokrzywinska (violins II, III), Brecon Baroque
CHANNEL CCSSA34113 (Hybrid SACD mid-price)
10.15am – Contemporary and Recent Music Releases
Andrew is joined by Gillian Moore to discuss new releases of music by Andrzej Panufnik, Mason Bates, Bent Sorensen, Michael Finnissy and Witold Lutoslawski
The Panufnik Legacies II
ASHTON, K: Spindrift
MAYO: Variation 4
MORIARTY: Granular Fragments
SEMMENS: Variation 9
WARD, D: P-p-paranoia
London Symphony Orchestra, Francois-Xavier Roth (conductor)
LSO LIVE LSO5070 (CD budget)
Finnissy: Singular Voices
FINNISSY: Beuk o' Newcassel Sangs (Eight traditional songs from North East England); Lord Melbourne; Same as We; Song 15; Song 16; Song 14; Song 11; Song 1
Clare Lesser (soprano), Carl Rosman (clarinet), David Lesser (piano)
METIER MSV28557 (CD)
Bent Sorensen: Sounds Like You (Live)
SORENSEN, B: Intermezzi; Sounds Like You
Lore Lixenberg (mezzo-soprano), Signe Asmussen (mezzo-soprano), DR SymfoniOrkestret, DR VokalEnsemblet, Thomas Dausgaard (conductor)
DACAPO 6220632 (CD)
Mason Bates: Works for Orchestra
BATES, MASON: The B-Sides; Liquid Interface; Alternative Energy
Mason Bates (electronica), San Francisco Symphony, Michael Tilson Thomas (conductor)
SFS MEDIA SFS0065 (Hybrid SACD)
Lutoslawski: Concerto for Orchestra & Symphony No. 4
LUTOSLAWSKI: Concerto for Orchestra; Little Suite (Mala suita); Symphony No. 4
NDR Symphony Orchestra, Krzysztof Urbanski
ALPHA ALPHA232 (CD)
11.15am – BBC Music Magazine Awards Roundup
VIVALDI: L'estro armonico - 12 concerti Op. 3
Rachel Podger (violin, director), Brecon Baroque
CHANNEL CCSSA36515 (2Hybrid SACD mid-price)
BACH, J S: Cello Suites Nos. 1-6, BWV1007-1012
David Watkin (cello)
RESONUS CLASSICS RES10147 (2CD budget)
Mozart, Ives & Verdi: String Quartets
IVES, C: String Quartet No. 2
MOZART: String Quartet No. 21 in D major, K575 'Prussian No. 1'
VERDI: String Quartet in E minor
Schumann Quartett
ARS PRODUKTION ARS38156 (Hybrid SACD mid-price)
Nielsen: Symphonies Nos. 1 & 3
NIELSEN: Symphony No. 1 in G minor Op. 7 (FS16); Symphony No. 3 Op. 27 (FS60) 'Sinfonia espansiva'
Royal Stockholm Philharmonic Orchestra, Sakari Oramo (conductor)
BIS BIS2048 (Hybrid SACD)
Brahms & Bruckner: Motets
BRAHMS: Fest- und Gedenkspruche Op. 109; Ave Maria Op. 12; How lovely are Thy dwellings; Motets (3) Op. 110; Geistliches Lied Op. 30
BRUCKNER: Aequalis No. 1 for three trombones; Virga Jesse floruit; Ecce sacerdos magnus; Christus factus est; Locus iste, WAB 23; Os justi meditabitur sapientiam; Ave Maria (1861), WAB 6; Tota pulchra es, antiphon, WAB 46; Aequalis No. 2 for three trombones
Tenebrae, Nigel Short (conductor), Alexander Mason (organ), Mark Templeton (trombone), Helen Vollam (trombone), Patrick Jackman (trombone)
SIGNUM SIGCD430 (CD mid-price)
VERDI: Aida
Anja Harteros (Aida), Jonas Kaufmann (Radames), Ekaterina Semenchuk (Amneris), Ludovic Tezier (Amonasro), Erwin Schrott (Ramfis), Marco Spotti (Il Re d'Egitto), Paolo Fanale (Un Messaggero), Eleonora Buratto (Sacerdotessa), Orchestra dell'Accademia di Santa Cecilia, Roma; Coro dell'Accademia di Santa Cecilia, Antonio Pappano (conductor)
WARNER CLASSICS 2564610663 (3CD budget)
11.50am
The Spirio Sessions
Uri Caine (piano), Jenny Lin (piano)
STEINWAY & SONS STNS30044 (CD mid-price)
11.55am – Disc of the Week
Scarlatti: 18 Sonatas
SCARLATTI, D: Keyboard Sonata K417 in D minor; Keyboard Sonata K208 in A major; Keyboard Sonata K159 in C major 'La caccia'; Keyboard Sonata K56 in C minor; Keyboard Sonata K213 in D minor; Keyboard Sonata K125 in G major; Keyboard Sonata K373 in G minor; Keyboard Sonata K119 in D major; Keyboard Sonata K69 in F minor; Keyboard Sonata K425 in G major; Keyboard Sonata K29 in D major; Keyboard Sonata K99 in C minor; Keyboard Sonata K12 in G minor; Keyboard Sonata K479 in D major; Keyboard Sonata K9 in D minor; Keyboard Sonata K318 in F sharp major; Keyboard Sonata K141 in D minor; Keyboard Sonata K32 in D minor
Yevgeny Sudbin (piano)
BIS BIS2138 (Hybrid SACD)