Main content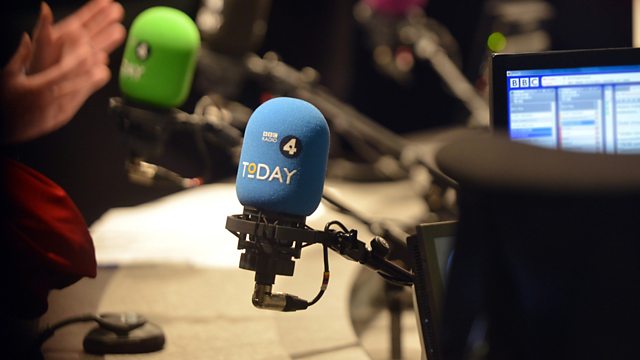 09/04/2016
Morning news and current affairs. Including Sports Desk, Weather and Thought for the Day.
Clips

Today's running order
0710
Labour leader Jeremy Corbyn has accused David Cameron of misleading the public over his involvement in off-shore tax avoidance. It follows Mr Cameron's announcement on Thursday that - before becoming Prime Minister - he had profited from selling shares in an off-shore company set up by his father. Speaking live in the studio is BBC's political correspondent Alan Soady.
0715
Belgian authorities have arrested five men suspected of links to last month's bombings in Brussels, including the last remaining identified fugitive in the Paris attacks last November.  Police are checking whether one of the men, Mohamed Abrini, is the "man in the hat" seen in security footage from Brussels airport just before the attack. BBC's correspondent Damian Grammaticus speaks live to us from Brussels.
0720
What happens when two international broadcast giants collide? The trailer for the next Star Wars film - Rogue One - was released yesterday - featuring the actress Felicity Jones in the lead role. For many years she was Emma Grundy in the Archers - her professional journey taking her from Ambridge to the Death Star.
0730
The NSPCC has described it as "a truly horrific case". 21 month-old Ayeeshia Jane Smith – known as AJ – was murdered by her mother at their home in Stretton, near Burton on Trent. Speaking live on the programme is Conservative MP for Burton Andrew Griffiths.  
0740
For this week's meet the author: Jim's been talking to one of Britain's leading comic writers about his long career and how it all began on Fleet Street Michael Frayn.
0750
The government is in talks with Liberty House's owner Sanjeev Gupta over the future of Tata's Port Talbot steel plant. There's been criticism from some quarters about green policies imposing an additional burden on an industry already struggling with changes in the international markets. Has the steel industry been hamstrung by green policies? Speaking live in the studio is director of the energy intensive users group Jeremy Nicholson and Lord Greg Barker former minister for climate change during the coalition government.
0810
The Archbishop of Canterbury has said he is "completely surprised" after a DNA test result revealed the identity of his real father. The Most Reverend Justin Welby, 60, has discovered he is the son of Sir Winston Churchill's last private secretary, the late Sir Anthony Montague Browne. Speaking live on the programme is Charles Moore who uncover the story for the telegraph and Andrew Atherstone Archbishop Welby's biographer.
0820
Italy yesterday recalled its ambassador to Egypt for consultations over the murder of student Giulio Regeni in Cairo. The mutilated body of Giulio Regeni - who was studying at Cambridge University for the last 10 years - was found in a ditch outside the capital in early February. Speaking live on the programme is director centre for Global Security Dr Andrea Teti and Paz Zarate lawyer and friend of Giulio Regeni.
0830
Labour leader Jeremy Corbyn said yesterday that David Cameron had "misled the public" and "lost the trust of the British people" after admitting he owned shares in an offshore fund set up by his late father has undermined public trust in him. Speaking live on the programme the leader of the House of Commons Chris Grayling.
0840
Gene Cernan, a pilot on Apollos 10 and 17, became the last person to set foot on the lunar surface in 1972. His story is told in The Last Man on the Moon, which gives a personal account of some of the main events in Cernan's life as an astronaut, especially his involvement in the Apollo programme. Cernan flew in space three times. We have been speaking to Eugene Cernan astronaut featured in new film The Last Man on the Moon.
0850
From hedgehogs to house sparrows, butterflies to bumblebees the story of British wildlife is one of remorseless decline. There are some bright shafts of sunlight peeking through here and there to lighten the gloom - examples of species or places that are bucking the trend. So how do we turn these green shoots into a full blown recovery? Well, that's the focus of a new book Wild Kingdom by the natural history film maker Stephen Moss. BBC's Science editor Tom Feilden reports.
0855
Following the revelation that David Cameron owned shares in an offshore fund set up by his late father, Number 10 say that the prime minister will make his tax returns public "as soon as possible". But should politicians have to open their financial affairs to public scrutiny? Speaking live on the programme is former Liberal Democrat MP who published her own tax return Tessa Munt and managing director of Tooley Street Research and former Labour MP and treasury minister Kitty Ussher.
All subject to change.