Main content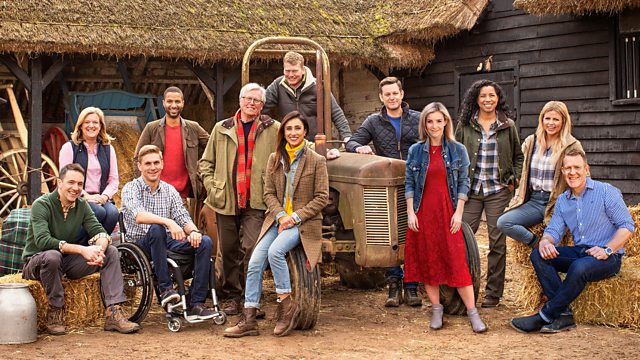 Three Counties
The team explore the three counties of Herefordshire, Worcestershire and Gloucestershire and meet some of the local crafts people keeping rural skills alive.
This episode explores the three counties of Herefordshire, Worcestershire and Gloucestershire. Matt Baker meets some of the local crafts people keeping rural skills alive - heritage builders, a weathervane maker and a stained glass artist. Ellie Harrison is visiting a farm where the owners are potty about poultry, breeding turkeys for their eggs rather than meat. She's also exploring the ultimate wildlife garden. Sean Fletcher is discovering the area's links with the humble daffodil. And Adam Henson is meeting the three-year-old girl already getting to grips with lambing.
Hundreds of years after becoming extinct, beavers are back on mainland Britain. Charlotte Smith investigates why some people are trying to save them, while others want them culled.
Wildlife Kate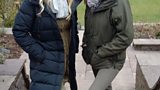 Ellie Harrison is in Worcestershire to meet the self-proclaimed 'Wildlife Kate'.  Kate MacRae is working with a couple to create a garden home for a wealth of British wildlife.  What makes Kate different is that she is a self-taught gadget girl, and has equipped this garden with thirty cameras so that she can capture everything that goes on, twenty-four hours a day.  From a specially built badger sett to a kingfisher perch, Kate really does have cameras everywhere in this seven acre plot.  Kate's real pride and joy at the moment are the rare harvest mice that have made this garden their home. Ellie helps rig a camera and create a harvest mouse haven, then heads into Kate's control room to see some of the many hours of footage she has already captured.
Church restoration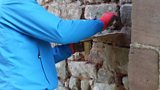 Matt Baker visits 12th century Holy Trinity Church in Bosbury, a village church typical of many up and down the country: venerable but crumbling. Matt talks to parishioner Liz Clutterbuck who loves her church and has helped raise the funds to restore it. He meets the clever heritage builders Richard and Rhys who are reversing 800 years of aging and the architect Philip Belchere who's gone back in time for inspiration to remodel the church. Matt helps repoint the walls with the correct mortar so that the building can stay standing for years to come.
Bring beavers back?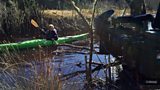 Beavers used to be a natural part of the British landscape, but have been extinct for hundreds of years. Now, as Charlotte Smith discovers,up in Scotland a debate is raging over whether they should be allowed to permanently return. In 2009 a Scottish Beaver Trial was set up to bring them to the remote Knapdale forest in Argyll. It's claimed that these beavers have done a huge amount for biodiversity in the area, creating a habitat that's attracted many other species. They've also brought large numbers of wildlife watchers into the area. However, more than a hundred miles away in Tayside, there's a colony of more that 150 wild beavers. It's not known whether they escaped from captivity or were illegally released 10 years ago, but local landowners say that they are weakening the river banks and destroying flood protection.
Turkey eggs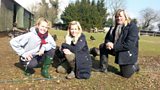 It is fair to say that Sarah Hawkeswood is mad about poultry, especially turkeys.  But Sarah isn't your average turkey farmer. Being a vegetarian, Sarah had always wanted a pet turkey – not one for the pot!  After a fair few months with her feathered friend, she found that the turkey had produced a beautiful egg.  Sarah was so impressed, she immediately went and got herself another turkey and from there her passion has blossomed.  Sarah met her partner at a poultry show and the two now look after an impressive number of breeds of chickens, turkeys and ducks, each producing their own special type of eggs.  After meeting Sarah, Ellie travels to the local primary school where she joins a class of children carrying out one of the great Easter traditions – egg painting. 
Lily lambing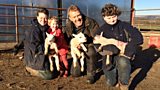 As he approaches Easter, there's still plenty going on all over Adam Henson's farm. Lambing is still in full swing and the goats have now kidded. There's also a Hereford bull to weigh – just to ensure he's putting on a least a kilo on every day! Then Adam makes time to visit a family whose daughter has become an internet sensation. At just three year's old Lilly has become a dab hand at delivering lambs, and online clip of her doing just that has gone viral. So Adam's goes to meet this your shepherd to see if he can pick up any tips. 
Weathervanes
Matt is in the studio of the Greens, who create their own styles of weathervanes in the Herefordshire countryside.  Karen Green brought her skills over from the USA and is passionate about the history and functionality of these sculptural pieces.  Karen shows Matt how a weathervane works, and gives him a swift lesson in how to make one of his own.
Wild daffodils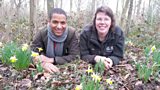 The native British daffodil can still be found in small pockets of the country and especially in Gloucestershire, in an area known as 'the Golden Triangle' where the wild daffodil is prolific.  Sean Fletcher is in the area to hunt down this more subtle variety of the yellow bloom we all know and love.  Sean meets Rosie Kelsall from the Gloucester Wildlife Trust and a group of volunteers who are spreading the wild seed. Despite the short flowering season of the wild daffodil, this year the memory will linger as ceramic versions are being made as part of a poignant tribute to those who fell during WW1.
Glass art
Bosbury Holy Trinity may have lost most of its stained glass windows, but beautiful glass art is still being made in the county of Herefordshire.  Matt Baker meets Tamsin Abbott, an artist who has been working with glass for sixteen years.  From her beautiful studio Tamsin draws on influence from the natural world around her.  A reoccurring motif is the hare, playfully jumping around the glass panels.  Matt has a go at creating his own piece of art and learns a technique for creating a feather effect.
Horace's poem
I used to laugh when, as a child, I walked through fields where daffs grew wild,
And strangers tiptoed, finding room, to walk and not step on a bloom,
While we with powerful kick would try, to send those blooms into the sky
In such profusion did they grow, all scattered wide, none in a row,
Then wartime fields were ploughed and we, those lovely blooms, no longer see
But still I dream of those days olden, when fields for miles around were golden,
And local ladies, thousands sold, to reap their own particular gold
Fifty blooms with leaves per bunch, we picked all day, no time for lunch
A dozen bunches meant thirteen, but what a harvest we would glean
Each bunch with raffia softly tied, in our own particular spot we'd hide
Until we placed them in a sack, carried on tired and aching back,
To sell to a lady who would boast, bring me the best, I'll pay the most
Thirteen to the dozen, it made no sense, and for all those blooms we got two pence
For thirty-nine bunches we were paid a tenner, received in a none too grateful manner
But no farmer charged, the daffs came free, so we'd soon return gently
As off to the sweet shop we did high, to see what those six pence would buy
Alas those days I'll no longer see, I'm fast approaching ninety-three!
Credits
| Role | Contributor |
| --- | --- |
| Presenter | Ellie Harrison |
| Presenter | Matt Baker |
| Presenter | Adam Henson |
| Presenter | Charlotte Smith |
| Executive Producer | William Lyons |
| Series Producer | Joanna Brame |