Main content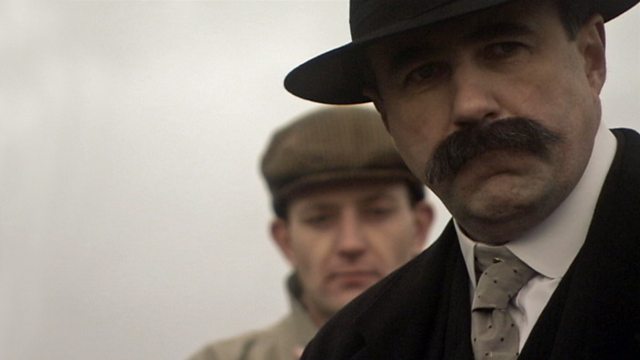 Documentary series covering the 1916 Easter Rising, which changed the course of Irish history. This programme looks at the contributions of James Connolly.
Ann an 1916, dh'atharraich ar-a-mach na Càisge eachdraidh na h-Èirinn. Chuir seachdnar fireannach na h-ainmean aca ri pàipear oifigeil Poblachd na h-Èireann a' ciallachadh gu robh gach fear a' dol an sàs ann an ar-a-mach fuilteach agus gan cuir fhèin ann an cunnart bàis.
Bha pàirt mòr aig Seumas Connolly anns an Ar-a-mach. Rugadh e ann an 1868 anns an sgìre Cowgate ann an Dun Èideann, gu pàrantan Èireannach. Dh'fhàg e an sgoil aig aois 11 airson obair a dhèanamh agus an uair a bha e 14, fhuair e a-steach dhan Arm le bhith a' toirt fiosrachadh nach robh ceart seachad. Nuair a thòisich an t-Ar-a-mach, bha Connolly na Cheannard air Buidheann Airm Bhaile-Ath-Cliath. A chionn 's gu robh pàirt cudromach aig a' bhuidheann seo anns an ar-a-mach, 's e Connolly a bha os cionn nan reubaltach. Chaidh Connolly a leòn cho dona anns a' bhlàr 's nach robh e comasach dha seasamh air beulaibh an arm-losgaidh. Cheangal iad e ri cathair agus chaidh losgadh air.
The 1916 Easter Rising changed the course of Irish history. Seven men put their names to the Proclamation of the Irish Republic, and in signing it, each man knew they were committing themselves to a bloody rebellion and in all likelihood signing their death warrants.
James Connolly had a leading role in the uprising. He was born in 1868 in the Cowgate area of Edinburgh to Irish immigrant parents. He left school for work at the age of 11 and joined the army age 14, giving false details to enlist.
When the Easter Rising occurred in 1916, Connolly was commandant of the Dublin Brigade, and as they had the most substantial role in the rising, he was by default commander-in-chief. Connolly was so badly injured from the fighting that he was unable to stand before the firing squad. He was tied to a chair and then shot.