Main content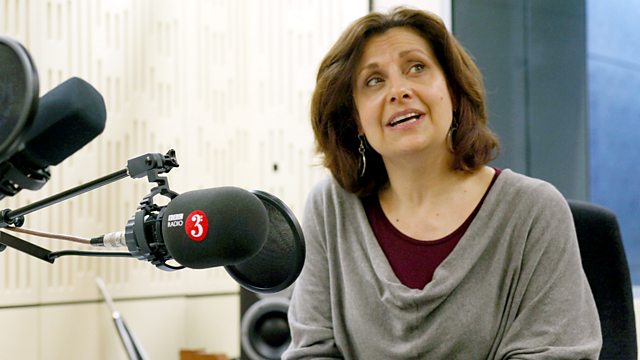 Friday - Rob Cowan with Rebecca Front
With Rob Cowan. Including My Favourite English Tone Painting; Music in Time: Weber: Oberon; Artist of the Week: Mikhail Pletnev, featured in Chopin's Piano Sonata No 2.
9am
My favourite...English tone painting. Rob chooses colourful pieces by five English composers, some sketching a musical idea of springtime, from Delius's famous cuckoo to less well known works such as April-England by John Foulds and Frank Bridge's Enter Spring.
9.30am
Take part in our daily musical challenge: identify a piece of music played backwards.
10am
Rob's guest is the actress, comedian, writer and presenter Rebecca Front. Rebecca has recently played the scheming Anna Mikhailovna in the BBC's adaptation of War and Peace and starred in Julian Fellowes' latest period drama Doctor Thorne. She made her name in satirical shows such as The Day Today, Knowing Me, Knowing You With Alan Partridge, and The Thick of It, for which she won a BAFTA. Other roles include Chief Superintendent Jean Innocent in Lewis and Mrs Bennet in Death Comes to Pemberley. Rebecca will be sharing a selection of her favourite classical music every day at 10am.
10:30am
Music in Time: Romantic
Shakespeare's character of Oberon, King of the Fairies, provided Carl Maria von Weber with the subject for his final opera in which a new vivid style of musical characterization compensated for a weak libretto.
11am
Artist of the week. This week Rob features the pianistic skills of the multi-talented Russian musician Mikhail Pletnev. Pletnev burst onto the musical scene in 1978 when he won the Gold Medal at the International Tchaikovsky Competition. His colossal technique and vivid interpretations led to worldwide acclaim as a pianist, while he also built a career as a conductor. Rob presents a showcase of his recordings, including concertos by Haydn and Beethoven, and sonatas by Chopin and Scriabin.
Chopin
Sonata No. 2 in B flat minor Op. 35
Mikhail Pletnev (piano).
Music Played
My favourite... tone paintings

Rebecca Front's Choice

Rob's choice for Rebecca Front

Music in Time: Romantic

Artist of the Week: Mikhail Pletnev
Recording Rewind
The music played:
Mozart Serenade No. 10 'Gran Partita': Finale
Harmonie de l'Orchestre des Champs Elysees
Philippe Herreweghe (director)
HARMONIA MUNDI
Time Travellers: the podcast