Main content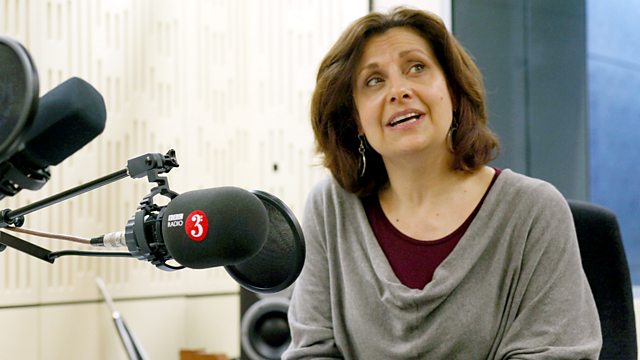 Tuesday - Rob Cowan with Rebecca Front
With Rob Cowan. My Favourite English Tone Painting; Music in Time: Dittersdorf: Double Bass Concerto; Artist of the Week: Mikhail Pletnev, in music by Scriabin and Rachmaninov.
9am
My favourite...English tone painting. Rob chooses colourful pieces by five English composers, some sketching a musical idea of springtime, from Delius's famous cuckoo to less well known works such as April-England by John Foulds and Frank Bridge's Enter Spring.
9.30am
Take part in today's music-related challenge: listen to the clues and identify the mystery person.
10am
Rob's guest is the actress, comedian, writer and presenter Rebecca Front. Rebecca has recently played the scheming Anna Mikhailovna in the BBC's adaptation of War and Peace and starred in Julian Fellowes' latest period drama Doctor Thorne. She made her name in satirical shows such as The Day Today, Knowing Me, Knowing You With Alan Partridge, and The Thick of It, for which she won a BAFTA. Other roles include Chief Superintendent Jean Innocent in Lewis and Mrs Bennet in Death Comes to Pemberley. Rebecca will be sharing a selection of her favourite classical music every day at 10am.
10:30am
Music in Time: Classical
Rob places Music in Time with a Concerto for Double Bass by the Classical composer Carl Ditters von Dittersdorf, who was keen to raise the profile of the instrument.
11am
Artist of the week. This week Rob features the pianistic skills of the multi-talented Russian musician Mikhail Pletnev. Pletnev burst onto the musical scene in 1978 when he won the Gold Medal at the International Tchaikovsky Competition. His colossal technique and vivid interpretations led to worldwide acclaim as a pianist, while he also built a career as a conductor. Rob presents a showcase of his recordings, including concertos by Haydn and Beethoven, and sonatas by Chopin and Scriabin.
Scriabin
Sonata No. 4 Op. 30
Mikhail Pletnev (piano)
Rachmaninov
4 Etudes-Tableaux
Mikhail Pletnev (piano).
Music Played
MY FAVOURITE...ENGLISH TONE PAINTING

REBECCA FRONT'S CHOICE NO.1

REBECCA FRONT'S CHOICE NO.2

MUSIC IN TIME: CLASSICAL

ARTIST OF THE WEEK: MIKHAIL PLETNEV

ARTIST OF THE WEEK: MIKHAIL PLETNEV
Mystery Person
Answer: Dietrich Fischer-Dieskau