Main content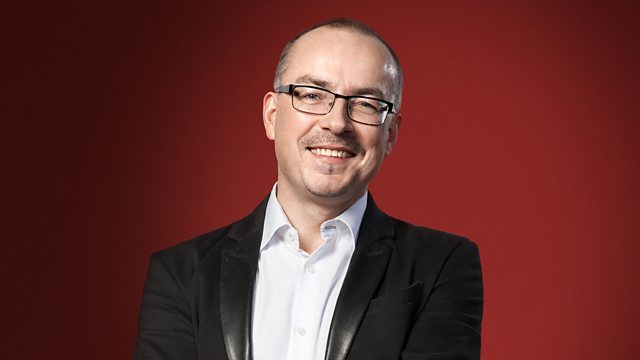 Building a Library: Brahms: Violin Sonata in G, Op 78
With Andrew McGregor. Building a Library: Brahms: Violin Sonata in G, Op 78; Reissues featuring pianists Vladimir Sofronitsky, Lazar Berman and Youri Egorov; Disc of the Week.
with Andrew McGregor
0930
Building a Library: Brahms's Violin Sonata in G Major, Op. 78
Brahms composed this sonata, one of the most popular in the violin repertoire, soon after the tragic early death of his young godson, Felix Schumann. It is pervaded with lyrical tenderness as well as a melancholy, autumnal sadness. Clara Schumann said "I could not help bursting into tears of joy over it. I wish the last movement could accompany me to the next world." Katy Hamilton recommends a recording from the available versions.
1030
Andrew is joined by David Owen Norris to discuss reissues of three great Soviet-Russian pianists of the past: Vladimir Sofronitsky, Lazar Berman and Youri Egorov
1145
Andrew chooses an outstanding new release as his Disc of the Week.
9.00am
Honegger & Ibert: L'Aiglon
Anne-Catherine Gillet, Helene Guilmette, Tyler Duncan, Etienne Dupuis, Marc Barrard, Philippe Sly, Julie Boulianne, Isaiah Bell, Pascal Charbonneau, Marie-Nicole Lemieux, Kimy McLaren, Orchestre Symphonique de Montreal, Kent Nagano (conductor)
DECCA 4789502 (2CD mid-price)
Weber: Complete Overtures
WEBER: Der Beherrscher der Geister, J122: Overture; Peter Schmoll, Overture J8 (Op. 8); Abu Hassan Overture; Oberon Overture; Preciosa, Overture J279 (Op. 78); Der Freischutz Overture; Silvana, Overture J87; Euryanthe Overture; Turandot: Overture; Jubel-Ouverture, J245 (Op. 59)
WDR Sinfonieorchester Koln, Howard Griffiths (conductor)
CPO 7778312 (CD)
Neglected Works for Piano
ALMEN: Sonata in B minor Op. 2
AULIN, V: Feuille d'Album; Valse elegiaque
BACEWICZ: Sonatina
BEACH, A: Scottish Legend Op. 54, No. 1
CARWITHEN: Sonatina
CRAWFORD SEEGER: Preludes for Piano: No. 6 'Andante Mystico'
KAPRALOVA: April Preludes Op. 13
TAILLEFERRE: Pastorales
Bengt Forsberg (piano)
DB PRODUCTIONS DBCD170 (CD)
Dvorak & Schumann: Piano Concertos
DVORAK: Piano Concerto in G minor Op. 33
SCHUMANN: Piano Concerto in A minor Op. 54
Stephen Hough (piano), City of Birmingham Symphony Orchestra, Andris Nelsons (conductor)
HYPERION CDA68099 (CD)
Schumann: Cello Concerto, Piano Trio No. 1
SCHUMANN: Cello Concerto in A minor Op. 129; Piano Trio No. 1 in D minor Op. 63
Freiburger Barockorchester, Pablo Heras-Casado (conductor), Isabelle Faust (violin), Alexander Melnikov (fortepiano), Jean-Guihen Queyras (cello)
HARMONIA MUNDI HMC902197 (CD & DVD)

9.30am - Building a Library
Katy Hamilton recommends a version of Brahms' Violin Sonata in G, Op. 78
Building a Library Recommendations
Top recommendation:
BRAHMS: Violin Sonatas Nos. 1-3 (complete)
Josef Suk, Julius Katchen
DECCA E4663932 (CD mid-price)

Other recordings:
Below is a shortlist of other recordings which Katy Hamilton also liked, although we can't guarantee the availability of these discs.
Viktoria Mullova plays Brahms
BRAHMS: Violin Sonatas Nos. 1-3 (complete); Piano Trio No. 1 in B major Op. 8; Violin Concerto in D major Op. 77
Piotr Anderszewski (piano), Andre Previn (piano), Heinrich Schiff (cello), Berliner Philharmoniker, Claudio Abbado (conductor), Viktoria Mullova (violin)
PHILIPS E4757454 (2CD budget)
European Duo Recordings Volume 2
BRAHMS: Violin Sonata No. 1 in G major Op. 78; Violin Sonata No. 2 in A major Op. 100
REGER: Violin Sonata Op. 84 - Allegretto
SCHUMANN: Violin Sonata No. 1 in A minor Op. 105
Adolf Busch (violin), Rudolf Serkin (piano)
APR APR5542 (CD mid-price)
10.15am - New Early and Baroque Releases
Dresden Treasures
ANON.: Six Concertos (from the Schranck II manuscript of Saxon State and University Library)
Ketil Haugsand, Les Amis de Philippe, Ludger Remy (Director)
CPO 7777802 (CD mid-price)
Conversations: Quentin & Guillemain
GUILLEMAIN: Sonata III, Premier livre de sonates en quatuors;  Sonata IV, Deuxieme livre de sonates en quatuors
QUENTIN:  Concerto a quatre parties Op. 12;  Sonata IV a quatre parties Op. 12; Sonata V en trio Op. 10
Nevermind
ALPHA ALPHA235 (CD)
Sonates et Suites
CHÉDEVILLE: Sonata VI (publ. 1737); PHILIDOR: Sonate pour la Flute à Bec (publ. 1712); DIEUPART: Première Suite (publ. 1701); MARAIS: Couplets de folies (Les folies d'Espagne) (publ. 1701); HOTTETERRE: Troisième Suite. Sonate (publ. 1715); LECLAIR: Sonata XI (publ. 1728); BLAVET: Sonata II (publ. 1740); CHÉRON: Sonate III (publ. 1729)
Dan Laurin (recorder), Domen Marincic (cello), Anna Paradiso (harpsichord)
BIS BIS2185 (Hybrid SACD)
A Tribute to Bach: Bach Flute Sonatas & Arias
JS BACH: Adagio from the Sinfonia to the Easter Oratorio, BWV 249; Sonata in B minor, BWV 1030; Bete aber auch dabei from Cantata Mache dich, mein Geist, bereit, BWV 115; Solo (Partita) in A minor, BWV 1013; Sonata in A major for obbligato harpsichord and flute, BWV 1032; Doch weichet, ihr tollen vergeblichen Sorgen! from Cantata Liebster Gott, wenn wird ich sterben? BWV 8; Ich habe genug from Cantata Ich habe genug, BWV 82a ; Sonata for flute and continuo in E minor, BWV 1034; Ermuntre dich from Cantata Schmücke dich, o liebe Seele, BWV 180; Concerto in A minor, BWV 1056 (arr. Brown); Wo wird in diesem Jammerthale from Cantata Ach, lieben Christen, seid getrost, BWV 114; Sonata for flute and continuo in E major, BWV 1035; Adagio from Vivaldi's violin Concerto in G major, RV 299, arr. Bach BWV 973 (arr. Brown)
Elizabeth Cragg (soprano), Charles Daniels (tenor), Peter Harvey (bass), Rachel Brown (flute), Katherine Sharman (piccolo cello), Laurence Cummings (organ)
UPPERNOTE RECORDS UPCD003 (2 CDs, mid-price)
Handel: Trio Sonatas for Two Violins and Basso Continuo
HANDEL: Sinfonia in B flat major, HWV 339; Trio Sonata, HWV 392 in F major; Trio Sonata In B Flat, HWV 50a 'Esther'; Trio Sonata, HWV 393 in G minor; Trio Sonata, HWV 394 in E major; Trio Sonata, HWV 386a in c minor Op. 2 No. 1a; Trio Sonata, HWV 403 in C major
The Brook Street Band
AVIE AV2357 (CD)
Handel at Vauxhall, Volume 1
ARNE: Colin and Phoebe 'A Pastoral': Be still O ye winds and attentive ye Swains
HANDEL: Acis and Galatea: Sinfonia; Organ Concerto No. 2 in B flat major, HWV290 Op. 4 No. 2; Hush, ye pretty warbling quire (from Acis and Galatea); Dead March from Saul; The Melancholy Nymph from The What d'ye Call it? (1715); As steals the morn (from L'Allegro, il Penseroso, ed il Moderato); Ye verdant plains and woody mountains (from Acis and Galatea); The Advice Mortals wisely learn to measure
HEBDEN: Concerto No. 1 in A major; MOULT: Organ improvisation in the style of John Worgan and Handel
Eleanor Dennis (soprano), Greg Tassell (tenor), Benjamin Bevan (baritone), Kirsty Hopkins (soprano), Charles MacDougall (tenor), Sophie Bevan (soprano), Daniel Moult (organ), London Early Opera, Bridget Cunningham
SIGNUM SIGCD428 (CD mid-price)
10.50am - David Owen Norris on Russian Pianists
Andrew is joined by David Owen Norris to discuss reissues of three great Soviet-Russian pianists of the past: Vladimir Sofronitsky, Lazar Berman and Youri Egorov
The 1980 Ambassador Auditorium Recital
CHOPIN: Etudes (12) Op. 25
MOZART: Fantasia in C minor, K475
SCHUMANN: Fantasie in C major Op. 17
Youri Egorov (piano)
FIRST HAND FHR44 (CD)
Vladimir Sofronitsky: Concert Recordings (Live)
CHOPIN: Scherzo No. 1 in B minor Op. 20; Scherzo No. 2 in B flat minor Op. 31; Nocturne No. 4 in F major Op. 15 No. 1; Nocturne No. 5 in F sharp major Op. 15 No. 2
DEBUSSY: Serenade for the Doll
LIADOV: A Musical Snuffbox Op. 32
LISZT: Apres une lecture du Dante, fantasia quasi sonata (Annees de pelerinage II, S. 161 No. 7)
MOZART: Fantasia in C minor, K475; Fantasia in C minor, K396
PROKOFIEV: Sarcasm Op. 17 No. 5; Piano Sonata No. 7 in B flat major Op. 83
RACHMANINOV: Moment musical No. 2 in E flat minor Op. 16 No. 2; Moment musical No. 5 in D flat major Op. 16 No. 5
SCHUBERT: Impromptu in G flat major, D899 No. 3; Impromptu in A flat major, D899 No. 4
SCHUMANN: Fantasie in C major Op. 17; Etudes symphoniques Op. 13; Arabeske in C major Op. 18; Piano Sonata No. 1 in F sharp minor Op. 11; Carnaval Op. 9; Fantasiestucke Op. 12 No. 1 'Des Abends'; Romance in major Op. 28 No. 1
SCRIABIN: Piano Sonata No. 4 in F sharp major Op. 30; Poeme tragique Op. 34; Waltz in A flat major Op. 38; Etude Op. 8 No. 11 in B flat minor; Piano Sonata No. 8 Op. 66; Piano Sonata No. 5 in F sharp major Op. 53; Piano Sonata No. 9 Op. 68 'Black Mass'; Piano Sonata No. 10 Op. 70; Preludes (selection); Masque Op. 63, No. 1; Deux poemes Op. 32; Poemes Op. 69 Nos. 1 & 2; Mazurka in F sharp major Op. 40 No. 2; Etude Op. 8 No. 12 in D sharp minor
SHOSTAKOVICH: Prelude & Fugue for piano Op. 87 No. 3 in G major; Prelude & Fugue for piano Op. 87 No. 9 in E major
Vladimir Sofronitsky (piano)
MELODIYA MELCD1002312 (5 CD + DVD Video budget)
Lazar Berman: The Complete Sony Recordings
Music by Rachmaninov, Brahms, Beethoven, Scriabin, Khachaturian, Prokofiev, Chopin, Schubert, de Falla, Clementi, Liszt and Gershwin
Lazar Berman (piano)
SONY 88875168362 (6CD supra-budget)
11.50am - Disc of the Week
Honegger & Ibert: L'Aiglon
Anne-Catherine Gillet, Helene Guilmette, Tyler Duncan, Etienne Dupuis, Marc Barrard, Philippe Sly, Julie Boulianne, Isaiah Bell, Pascal Charbonneau, Marie-Nicole Lemieux, Kimy McLaren, Orchestre Symphonique de Montreal, Kent Nagano (conductor)
DECCA 4789502 (2CD mid-price)