Main content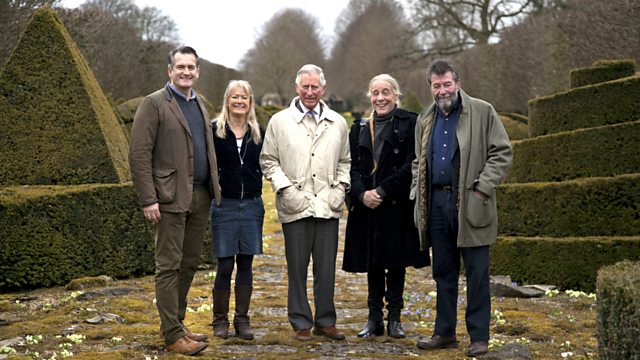 Prince Charles at Highgrove
Eric Robson and the horticultural panel answer questions from HRH the Prince of Wales's garden at Highgrove in Gloucestershire.
Eric Robson chairs a special correspondence edition of the horticultural panel programme recorded at His Royal Highness The Prince of Wales' garden at Highgrove in Gloucestershire.
The programme features an exclusive interview with The Prince of Wales about his new Highgrove Garden Festival in April.
Throughout the programme, the team will explore what advice the amateur gardener can glean from the royal gardens, and panellists Bob Flowerdew, Bunny Guinness and Matthew Wilson take questions from listeners, which were sent in by post, email and social media.
Produced by Darby Dorras
Assistant Producer: Hannah Newton
A Somethin' Else production for BBC Radio 4.
Last on
Eric Robson talks to The Prince of Wales about his lifelong passion for gardening.
Clips

Questions and Answers.
Q. My daughter has a small east-facing flowerbed by the pavement. It is likely to be affected by salt spray after the gritters have been at work. Does the panel have any suggestions for salt-resistant plants, preferably perennials?
A. Bob – I would go for pampas grass. It is a tough plant and I have seen it growing along the coast. The white variety provides more flowers than the pink. Use daylilies for additional colour.
Matthew – It is important to remember that by the time the perennials have started to grow the gritters will hopefully have gone. However, some salt may remain in the soil. At the end of autumn I would add a thick layer of mulch to protect any plants that remain in the bed.
Bunny - Crambe maritima or sea kale would survive. Try Nepeta Summer Magic, which will flower from May to September, or the pink flowers of the cirsiums.
Q. I've recently moved to a West Yorkshire town, and have a small, south-facing front garden with a cemented stonewall. Some neighbouring houses have Asplenium growing in the cracks in their garden walls. How can I encourage these and other suitable varieties to grow in the shady areas of my wall?
A. Bunny – the Polystichum setiferum will thrive in a dry sunny position. You will need to add some compost to a hole in the wall and make sure the plants are nicely rooted. You might want to add fleece to reduce moisture loss.
Matthew – you can line the hole with some polythene to reduce the moisture loss. I would try London Pride Saxifraga urbium, which is a flowering, low-growing plant. You could use toadflax or navelwort.
Q. I recently inherited a tired old lilac tree, which is completely smothered by very established ivy, to the extent that the two can't be separated. I am planning to remove both but fear I may disrupt the birds that are busy building nests.
Bob – it is too late as the birds will have already started to build their nests.
Bunny – I would keep the lilac and ivy because they will probably be fine growing together and an old lilac can be very beautiful.
Matthew – Birds start to choose a site for their nests as early as January and they start to build from late February. It is illegal to knowingly disturb a nest.
Q. Can the panel recommend a grass seed to plant under Wellingtonias and any other tips to maintain a healthy lawn in these conditions?
A. Bunny – it is very difficult to get grass to grow under the Wellingtonias. It is difficult for any plant to compete with the tree root system. You will need to keep the area well irrigated when planting there.
Debs - Cyclamen coum, primroses, Scilla Spring Beauty, and winter aconites all do well in the Highgrove arboretum.
Bob – Comfrey orientale will do a very good job of covering the area.
Q. Can the panel give us any tips and advice on the best varieties to grow and how to grow the biggest pumpkin.
A. Bob – Dig a big hole and add as much muck and compost as possible. Raise the temperature by placing plastic sheeting over the top. Once the fruits appear, remove all but one and water it as much as possible. Make sure the plant has enough space. Mammoth is a good variety.
Bunny – I would keep it covered in fleece until the weather has warmed up.
Q. I have a very successful lemon tree, producing around thirty lemons of a good size. Although the lemons look excellent they are not juicy. How can we improve this?
A. Bob – it probably has too many lemons on it and you will need to thin it out. Make sure you don't underwater them. If the lemon feels soft to squeeze then it needs watering.
Bunny – make sure you have a variety that is known to be juicy.
Q. I have just received my bare rooted hop plant and have planted it on my allotment.  Does the panel have any advice for how to care and feed the plant? 
Bob – you need to make sure they are female plants as they provide the fruits you require for making beer. You need to provide adequate supports for the plants to climb up. They are also very hungry plants.
Bunny – the flowers can be protected with hairspray and then be used as decorations for up to twelve months.
Broadcasts