Main content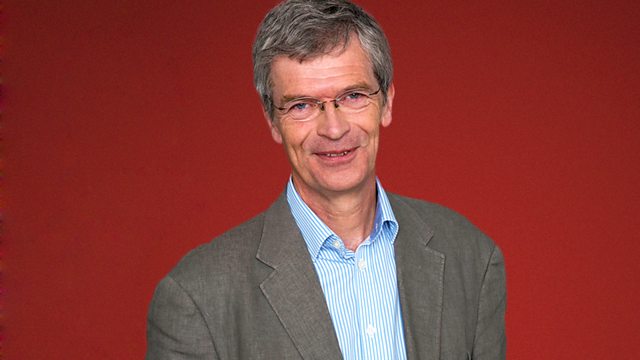 26/03/2016
Celebrating the week of its original release in 1970, Alyn Shipton's selection of listeners' requests includes part of Miles Runs the Voodoo Down from Miles Davis's acclaimed fusion album Bitches Brew.
Performers:
Artist  Miles Davis
Title  Miles Runs The Voodoo Down
Composer Davis
Album  Bitches Brew The Singles
Label  Columbia
Number CSK 41588 Track 2
Duration  2.49
Performers Miles Davis, t; Wayne Shorter, ss; Bennie Maupin, bcl; Chick Corea, Larry Young, kb; John McLaughlin, g; Dave Holland, Harvey Brooks, b; Lenny White Jack DeJohnette, d; Don Alias, Jumma Santos, perc. 20 Aug 1969

Artist  Keith Jarrett / Charlie Haden
Title  Don't Ever Leave Me
Composer Hammerstein / Kern
Album  Jasmine
Label  ECM
Number 2165 Track 8
Duration  3.11
Performers Keith Jarrett, p; Charlie Haden, b; rec 2007.

Artist   Billie Holiday
Title  Without Your Love
Composer Lange / Stryker
Album  Billie Holiday and Lester Young Complete Studio Recordings
Label  Essential Jazz Classics
Number 55683 CD 1 Track 17
Duration  2.55
Performers Buck Clayton, t; Ed Hall, c; Lester Young, ts; James Sherman, p; Freddie Green, g; Walter Page, b; Jo Jones, d. 15 June 1937.

Artist  Bruce Turner
Title  Jump
Composer Turner
Album  Accent on Swing
Label  Lake
Number 310 CD 2 Track 7
Duration  3.04
Performers: John Chilton, t; John Mumford, tb; Bruce Turner, as; Collin Bates, p; Jim Bray, b; Johnny Armitage, d. Feb 1961.

Artist  Chilton Fawkes Feetwarmers
Title  2:19 Blues
Composer Desdune
Album  The Melody Maker Tribute to Louis Armstrong
Label  Black Lion
Number LP 2 Side 2 Track 3
Duration  5.30
Performers John Chilton, t; Wally Fawkes, cl, ss; Bruce Turner, as; Colin Parbell, p; Steve Fagg, b; Chuck Smith, d. 4 July 1970

Artist  George Melly
Title  Nobody's Sweetheart Now
Composer Myers, Schoebel, Kahn, Erdman
Album  Many Moods of Melly
Label  PRT
Number 6550 Side 1 Track 3
Duration  circa 5.00
Performers: George Melly, vocal; John Chilton, t; Collin Bates [piano], Kenny Baldock [bass] and Chuck Smith [drums] 1984

Artist  Fats Waller
Title  Spring Cleaning
Composer Samulls, Whitcup
Album  Handful of Keys
Label  Proper
Number Properbox 71 CD 3 Track 18
Duration  2.29
Performers Herman Autrey, t; Gene Sedric, ts; Fats Waller, p; Al Casey, g; Charles Tuner, b; Slick Jones, d. 18 March 1937.

Artist  Dave Brubeck
Title  The Way You You Look Tonight
Composer Kern / Fields
Album  Time Was 
Label  Proper
Number Propebox 90 CD 4 Track 1
Duration  7.48
Performers Paul Desmond, as; Dave Brubeck, p; Ron Crotty, b; Lloyd Davis, d; 2 March 1953.

Artist  Art Blakey
Title  I Remember Clifford
Composer Golson
Album  Moanin'
Label  Masterworks
Number 21343 Track 7
Duration  5.43
Performers: Lee Morgan, t; Benny Golson, ts; Bobby Timmons, p; Jymie Merritt, b; Art Blakey, d. 22 Nov 1958.

Artist  Ella Fitzgerald
Title  Septembr Song
Composer Weill
Album  Intimate Ella
Label  Verve
Number 839838-2 Track 9
Duration  3.40
Performers: Ella Fitzgerald, v; Paul Smith, p. 1960

Artist  Emil Viklicky
Title  Buhaina
Composer Ray Brown
Album  Live in Vienna
Label  Cube/Metier
Number 2945 Track 7
Duration  5.59
Performers: Emil Viklicky piano;
Frantisek Uhlir double bass;
Laco Tropp drums; 27 April 2007

Artist  Art Pepper
Title  Our Song
Composer Pepper
Album  Winter Moon
Label  Galaxy
Number 5140 Track 1
Duration  5.32
Performers: Art Pepper, as; Howard Roberts, g; Stanley Cowell, p; Cecil McBee, b; Carl Burnett, d; strings, cond. Bill Holman. 1981.