Main content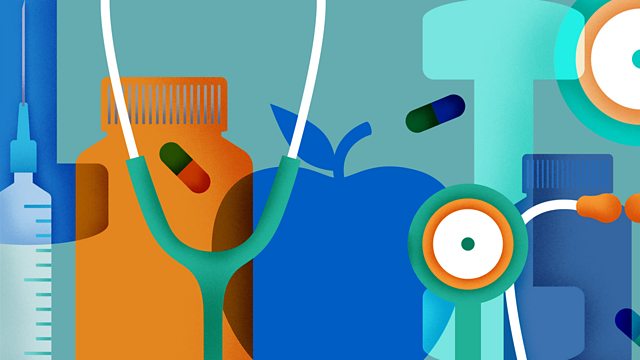 Health checks, Fertility, Adjustment
Dr Mark Porter asks if there is evidence that NHS health checks or 'mid-life MOTs' prevent serious disease. And are women wanting children aware that fertility declines with age?
NHS health checks or 'mid-life MOTs' have hit the headlines as new research claims they are a success. The aim is prevention - of diabetes, heart attacks and strokes - but their introduction has been controversial amid criticism they are not evidence based or cost effective. Resident sceptic Dr Margaret McCartney debates the issues with National Clinical Advisor Dr Matt Kearney.
And putting the family back into planning. As more couples leave it later before starting a family there is growing concern from fertility experts that many people don't know enough about when female fertility starts to decline. Professor Adam Balen and Professor Joyce Harper discuss the issues. And how accurate is the perception, often reported in the media, that fertility 'drops off a cliff' in the mid to late thirties? Professor Richard Anderson reviews the so called 'broken stick' study, a mathematical model which first defined the sharp drop off of female fertility.
And another instalment of Inside Language where Dr Margaret McCartney and Professor Carl Heneghan examine the terms used in evidence based medicine and why they matter. This week, adjustment and how researchers allow for factors that might skew their findings.
Last on
Programme Transcript - Inside Health
Downloaded from www.bbc.co.uk/radio4 
THE ATTACHED TRANSCRIPT WAS TYPED FROM A RECORDING AND NOT COPIED FROM AN ORIGINAL SCRIPT.  BECAUSE OF THE RISK OF MISHEARING AND THE DIFFICULTY IN SOME CASES OF IDENTIFYING INDIVIDUAL SPEAKERS, THE BBC CANNOT VOUCH FOR ITS COMPLETE ACCURACY.
INSIDE HEALTH
Programme 12. – Heath Check, Fertility, Adjustment
TX:  29.03.16  2100-2130
PRESENTER:  MARK PORTER
PRODUCER:  ERIKA WRIGHT
Porter
Coming up today:  Fertility – should we be doing more to put the family back into family planning?
And how researchers adjust for confounding factors – Carl Heneghan and Margaret McCartney are back with another Inside Language to help you interpret the real story behind the headlines.
But first NHS health checks. These mid-life MOTs have been in the news following the publication of research suggesting the seven year old programme has already prevented over 2,000 strokes and heart attacks.
The checks vary depending on where you live. In England they are offered to everyone between the ages of 40 and 74; in Scotland it's 40 – 64 and in Wales to anyone over 50. Whatever the age the aims are much the same - to spot problems like high blood pressure, heart disease and diabetes before they might otherwise become evident.
But their introduction has been controversial amid criticism that they are not evidence based and that they're a costly draw on resources. 
So supporters of the programme have welcomed a new study assessing the impact of the checks in England which seems to suggest that they do work – albeit at a price.
Dr Matt Kearney is a GP in Runcorn and National Clinical Advisor to both NHS England and Public Health England.
Kearney
First of all the people come in for the health check were from all sectors of the community, so people from deprived communities were more likely to attend than people from affluent communities.  That's very reassuring, it's early evidence but the early evidence suggests that we're not just attracting the worried well, which I think was an important potential criticism.
Secondly it showed that individuals coming into the programme are having risk factors identified.  I'm thinking about obesity, smoking, high alcohol intake.  Significantly more numbers are getting detected and people are being referred on and offered evidence based interventions.  But I think very importantly what it's also picking up is people who've got undiagnosed serious physical risk factors, so by that I mean things like high blood pressure, diabetes, atrial fibrillation – conditions that significantly increase the risk of having a heart attack or stroke that we're not picking up in general practice, despite having one of the best primary care systems in the world and clearly it is, and there are gaps, we're managing to miss significant numbers with those conditions.  So the evidence shows us that from this early evaluation one in 27 health checks is identifying someone with previously undiagnosed hypertension, about one in 110 with previously undiagnosed diabetes.  Those are very important findings for those individuals who then go on to appropriate management of those conditions which might include drug therapy but treatment is going to significantly reduce their risks of having heart attacks or strokes.
Porter
Dr Margaret McCartney's in our Glasgow studio.  Margaret, you've been looking at that evaluation, what was your take on the findings?
McCartney
Well the evaluation is all very well but it's an uncontrolled reporting of what happened and it's not able to say what the difference health check made because it doesn't compare it, again what would have happened if we hadn't done anything like that at all because it wasn't a randomised control trial.  And we do know that what happens when you go and look in a community for a disease or risk factors you will find it but the question is whether you find it usefully earlier than what would have happened had you just left things to its own devices.  So this study isn't good enough to tell us whether or not health checks have done what Jeremy Hunt Tweeted to say was, in his words, "great news that NHS health checks have now saved hundreds of lives, 2,500 heart attacks and strokes avoided thanks to early intervention" – we can't say that on the basis of this study.  And in addition we would have to assume that of the many people who attended, even though that was only 12% overall, you would have to assume that the vast majority of them went on and took their medication as prescribed for a long time and it had the effect that's been shown in trials already.  So these are extrapolations of data rather than real life data where we know it's made a difference.
Port
Matt, your take on that?
Kearney
Yeah, this is not defining evidence, this isn't a randomised control trial that proved whether or not this approach to an NHS health check is going to deliver what we hope it will deliver, that's reduction in premature death for the population.  None of the evidence that's been published to date answers that question for us and much of the studies – the Cochrane Study that's been discussed for example – that some people flag up as proving that health checks don't work actually most of those studies were from the 1960s, all but one before 1992, and before the era of modern medicine and the modern approach.  So I would agree we don't actually have that hard evidence that shows this programme is going to work.  What we do have is evidence that the interventions contained in the programme, they're all absolutely evidence based.  But I frankly would take it beyond that – I acknowledge that we have a gap in the evidence and I think we need to plug it.  I guess where I'm coming from Margaret, as a GP like yourself, is that we're not in a position where we can wait for perfect evidence because another stream of evidence that we have is the evidence that we have a relentless rise in preventable mortality because of lifestyle issues, because of undiagnosed hypertension, undiagnosed diabetes – that's something that's going to break the NHS bank, we don't have the luxury of waiting for perfect evidence.
McCartney
But the problem is if we don't try and get better evidence we simply just throw good money after bad.  And there have been two big studies that are of real relevance in this situation.  One was the Inter99 Study which was a very similar study to the health checks programme, which was a randomised control trial, it was done on the continent and it looked at a community based individually tailored programme for screening for the risk of heart disease and for risk factors for premature death in the community.  And if found that it did not work over 10 years, that was a really high quality trial.  The other trial that I think is of relevance as well was a UK based trial called the ADDITION-Cambridge Trial, people who were at high risk of diabetes were screened for it and they were offered interventions earlier for it and that did not reduce down the mortality rate to do with any all-cause mortality, cardiovascular mortality or diabetes related mortality.  And the problem is that when we keep doing the same thing again and again and expect different results we're going to fail, we have to acknowledge the fact that we actually do have really good recent modern evidence that says that this approach doesn't work and stop treating lifestyle factors as something that needs an individual doctor or nurse to intervene on and start looking at the public health interventions that we know that work.
Kearney
Well I do acknowledge that the Inter99 Trial is clearly an important trial but there are major differences between the studies they looked at and the NHS health check and it's not strictly comparable – younger population, lower risk factors etc.  But just to pick up the other points that Margaret has made.  Again I agree Margaret, I think population level measures, measures by government, local government, employers, schools – these are all the big drivers that are going to help reduce preventable illness and they have a very important part to play.  But what I would argue also is that we have an important part to play as GPs, nurses, people working in the NHS and I think this helps us because it gives us a structure to our prevention conversations with patients and it is about those conversations.
Porter
Margaret, how do you respond to that fact then that this is just facilitating a discussion that perhaps should be taking place anyway?
McCartney
But we do do it anyway and this is my point.  These conversations go on up and down the country, every single day GPs are talking to patients about what would you like, what would you not like, what are the pros, what are the cons – that is what we do.  The point is whether or not formalising this in the system of health checks, which gets loads of money thrown at it, creates waste, creates duplication, whether that itself is a useful waste of money and I argue that it's not because we do not have the evidence behind it.  Health checks, I think, offer promises that I don't think are actually realistic at the end of the day.
Kearney
Well I think that's where we differ.  I mean I think it is a very reasonable expenditure by the NHS showing that it's getting serious about prevention, it's allied to lots of other things that we're doing in the NHS like the diabetes prevention programme, the idea of a sugar tax across the NHS, the healthy towns – these are all big things, it's part of a bigger picture.  And I agree we don't have the evidence to answer the fundamental question – is this going to work in the long term – but we don't have the luxury of waiting.
McCartney
We can't ignore the evidence that's already there that just says this is not an evidence based use of money…
Kearney
The evidence at the moment is incomplete or irrelevant and that's the issue…
McCartney
No I don't think you can call Inter99 or ADDITION irrelevant…
Kearney
I do agree that we need….
McCartney
What's the point in doing these big enormous studies when we just ignore them when we don't like the answer.
Kearney
I think it's about taking a balanced approach to the evidence that's going to help us make a decision…
McCartney
… the problem is this is a fig leave, having the health checks sort of set in statute essentially in England, which is what it is, it creates a fig leave for the government to say oh we're doing something about this and I don't think that's good enough because I think you have to say this doesn't work and therefore you absolutely must do the big population level issues that do work, that to me is the problem when we keep pretending that this is a solution when we're actually just delaying it.
Porter
The other concern I've had raised with me is that it makes people feel like a patient, you're turning healthy people into patients often on some form of medication as well.
Kearney
Sure I think that's a very important question.  I think we do need to be very cautious about potential harms that we do for our patients and that's our role as GPs, we're making those sort of judgements all the time and supporting people to choose between two options that are maybe not that palatable and it's very important to reduce harm.  And it is about those conversations, it's not about putting people on medication primarily.
Porter
You describe the evidence at the moment as not being at the level that you require, you're taking a pragmatic approach you're saying but if it turns out in a few years that this is not cost effective or is not effective will it be stopped?
Kearney
Absolutely, we're going to take a hard look at the evidence and yes.
Porter
And how long will that be do you think before we have the sort of evidence that would satisfy someone like Margaret for instance?
Kearney
Well I don't have the answer to that question.  NHS England and Public Health England established an expert scientific clinical advisory panel and that committee will take expert views on the available evidence and as evidence emerges yes we'll give an honest appraisal and an honest review as to what the evidence shows.
Porter
Dr Matt Kearney.  And there is a link to the evaluation of the first four years of the programme in England on the Inside Health page of the Radio 4 website.
Now, how much do you know about fertility?  As more women leave it later before starting a family there is growing concern that many don't know enough about when female fertility starts to decline. And by the time some do find out, it can be too late. While we put a lot of effort into CONTRAception, we often take CONception for granted.
Adam Balen is Professor of Reproductive Medicine and Surgery at the University of Leeds and one of a number of leading fertility experts keen to put the family back into family planning.
Balen
Well I see this every day in my clinic that couples come and see me in the infertility clinic, having stopped contraception thinking that they'll get pregnant straightaway and I don't think we're saying enough about the impact that getting older has on fertility.  So fertility declines significantly as you get older because women are born with a fixed number of eggs and they are lost at a relentless rate, even if you're taking the contraceptive pill or any other form of contraceptive you're losing your eggs and therefore it's essential that we're informing our young couples that they shouldn't leave things too late, that planning for a family is not only about contraception and safe sex when you're very young but also thinking a little bit further ahead – when are you going to want to start a family, don't leave it too late.  I'm talking here really about education and actually bringing that education right back to teenagers and our youngsters who need to be becoming aware, even though it may not be at the forefront of their minds, they need to be told that this is an issue.
Vox pops – Two teenagers
I'm 13.
And I'm 13 too.
I want to start having kids when I'm about 26, 27 because if there's something wrong with my body that can be helped I want to not leave it too late.
I just want to have like a secure job and everything first and then think about it, but don't leave it like after 30.
I want to have a stable career, earning a reasonable salary and definitely be in a stable relationship as well.  So I'd want to start when I'm like 27 and have my first kid, if all good, about 28.
I don't want them more than two or three years apart, that they can't like play with each other.
Yeah exactly.
Balen
We need to support our youngsters to achieve all that they desire.
Porter
Adam, looking at the couples you see in your clinic, I mean are there really a significant proportion of them who didn't know that delay might cost them their ability to start a family?
Balen
Yes sadly people are surprised because these days everybody expects to have control over their lives.  We're very good at controlling everything but we can't control our biological clocks.  When you stop the pill you think you're going to get pregnant next month but in reality it can be many months and sadly for some it just doesn't happen.
Harper
My name is Professor Joyce Harper and I'm a professor at University College London and I work in the Department of Reproductive Health.  As we get to 30, 35, 40 it gets harder and harder biologically to have a child, our biological clock is really ticking but women do not understand that.  They come to our IVF units aged 38, 40, 45 and think that we can make them a baby and we can't.
Porter
But whose fault is that, it's not a new message, I mean it's been around for decades, why is it a surprise to so many women?
Harper
The message hasn't got out there unfortunately and we really need to do something about it and it really needs to be set in our schools.  Some of the major education documents that have come out at the moment they don't even mention fertility, they mention contraception, they mention sexually transmitted diseases but not fertility.
Vox pops – Two teenagers
I think fertility's something to do with children and like babies.
I think it's to do with if your eggs like…
If you can have kids.
Yeah, yeah I think that's what it means.  Because the word fertile kind of sounds like…
Fertility rate – I've heard something like how many or if you can have kids as well, I think it's something to do with that.
Yeah something, we don't really talk about it.
No, you learn about it like in science and stuff but they only like say oh fertility rate and they go on to something else, they don't really explain it.
They don't explain it, people don't think it's very important to know about it.
Harper
We need to apply this to boys and girls, we need to make boys become fertility aware as well and make them realise that they can't wait until they're 50 if their partner's the same age as them to have their first child. 
Porter
You hear this subjectively from a lot of people working in your field but is there any hard evidence that women really don't understand as much as you're suggesting?
Harper
No you're right, we haven't got hard evidence, we've got our anecdotal evidence from our experience as IVF practitioners when we get patients coming in and from friends and family.  But one of the real problems is that we know that women are delaying their first conception, that data for many countries is out there and we can see year in year out that it's increasing.
Woman
I'm 29, I work as a government economist and I'm in a relationship, I've been with my boyfriend for about a year and a half.  Yeah I would like kids, I'd like two probably in the next five years – we'd like to go travelling first, it would be great if I got promoted.  I'd like to get married.  I'd like to buy a house at least, I mean my boyfriend and I don't even live together, hopefully before 35 but I can just see the time ticking away, I can completely understand how that happens for lots of people.
Harper
I think nowadays women are doing so many other things, we've got so many other options compared to 20 or 30 years ago, so even if they are aware of their biological clock I think it's at the back of their mind and they're not thinking about it, then when they do settle down they realise that actually we may have a problem now.
Woman
But I have a lot of girlfriends who are the same age as me – 29 – only out of I'd say 30 one's had a baby and one's thinking about it.
Porter
And the rest of that peer group – assuming they want children – are taking a risk. Or at least that is what coverage in the media would have you believe as it often suggests fertility drops off a cliff in a woman's mid to late thirties. But is the decline really that sudden? Richard Anderson is Professor of Clinical Reproductive Science at the University of Edinburgh
Anderson
One of the holy grails in reproductive medicine historically and in fact it still is is knowing really how many eggs a woman has in her ovaries.  You ovulate one egg every month and it's been known for a long time that the number of follicles, which are the structures containing the eggs, is actually established before birth in women and then progressively declines.  And the problem is that really the only way to actually assess that accurately is to take an ovary out of a woman and cut it into thin slices and count the follicles under the microscope because they're too small to see by any scan or other imaging and they are no real biochemical tests that really give you such an accurate picture.  So what happened was that a number of samples were collected over the years, there was a German who did a lot of this work in the 1950s and then a Frenchman called Alain Gougeon who did a fantastic amount of work in the late '70s, early '80s.  And then it was really putting all these data sets together by a mathematician called Malcolm Faddy in combination with a biologist called Roger Gosden which – there was a beautiful meeting of minds and skills – who started analysing this in a more mathematical way to put together the picture that we are so familiar with today of this increasingly steep decline in the number of eggs that a woman has in her ovaries over the years.
Porter
So this was a mathematical model based on real data coming from samples taken from women?
Anderson
That's right, it was looking down the microscope, counting the eggs in ovaries that had been removed from women across life for a variety of different reasons, as you can imagine.  And then Malcolm and Roger demonstrated that there was an increasingly sharp falloff in the number of follicles, the number of eggs within the ovary, with age and their mathematical modelling described this best as two straight lines which was effectively a broken stick – so there's one rate of decline across a certain range of ages up to the late 30s and thereafter it gets steeper.  And where those two – drawing those lines on a graph effectively looks like a broken stick and that's been the shorthand for it ever since.
Porter
And that acceleration in the decline in fertility occurred at what age, according to them?
Anderson
Around the age of 37, 38 was when the cut off seemed to happen.
Porter
And has that model proved accurate?
Anderson
It's proved fairly accurate, although I think people have realised now that actually there's no such sharp cut off and it's more of a continuous process.  So what's happened over the last subsequent – actually probably about 30 years now, so this has been over a very long time, is that more data sets have been added to the data that Malcolm and Roger originally had, so you can get a more accurate mathematical analysis.  And actually the most recent one published was done by another mathematician colleague of mine here in Scotland, from St Andrews, which shows that really it's more of a steepening curve rather than actually a broken stick.  There is no such thing as suddenly falling off a cliff, this is all a process that happens over time in every woman.  So it does get sharper with age, the time at which it starts to get sharper and steeper will vary from one woman to another, depending on her underlying biology of her ovary.  But it doesn't suddenly go away overnight, so these things are always a gradual process.
Porter
Because you could be forgiven for thinking, after reading a lot of the coverage that this area gets, that you're okay until you're 35 and then it's all over.
Anderson
Yeah absolutely and I think there's a lot of misinformation out there on this.  Certainly I think the message that women need to take home is that their fertility does decline with age and modern medicine has very limited ability to compensate for the effects of time.  But there's certainly no absolute age at which suddenly things switch off at all for any individual woman.
Harper
There's a lot of data showing that if you want three children you really need to start in your late 20s.  So unfortunately evolution hasn't caught up with social lives, so socially we're delaying childbirth in every country but our menstrual cycle is still meaning that we're going to go through the menopause at the same age we would 50 years ago, nothing's changed biologically.
Porter
What do you think of the practice of women assessing their ovarian reserves – so they go along, they have a test – a scan or a blood test or both – which tells them what state their eggs are in?
Harper
There has been some publicity about this and in my view the test that we have at the moment – it tells us some basic information and it certainly helps us when they're going through fertility treatment to decide what treatment they have but really being a solid indicator of when their fertility is going to decline it's not there yet.  So there are other things they can do – they can, for example if they have a partner – check their sperm count – and they can check their hormones and some other things to see if there's any major problem but at the moment there's no test that's really going to say okay aged 28 I do this test I'm going to be okay till I'm 40 or I'm not going to be okay, better start at 35.  We haven't got there yet.
Anderson
I think the important thing is that there's no such thing as a fertility test, you can't come along and say yes you're fertile.  But increasingly what people have recognised is that there are tests, they can give you some idea of how many eggs you have left in your ovary and there's a blood test that can contribute to that and also an ultrasound scan looking at the ovary in more detail and counting the follicles can give you an index of that.  But they're really very poorly related to what your chances are of actually conceiving either naturally over the next six months, year or so, or actually through IVF.  So there are a couple of studies that in younger women show very clearly that what these tests show has no prediction of the chances of getting pregnant over the next six months.  And even in IVF where they do predict the number of eggs you're going to get in an IVF cycle the relationship with actually whether it's going to turn into a live baby to take home at the end of the day is actually fairly weak.
Porter
So a good ovarian reserve may be falsely reassuring?
Anderson
It's clearly a good thing but it's probably more related to the quantity rather than the quality and it certainly isn't something to rely on because none of the tests that we have can tell you anything about the quality of the eggs that you have.
Porter
Imagine a couple are unable to conceive naturally and they go for assisted techniques, so they're having IVF, what's the impact of maternal age on that?
Anderson
There's still a very significant effect of maternal age on IVF and if you look at the HFEA database which is publicly available for all clinics you can see how much that changes with age with really very poor success rates into the 40s compared to the early 30s.  So it's not something that modern medicine can really cure by a long stretch of the imagination.  And a lot of the issue that we see these days in the infertility clinic is we don't find anything particularly wrong with a couple, just as we didn't 10 years ago, but for many cases it's just really the woman's age is becoming the dominant factor.
Porter
Professor Richard Anderson. More details on our website, where you will also find a link to the Inside Health podcast to have it sent to you automatically so you need never miss another episode again.
Now time for some Inside Language – the series that demystifies the terms used by researchers and those reporting their conclusions. This week Dr Margaret McCartney and Carl Heneghan, Professor of Evidence Based Medicine at the University of Oxford, discuss adjustment and how researchers allow for factors that might skew their findings.
Heneghan
This is quite a simple idea but can confuse you in some ways.  So I'm going to give you an example where you roll a ball on two different surfaces.  You roll a ball on a carpet and then you decide to roll it on the vinyl floor in your kitchen.  And you would expect to see that the ball would travel further on the vinyl floor but when you measure it you get the opposite answer and it goes further on the carpet and you're mystified.  And you go back and you look at it and you see there's a different variable that you've not accounted for – that the floor in your carpet in your living room, for instance, has actually got a slope on it and it's sloping down and that slope has accounted for the ball travelling further.  And say it's five degrees.  Well when you adjust you have to take in account that slope and the mathematical techniques for doing that are trying to get rid of the five degree angle to bring it up to zero, so you get a true picture of how far the ball goes.  And that's what you do when you call adjustment.  But in many life situations and health situations there are more one variable, so you have to take into account two, three and four and then it gets more complex and often you can't take account of all of them.
Porter
I suppose, Margaret, the simplest thing that we might do is to adjust for age between two groups that you're comparing because so much in health is related to age.
McCartney
Yeah and sometimes sex as well, so sometimes studies are adjusted in account of having more men in one group compared with females in the other.  So yes there are and I suppose I am always a little bit suspicious of adjustment because it's another area of potential error really.  I'm always a bit of a worrier when I see that lots of adjustment has been occurring within a particular study because I wonder how good was the study set up to be done in the first place that you had to make so many more different adjustments.
Porter
How robust is the science behind the more common adjustments that are made Carl, do you trust them?
Heneghan
It's easy when you've got one simple variable, like the slope, and then it's simple to explain.  But once you add in more and more variables it starts to break down.  And in some areas of health, in some areas of risk, we are inherently complex in what we do on a daily basis, our interaction with the environment and trying to disentangle all that is incredibly difficult.
McCartney
I always feel as though statistical adjustment is a bit of a dark art and when it comes to this I really sometimes feel as though it's a bit of voodoo medicine, how much can you really reliably start to adjust your data.  And I think sometimes lots of adjustments happen because you didn't have good randomisation to start off with and can you be sure that your statistical adjustments can make up for that fact.  And I've been reading lots of statistical texts, so obviously I'm not a statistician, who are fairly clear in saying that observational studies are not a substitute for randomised control trials no matter how good your statistical adjustments may seem.  And I think this is a problem – a lot of the times we're using statistical adjustment to make up for the fact that we're doing observational non-randomised trials which are inherently more unreliable and we're trying to make them more reliable using these mathematical techniques.  And I'm sure they are valid in many situations but I worry that sometimes we end up with what seems to be quite firm conclusions where they're actually resting on quite a lot of sand when actually we should be questioning it a bit more.
Porter
Carl, do you think our listeners should be suspicious if they see lots of adjustment?
Heneghan
I'm totally with Margaret here but there are some times when we see no adjustment that I get really worried.  So it's a bit of a double edged sword if you like.  I'll give you an example.  If I just said to you well let's look at the relationship of blood pressure to stroke and we did that and we didn't account for age, as you said before, we could come up with a very odd answer if we just looked at 20 year olds or 30 year olds.  So there's an important aspect that first we have a spectrum of patients, that you will see the disease likely in and two is you do have to account for some factors because we know as you get much older the risk of stroke gets much higher.  And I think that's important.  But the second aspect is when you get to a certain point, at some point you have to go okay I'm going to call it quits here.  And what's happening in the modern world is people have much more access to data now, data mining is the word, where you can just go looking for these associations and make it plausible by saying I made one or two adjustments.  And often that is sloppy science.
Porter
Professor Carl Heneghan and Dr Margaret McCartney. And that's it for this series of Inside Health. We will be back in July. Until then, goodbye.
END
Broadcasts