Main content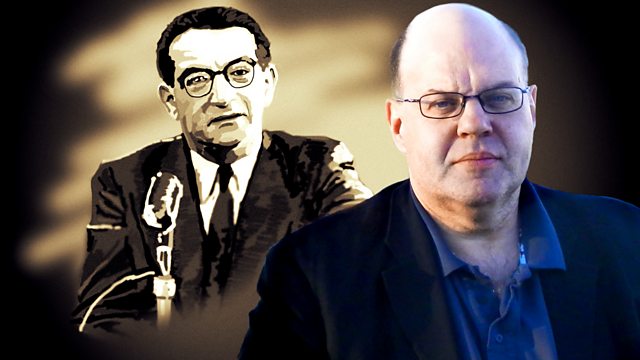 Part II, Mark Lawson on how the story of Rudolf Kastner, the Jew who negotiated with Eichmann, continues to be retold
Mark Lawson explores how the story of Rudolf Kastner, one of the most controversial figures to emerge from the Holocaust, has been retold within Israel.
For some Rudolf Kastner is a hero, for others a traitor. Mark Lawson explores the cultural retellings of a story that began in Nazi occupied Hungary in 1944. At the time Kastner, a lawyer and a journalist, was deputy chairman of the Relief and Rescue Committee. His negotiations with Adolf Eichmann, the man responsible for the deportation and extermination of the Jewish communities in Europe, saved Jewish lives but did he pay for them with other Jewish lives?
This question has been the subject of court trials, books, poetry, documentaries, television dramas, and plays - each one retelling Kastner's story from a new perspective. Two of those cultural retellings, one in the UK - the 1987 play Perdition, and the other in Israel - the 1994 television drama The Kastner Trial, managed to make headlines of their own.
And still the retellings continue with one of Israel's most celebrated playwrights, Motti Lerner, in the process of writing a new version of Kastner's story. The new play will be staged at Israel's National Theatre in 2017, thirty years after Jim Allen's play, Perdition, led to one of the most incendiary episodes in British theatre history.
In part 2, Mark Lawson talks to those, within Israel - including the playwright Motti Lerner, the Chief Historian of Yad Vashem Professor Dina Porat, and the literary critic Professor Dan Laor - who have wrestled with Kastner's story and the issues it raises.
Presenter - Mark Lawson
Interviewed Guest - Motti Lerner
Interviewed Guest - Ilan Ronen
Interviewed Guest - Professor Dan Laor
Interviewed Guest - Professor Dina Porat
Interviewed Guest - Gaylen Ross
Actor - James Puddephatt
Actor - Gemma Paige North
Actor - Cokey Falkow
Poem reader - Dr Omer Edhan
Producer - Ekene Akalawu.
More episodes
Next
You are at the last episode
Mark Lawson in Jerusalem - February 2016