Main content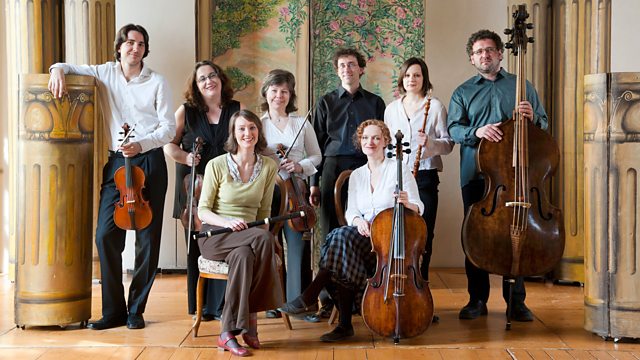 Ian Skelly presents the second part of the European Broadcasting Union's annual day of music to mark Holy Week. With concerts from Prague, Brussels and Amsterdam.
Ian Skelly presents the European Broadcasting Union's annual day of music to mark Holy Week, with live and pre-recorded concerts from Amsterdam, Brussels, Copenhagen, London, Prague, Rome and Wexford. The day continues with Baroque music appropriate to Holy Week from one of Prague's most beautiful Baroque churches, and two concerts from the Low Countries: Szymanowski's Stabat Mater and music by Zemlinsky from Brussels, and from Amsterdam the Royal Concertgebouw Orchestra's annual Eastertide performance of Bach's monumental St Matthew Passion.
4pm - CZECH REPUBLIC: Church of St Simon and St Jude, Prague
Telemann: Brich, mein Herz (aria from Brockes Passion, TWV 5:1); Flute Concerto in D major, TWV 51:D2
Handel: Dem Himmel gleicht sein blutgefärbter Rücken (aria from Brockes Passion, HWV 48)
Johann Ernst of Saxe-Weimar: Violin Concerto in D minor
Bach: Cantata No 82 - Ich habe genug
Hana Blazikova (soprano),
Lenka Torgersen (violin),
Collegium Marianum,
Jana Semeradova (director and Baroque flute).
Picture of Collegium Marianum (c) Petra Hajska
5pm - BELGIUM: Palais des Beaux Arts, Brussels
Szymanowski: Stabat Mater, Op 53
Zemlinsky: Psalm XXIII, Op 14
Elzbieta Szmytka (soprano),
Agnieszka Rehlis (mezzo-soprano),
Andrzej Dobber (baritone),
London Philharmonic Choir,
London Philharmonic Orchestra,
Vladimir Jurowski (conductor).
6pm - NETHERLANDS: Concertgebouw, Amsterdam
J. S. Bach: St Matthew Passion, BWV 244
James Gilchrist (tenor),
Christopher Maltman (bass),
Lydia Teuscher (soprano),
Lawrence Zazzo (countertenor),
Thomas Oliemans (bass-baritone),
Carolyn Sampson (soprano),
David Daniels (countertenor),
Jeremy Ovenden (tenor),
Netherlands Radio Chorus,
National Boys' Choir,
Royal Concertgebouw Orchestra,
Ivor Bolton (conductor).