Main content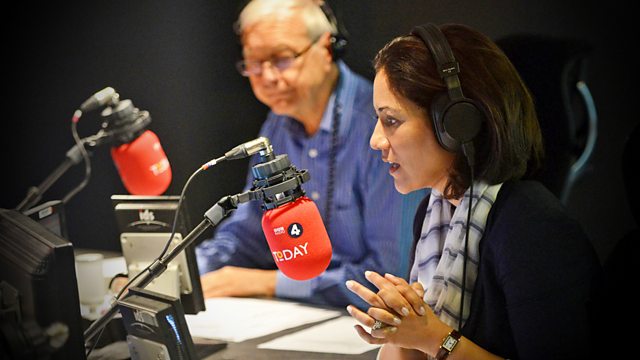 21/03/2016
Morning news and current affairs. Including Sports Desk, Weather and Thought for the Day.
Clips

Today's running order
0650
Fernando Alonso said he is "lucky to be here" after walking away from a huge crash at the season opening of the Formula One season held in Melbourne on Sunday.  Mark Blundell is a former F1 driver and commentator.
0655
A Rolling Stones rare tape containing nine tracks, four of which are unreleased, was found by Jeremy Neilson in perfect condition in his loft after 50 years. Mr Neilson is live on the programme.
0710
David Cameron will re-make the case for modern compassionate conservatism when he addresses the Commons later today. Iain Duncan Smith's replacement, Stephen Crabb, will tell the Commons the proposed changes to the PIP will not go ahead. On the programme this morning is the BBC's political correspondent Ross Hawkins and Dr Sarah Wollaston, MP for Totnes.
0715
Five people who are believed to be from the same family have died after a car went off a pier in Buncrana, County Donegal yesterday. Donegal County Councillor Jack Murray lives very close to the pier in Buncrana.
0720
President Hollande is due today to meet relatives of those who died in last November's Paris attacks. The meeting this afternoon comes after the capture of the key surviving suspect in those attacks, Salah Abdeslam, who was arrested in Brussels on Friday. We speak to a woman who lives in Molenbeek and knew Salah Abdeslam.
0730
The number of cases of murder or manslaughter rose last year by 14 per cent in England and Wales. When the figures were released it was suggested part of the rise may be attributable to something new for the police to deal with; violent attacks, often fuelled by alcohol within houses containing numbers of migrant workers. So is there a problem? The BBC's Tom Bateman reports.
0740
Comedian Eddie Izzard has completed his challenge in South Africa to run 27 marathons in 27 days for Sport Relief.
0750
President Obama is in Cuba, the first visit by a US President for nearly 90 years. It's the strongest sign yet of the rapid thawing of relations between the US and Cuba. James Rubin is the former assistant secretary of state during the Clinton administration.
0810
Iain Duncan Smith's replacement as work and pensions secretary, Stephen Crabb, makes his first Commons appearance in the job today.  The BBC's political editor, Laura Kuennsberg, and former Conservative leader, Lord Michael Howard, discuss the fallout from Mr Duncan Smith's resignation.
0820
Scientists could be sailing in a laboratory ship named RRS Boaty McBoatface after nearly 16,000 people and counting voted for the new name in an online poll. Lord West, former First Sea Lord.
0830
More on the resignation of Iain Duncan Smith. Greg Clark is secretary of state for communities and local government. 
0835
Martyn Ware, former member of the Human League, has created a coastal soundscape out of recordings submitted by members of the public. We talk to him and hear a taste of his work.
0840
Since the start of 2014 there have been at least 32 cases of homicide in England and Wales in which both the victim and the perpetrator or principal suspect were of eastern European origin. Dr Marian Fitzgerald is a visiting professor of Criminology at Kent Crime and Justice Centre.
0845
The Imperial War Museum in Duxford has opened a brand new museum space. It's to mark British and American collaboration during war-time. 
0850
President Obama is in Cuba, the first visit by a US President for nearly 90 years. It's the strongest sign yet of the rapid thawing of relations between the US and Cuba. Professor Elizabeth Dore is Professor of Latin American Studies at Southampton University and John Prideaux is US Editor at The Economist
0855
Isabel Hardman from The Spectator and George Parker of the Financial Times discuss Iain Duncan Smith's resignation and criticisms of the government.
All subject to change.