Main content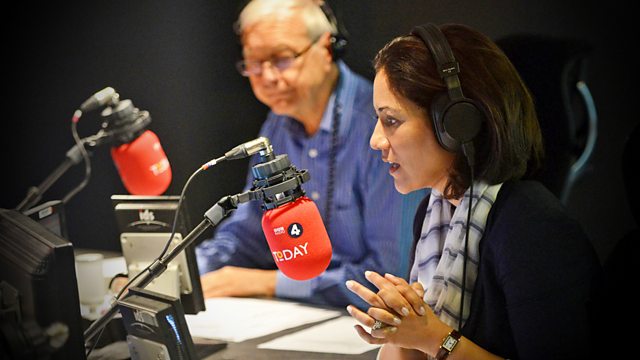 08/03/2016
Morning news and current affairs. Including Sports Desk, Yesterday in Parliament, Weather and Thought for the Day.
Today's running order
0650
Shares in the energy giant EDF, mostly owned by the French government, have fallen sharply after concern about the cost of its plans to build the new Hinkley Point nuclear plant in Somerset. Speaking on the programme is nuclear specialist Malcom Grimston from Imperial College London's Centre for Energy Policy and Technology.
0655
A wide-ranging independent review needs to take place looking at levels of care in Welsh hospitals on evening and weekends according to the Welsh public service ombudsman. Nick Bennett is public services ombudsman in Wales.
0710
EU leaders have ended their summit with the Turkish Prime Minister, Ahmet Davutoglu, on curbing the number of migrants crossing the Aegean Sea into Europe. Katya Adler is the BBC's Europe editor.
0715
The Independent Police Complaints Commission has raised concerns about the use of force by police in England and Wales. It says it has concerns in a third of cases it has investigated. Speaking on the programme is Dame Anne Owers, chair of the IPCC.
0720
Saudi women are increasingly using social media to make their voices heard - sometimes to challenge their own society but often to challenge the way the outside world stereotypes them. The BBC's Mai Noman has been talking to Saudi women as part of a BBC's series called Saudis on social: Faith, Freedom and Fun.
0730
Where do UK women stand on Brexit? On Tuesday, two Cabinet ministers will set out their arguments in competing speeches at events to mark International Women's Day. Conservative MP and Energy Minister Andrea Leadsom has joined the Leave camp and will be attending Priti Patel's speech.
0740
The founder of Motown, Berry Gordy, who built the careers of singers like Diana Ross, Smokey Robinson and Marvin Gaye, has written a musical about his life called Motown, which opens in London tonight. The BBC's arts correspondent Rebecca Jones has been speaking to Mr Gordy.
0750
EU leaders have ended their summit with the Turkish Prime Minister, Ahmet Davutoglu, on curbing the number of migrants crossing the Aegean Sea into Europe. Jens Stoltenbeg is secretary-general of NATO.
0810
Today has been told that the system for housing asylum seekers in different parts of the country is close to collapse. Sima Kotecha reports and we speak live to David Simmonds, deputy chair of the Local Government Association and Keith Vaz, chair of the Home Affairs Select Committee.
0820
A hundred years ago this week Hubert Parry wrote Jerusalem. He wrote it to William Blake's poem Milton which had been sent to him by the poet laureate Robert Bridges. The result was to galvanise British values during the First World War. Speaking on the programme is Professor Jeremy Dibble, Hubert Parry's biographer, and Michael Horovitz, a poet influenced both by Parry and William Blake.
0830
Boris Johnson said it was scandalous at the weekend that the Boss of the British Chambers of Commerce had to step aside because he expressed his views on the EU. Yet at the end of last week Johnson's own office wrote to his advisers and deputy mayors to agree with the Mayor's view – or keep quiet. Laura Kuenssberg is the BBC's Political Editor.
0835
Yesterday, we heard the story of Matthew Garnett, a 15-year-old boy with severe autism. For six months Matthew has been held in an emergency psychiatric ward because he assaulted his family. Because he doesn't understand what is happening to him, thinks he is in prison. How common is this? Are there problems in the system that allow this to happen? Sarah Lambert is head of policy at the National Autistic Society.
0840
The American singer-songwriter Carole King has announced she will perform her first gig in the UK this summer - as part of it, she will perform her hit album Tapestry in its entirety for the first time. Ms King spoke to BBC Radio 6 Music presenter Elizabeth Alker about the show.
0850
Tunisian forces have thwarted what they say was an effort to establish an Islamic emirate. Oliver Miles is former British Ambassador to Libya.
0855
William and Kate have released photos of their ski trip but have opted against the traditional deal of inviting the press for initial photos on the agreement that they are left alone. Instead, they invited one PA photographer and released the photos upon their return. Neil Wallis is former editor of the Sunday People and Robert Jobson is royal editor at the London Evening Standard.
All subject to change.