Main content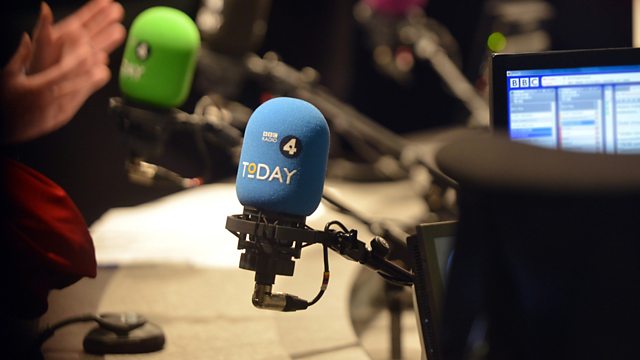 09/03/2016
Morning news and current affairs. Includes Sports Desk, Yesterday in Parliament, Weather and Thought for the Day.
Clips

Today's running order
0650
Research by the Wellcome Trust into what the public think about patient records being used by commercial organisations has showed that more than half of people are in favour. Vivienne Parry is head of engagement for Genomics England, which collects genomes from patients with rare diseases, and with their consent, allows commercial companies to use the data.
0655
The weather is one of our great British obsessions. But is it also part of our identity? In her new book, Rain, Melissa Harrison argues that it is, as she follows the course of four rain showers in four seasons.
0710
The government is facing defeat on proposed changes to Sunday trading laws in England and Wales today in what would be the biggest shake-up for 20 years. Grant Shapps is chair of the cross-party Business and Infrastructure Group.
0715
Mark Carney has told the Treasury Select Committee that leaving the EU is the "biggest domestic risk to financial security", prompting criticism from pro-Leave campaigners that he is acting beyond the remit of his role. Peter Bone is Conservative MP and founder of the cross-party leave campaign group Grassroots Out.
0720
A computer built by the British based company Deepmind is playing one of the world's best GO players, in a major battle of artificial intelligence versus the human mind. GO is an ancient East Asian game with black and white stones, in which two players try to surround and capture each other's pieces. The winner of the contest will receive $1 million. Speaking live in the studio is Natasha Regan, who plays GO for England and is also an international chess master and Hermann Hauser, a physicist and computer expert.
0730
Junior doctors in England will start their first 48 hour strike over the imposition of a new contract at 0800. Anne Rainsberry is NHS England's regional director for London.
0740
The tennis star Maria Sharapova's biggest sponsors have suspended their relationships with her after it emerged she failed a drugs test in January. She says she has been taking a substance called meldonium for ten years and had not realised it had been banned. The tennis legend Billie Jean King has been speaking to Today sports presenter Karthi Gnanasegaram.
0745
It is the 70th anniversary of the Burnden Park disaster - one of the earliest, deadliest but largely forgotten football match disasters. Thirty-three people were crushed to death and hundreds of Bolton fans were injured on this day in 1946. Sylvia Hibert lost her father in the Burnden Park disaster and Phil Mason is Bolton Wanderers club chaplain.
0750
The government says it expects a deal with French firm EDF to build a new nuclear power station at Hinkley Point in Somerset will go ahead. Sir Edward Davey is former Secretary of State for Energy and Climate Change. 
0810
The government is facing defeat on proposed changes to Sunday trading laws in England and Wales today in what would be the biggest shake-up for 20 years. The BBC's Zoe Conway has been speaking to supermarket workers, independent traders and punters in the West Midlands and we speak live to David Burrowes, leader of the Tory MPs rebelling against the plans.
0820
This Sunday will mark 20 years since one of the deadliest shooting incidents in Britain's history. Thomas Hamilton killed 16 children and one teacher at Dunblane Primary School near Stirling, Scotland on 13 March 1996, before killing himself. One of his victims was Isabel Wilson's daughter Mhairi.
0830
The Iranian Nobel laureate Shirin Ebadi has called for trade exchanges with Iran to be suspended until the human rights situation there improves. She says it is now worse than when she won the peace prize in 2003, and that Western powers should have pushed Iran on its human rights during the nuclear negotiations. Ms Ebadi has been speaking to Mishal Husain.
0835
The 39 Steps, Brief Encounter and The Ladykillers are some of the greatest films in British cinematic history. But what about those we have forgotten? The BFI is giving the public the chance to rescue one of three lost works from its archive with a poll on its website.  Robin Baker is head curator of the BFI National Archive.
0840
The BBC has obtained exclusive access to worldwide research which shows that the number of UK children prescribed anti-depressants rose by 54 % in the years 2005-12. Professor Eamon McCrory is a consultant clinical psychologist and Professor of Neuroscience at UCL.
0850
If you have ordered something online recently chances are you have been asked to rate your experience. What happens to this data, and is it really raising standards or just wasting our time? Edwina Dunn set up the Tesco club card loyalty scheme and Dr Michael Heller is business historian and senior lecturer in marketing at Brunel University.
All subject to change.