Main content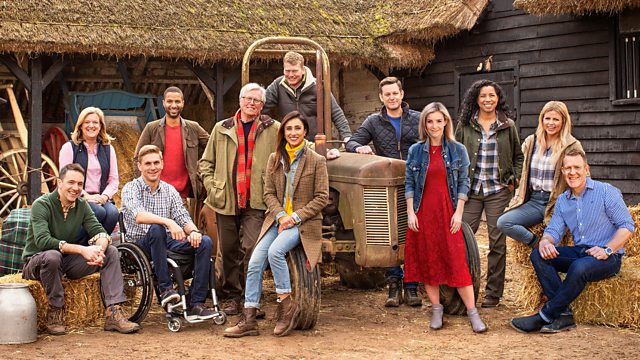 Northern Ireland
Exploring the beauty of Northern Ireland, John Craven finds out about Rathlin Island's kelp industry. Anita Rani meets a farmer whose animals are now TV stars.
Countryfile explores the beauty of Northern Ireland.
John Craven finds out about Rathlin Island's growing kelp industry and what it's like living in this rural landscape.
Anita Rani meets a farmer who has diversified in an imaginative way - his farm animals are now TV stars. She walks part of the Ulster Way to find out about its passionate creator Wilfred Capper, and the conservation work happening along the route to keep the way open for all.
It's a busy time of year on Adam Henson's farm as spring arrives. He's got his hands full checking up on his pregnant goats and cows. Will there be any new arrivals?
Handling unpredictable livestock can be dangerous, especially when you have to get as close as farm vets do. Tom Heap investigates whether risk is just an unavoidable part of a vet's job or if more could be done to make farms a safer place to work.
Farming film stars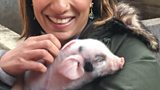 Anita Rani visits some of Northern Ireland's most photographed beauty spots - and most filmed locations. She meets Armagh farmer Kenny Gracey who has become the 'go-to' props guy for the increasing number of TV dramas and film productions being made here. Kenny has supplied a huge variety of animals - many of them rare historic breeds – from Irish wolfhounds and tame deer to donkeys and horse & carts. Anita discovers Kenny's journey from farmer to film star who is often on screen as an animal handler. She also meets some of the four-legged "actors" who have even appeared in programmes like Game of Thrones!
21st century kelp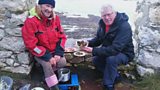 On the northernmost point of Northern Ireland lies a small isle called Rathlin. The island boasts one of the most beautiful kelp forests in Europe. John Craven meets Kate Burns, a marine scientist who spent much of her younger life on the island and raised a family here.  She now runs a booming business producing and processing kelp for the international culinary market.  Kate takes John through the process of harvesting kelp - from collecting the spores on the beach to their high tech light and temperature-controlled lab. Here baby plants are cultivated before being transferred to an underwater farm where they will grow to be harvested at a later date. Later John joins Benji McFaul, a fourth generation islander fisherman, to help him harvest the kelp. When they arrive back on shore, Kate prepares a dish on the beach to show how tasty this ocean vegetable can be. 
Who are ewe kidding?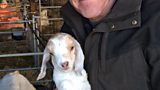 There's plenty of new life on Adam Henson's farm at the moment. They were very late starting but Adam's herd of goats have finally begun to kid. Lambing is well underway though. On average, each ewe has two lambs so the team have constantly got their hands full. And, if that wasn't enough to keep everyone busy, a new rare breed of pig is also being delivered. Spring has well and truly sprung!
The Ulster Way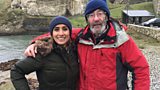 Anita explores the 1000 km long footpath, the Ulster Way, which loops the entire province, coast and inland. She discovers it was the dream of one man, local civil servant and keen rambler Wilfrid Capper. He had already created a network of youth hostels in the province and dreamt of a route to link them all together. Anita meets and walks with people who knew Capper and hears of his battles to create the Ulster Way. She also discovers that he was instrumental in setting up rambling groups and the National Trust N.I. A world-renowned stretch of the route is the Causeway Coast, where Anita visits the Giant's Causeway.
Vet injuries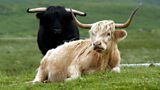 Working with large and unpredictable animals is part of the job for vets who work with livestock. Tom Heap looks at the dangers of being a farm vet and hears about the types of injuries that they can sustain while carrying out treatment. As Tom discovers, the risks they face can be greatly increased if they have to work with badly maintained equipment or inadequate facilities. So is enough being done to keep them safe?
White Park Bay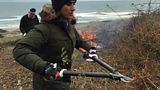 Wilfred Capper's favourite spot on the Ulster Way was the remote and unspoilt White Park Bay where he is commemorated with a plaque. Anita meets the National Trust wardens and volunteers fighting a constant battle with the encroaching undergrowth, to keep this portion of the route open. Anita helps with clearing and burning the scrub. She also discovers that a herd of cattle has been brought onto the beach and dunes to graze and help with the clearance. Anita also meets a warden/farmer who tells her about a tick-borne disease that has threatened these cattle. However, clearing undergrowth destroys the environment in which ticks thrive and helps the cattle save themselves!
Rathlin's industrial past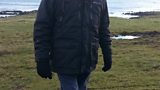 On Rathlin Island the shoreline is littered with kilns and storage places from the 18th century when kelp production was big business on the island - and supported a population of around 1000 people.  John meets local Jim McFaul who explains that kelp was first dried, then burned in small kilns to produce bleaching agents that were used by the linen industry.  The population was decimated when the linen industry declined and the island was badly affected by the potato famine. Around half left the island for a new life in America. Just over a hundred years later a BBC film crew arrived to document a community under threat.  John meets islanders to talk about what it was like growing up on the island and is pleased to discover that the population is now on the rise.
Credits
| Role | Contributor |
| --- | --- |
| Presenter | John Craven |
| Presenter | Anita Rani |
| Presenter | Adam Henson |
| Presenter | Tom Heap |
| Executive Producer | William Lyons |
| Series Producer | Joanna Brame |