Main content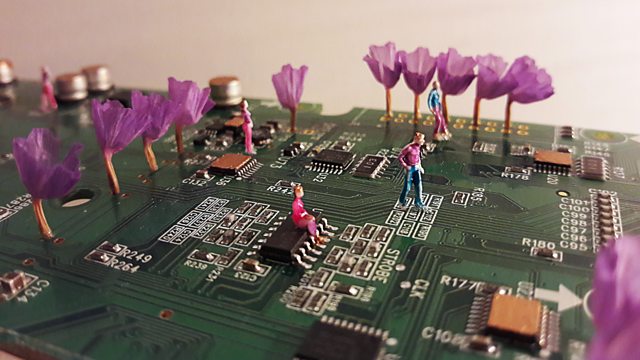 15/03/2016
Adam Walton meets artists and scientists at the Moving Minds exhibition in Wrexham as he explores the mind's relationship with brain, body and world.
Last on

Moving Minds
What do we mean by 'mind'? Is mind the same as thought or memory? Is it even part of the brain? Or does it extend beyond our bodies into the things we create and the technology we use? Those are the questions Adam Walton raises in this week's programme as the Science Café visits an exhibition that's using art to investigate ideas of the mind.
The Moving Minds exhibition at Oriel Sycarth in Wrexham describes itself as an exploration of the mind and its relationship with brain, body and world – and it uses art, media and performance to do that. Adam talks to the exhibition's curator, Mike Corcoran, about ideas of extending the mind beyond the body – for example in the way we make smartphones part of our mind by using them to store our memories – from phone numbers and appointments to photos.
Adam also meets two of the artists involved in the exhibition: Lee Shackleston, a.k.a Lord Black Art, who creates drawings on the gallery walls while simultaneously making music, posing questions about the mind's location during the creative process; and John McClenaghan, Head of Fine Art at Glyndwr University, whose work is influenced by philosophy and psychology. Meanwhile, Science Café producer Jeremy Grange joins the audience for Symbiosis, a meeting of minds featuring sound artist Manoli Moriaty and performer Ana Berkenhoff.
We also hear a psychologist's view of the mind from Dr. Sahar Hamid of Glyndwr University, whose research explores the way our brains sort memories into what's important and what's redundant.

Broadcasts