Main content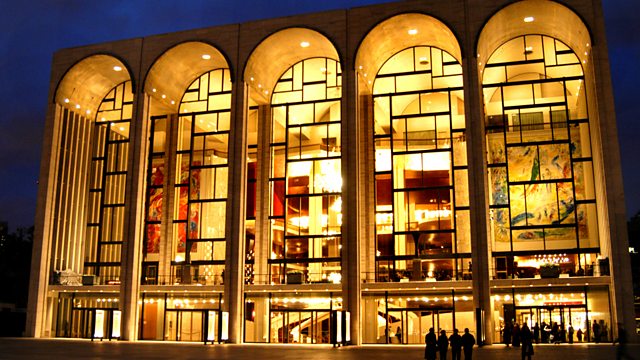 Donizetti's Don Pasquale
Live from the Metropolitan Opera in New York, Maurizio Benini conducts a performance of Donizetti's lighthearted opera Don Pasquale. Starring Eleonora Buratto and Javier Camarena.
Donizetti: Don Pasquale
The elderly bachelor Don Pasquale plans to marry to produce an heir to disinherit his nephew, Ernesto, who has fallen in love with a young impoverished widow, Norina. Don Pasquale asks his supposed friend the doctor, Malatesta, to help fix him up with a suitable woman, but the plot thickens and twists when Malatesta helps the young couple Norina and Ernesto deceive Don Pasquale. Donizetti's graceful and witty score is conducted by Maurizio Benini, with celebrated soprano Eleonora Buratto making her debut as Norina, tenor Javier Camarena as Ernesto, and the baritone Ambrogio Maestri as the pompous Don Pasquale, live from the Metropolitan Opera House, New York.
Presented by Mary Jo Heath and commentator Ira Siff
Norina ..... Eleonora Buratto (soprano)
Ernesto ..... Javier Camarena (tenor)
Malatesta ..... Levente Molnár (baritone)
Don Pasquale ..... Ambrogio Maestri (baritone)
The Chorus of the Metropolitan Opera House, New York
The Orchestra of the Metropolitan Opera House, New York
Maurizio Benini (conductor).
Synopsis
ACT I
Rome, mid-19th century. The old bachelor Don Pasquale plans to marry in order to punish his rebellious nephew, Ernesto, who is in love with the young widow Norina. Pasquale wants an heir so he can cut the young man off without a penny. He consults Dr. Malatesta, who suggests as a bride his own beautiful younger sister. Feeling rejuvenated, the delighted Pasquale asks Malatesta to arrange a meeting at once. Ernesto arrives and again refuses to marry a woman of his uncle's choice. Pasquale tells him that he will have to leave the house, then announces his own marriage plans to his astonished nephew. With no inheritance, Ernesto sees his dreams evaporating. To make matters worse, he learns that his friend Malatesta has arranged Pasquale's marriage.
On her terrace, Norina laughs over a silly romantic story she's reading. She is certain of her own ability to charm a man. Malatesta arrives. He is in fact plotting on her and Ernesto's behalf and explains his plan: Norina is to impersonate his (nonexistent) sister, marry Pasquale in a mock ceremony, and drive him to such desperation that he will be at their mercy. Norina is eager to play the role if it will help her and Ernesto to be together.
ACT II
Ernesto, who knows nothing of Malatesta's scheme, is desperate about the apparent loss of Norina and imagines his future as an exile. Pasquale, on the other hand, is impatient to meet his bride-to-be and enchanted when Malatesta introduces the timid "Sofronia." Pasquale decides to get married at once. During the wedding ceremony, Ernesto bursts in and accuses Norina of being unfaithful. Malatesta quickly and quietly explains to him what is going on and Ernesto plays witness to the wedding contract. As soon as the document is sealed and Pasquale has signed over his fortune to his bride, Norina changes her act from demure girl to willful shrew. The shocked Pasquale protests, to the delight of Norina, Ernesto, and Malatesta.
ACT III
Pasquale's new "wife" has continued her extravagant ways and amassed a stack of bills. When servants arrive carrying more purchases, Pasquale furiously resolves to assert his rights as husband. Norina, dressed elegantly for the theater, slap him when he tries to bar her way. He threatens her with divorce, and she realizes she feels sympathy for the old man's pain. As she leaves, she drops a letter implying that she has a rendezvous with an unknown suitor in the garden that night. The desperate Pasquale sends for Malatesta. Malatesta first tells Ernesto to make sure that Pasquale will not recognize him when he plays his part in the garden that evening. Then, alone with Pasquale, Malatesta assures him they will trap "Sofronia" in a compromising situation. Pasquale is happy to leave everything to Malatesta.
In the garden, Ernesto serenades Norina, and the two declare their love. Pasquale and Malatesta arrive—too late to catch the young man, who slips into the house, while "Sofronia" plays the innocent wife. Malatesta then announces that Ernesto is about to introduce his own bride, Norina, into the house. "Sofronia" protests she will never share the roof with another woman and threatens to leave. Pasquale is overjoyed and grants permission for Ernesto to marry Norina, with his inheritance. When Sofronia's identity is finally revealed, Pasquale accepts the situation with good humor, gives the couple his blessing, and joins in observing that marriage is not for an old man.
- With thanks to the Metropolitan Opera, New York.