Main content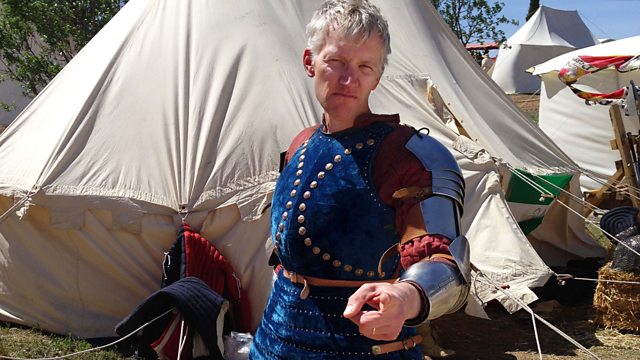 Helen Castor and guests discuss the stories that are Making History
Helen Castor presents as Tom Holland hears how English might have been spoken centuries earlier than people thought. And have you heard the one about the historian of jokes?
Helen Castor is joined by Dr Jane Hamlett from Royal Holloway University of London and the critic and writer Kate Maltby.
Tom Holland travels to Thetford, the ancient capital of East Anglia, to hear evidence that the Iceni were speaking a form of English in the years before the Romans arrived. Dr Daphne Nash Briggs and Dr Sam Newton have examined coins of the period to reveal that the people of Norfolk had as strong a relationship with the Continent as they did with the rest of Britain - and, as well as speaking the Celtic Brittonic language, would also have conversed with their trading partners in the Germanic languages that would eventually become English. If true, this thesis completely changes our ideas that our language came with the Anglo-Saxons after the Romans left these shores.
We travel to Liverpool to try out some Victorian jokes. Its all part of research being carried out by Dr Bob Nicholson at Edge Hill University. Stand-up comic Iszi Lawrence finds out more.
This week's favourite year is 1453, put forward by Dr Rory Cox from St Andrews University.
Producer: Nick Patrick
A Pier production for BBC Radio 4.
Last on

Broadcast