Main content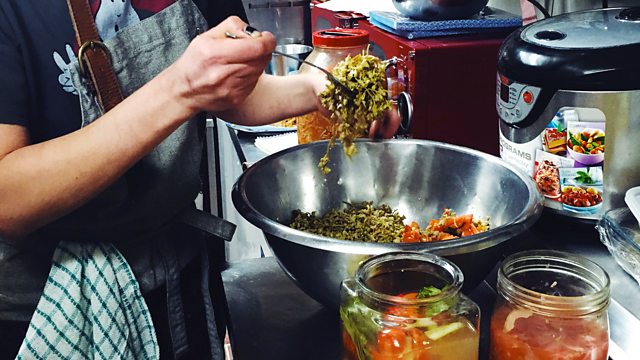 Ferment
Fermentation is coming of age. Sheila Dillon investigates how this ancient way of preparing food is inspiring a new generation of cooks.
Fermentation is one of our oldest methods for preserving food. All around the world people have been transforming food with the help of microbes for thousands of years. The problem is, this simple method has had an identity crisis. We tend either see it as a fashionable fad, or a strange science. But there are people who want things to change. So in this programme Sheila Dillon meets 'The fermenters'. Ukranian food writer and chef Olia Hercules, who grew up with fermented foods; Roopa Gulati, using fermentation to explore her Indian heritage; entrepreneur Deborah Carr, whose fermentation business is going from strength to strength; and seasonal chef Tom Hunt who is putting seasonal ferments back on his restaurant menu. In 2016, It's time to rethink fermentation.
Last on
Olia Hercules' Fermented tomatoes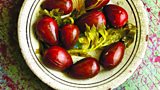 Makes a 2 x 1 litre
(1 ¾  pint) jars
35g (1 ¼ oz) fine sea salt
25g (1oz) caster sugar
½  tablespoon allspice
berries, bruised
½ tablespoon black
peppercorns
1 litre (1 ¾ pints) water
500g (1lb) Tumbling Tiger
tomatoes or other
medium-sized
flavourful tomatoes
2 dill heads or dill
stalks (fresh or dry)
1 bay leaf
50g (2oz) celery sticks and
leaves, chopped
1 Mix the salt, sugar, allspice and peppercorns into the
measurement water in a saucepan and bring to the
boil. Let the liquid cool down completely and infuse.
2 Place the tomatoes and the other flavourings in a
sterilized 2.5 litre (4 pint) preserving jar and pour over
the cool infused brine.
3 Seal the jar and leave in a warm place in your
kitchen (25°C/77°F) for 1 week until the tomatoes start
fermenting. Transfer to the refrigerator or a cellar,
where they can be kept unopened all winter.
Mamushka: Recipes from Ukraine & beyond by Olia Hercules, Photography by Kris Kirkham, published by Mitchell Beazley
Credits
| Role | Contributor |
| --- | --- |
| Presenter | Sheila Dillon |
| Producer | Clare Salisbury |
| Interviewed Guest | Olia Hercules |
| Interviewed Guest | Roopa Gulati |
| Interviewed Guest | Deborah Carr |
| Interviewed Guest | Tom Hunt |
Broadcasts