Main content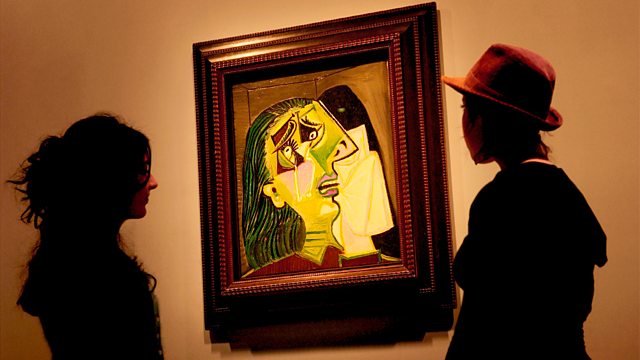 I Sat Down and Wept
Samira Ahmed explores the ambiguous power of tears in myth and music.
Samira Ahmed explores the ambiguous power of tears in myth and music.
Weeping is a pivotal act in cultures across the world and throughout history.
The Israelites recalling the promised land by the River Euphrates; Niobe condemned to eternal mourning for her lost children, transformed into a rocky waterfall; Picasso's Dora Marr transformed into the iconic weeping woman, the embodiment of suffering in wartime; King Lear railing against his treacherous tears that "un -man him".
Writers, theologians, scientists, psychologists have been fascinated for centuries by tears and what they reveal about human emotion and human experience.
Tears are paradoxical - they are produced by laughter and by sadness, are understood as both a sign of weakness and of strength and, perhaps most confusingly, are used as evidence of the veracity of an experience or of the falseness of a witness, who weeps 'crocodile tears'.
Weeping is powerful, endlessly fascinating to many, but still not fully understood.
Samira Ahmed considers some for the ways tears have been represented in culture, music and religion. She discusses masculinity, politics and tears with poet Andrew McMillan. She explores different culturally acceptable ways of grieving. In the wake of public displays of mourning for public figures, such as Princess Diana and David Bowie, has the UK moved from having a stiff upper lip to a teary eye?
The programme includes writing by Lewis Carroll, John Donne and William Shakespeare, poetry by Grace Nichols and Les Murray, and music by Nick Cave, and Debussy.
The readers were Rachel Atkins and Peter Marinker
Producer: Lucy Dichmont
A Whistledown production for BBC Radio 4.
Readings
Title: Alice in the pool of tears
Synopsis:  Alice slips and nearly drowns in a pool of tears she cried when she grew to 9 feet high
Author: Lewis Carroll
From: Alice in Wonderland
Publisher: Macmillan Children's Books (5 Feb. 2015)
Title: Luke 24 10-11
Synopsis: Weeping women appear at key moments in the Bible. Mary Magdalene, Joanna and Mary's tears are seen as evidence of the truth of the resurrection.
Author: N/A
From: New English Bible
Title: Niobe
Synopsis: Niobe was punished by Zeus for pride in her family by the deaths of her children.  She is condemned to eternal sorrow by being transformed into a crying rock: A waterfall
Author: John Donne
From: various
Title: Jeremiah 9 v 17-22
Synopsis: Weeping women often represent the power of the release of grief
Author: N/a
From: New English Bible
Title: (Extract from) Weeping Woman:  Picasso, I Want My Face Back
Synopsis:  Picasso's former lover Dora Marr reflects on the artist's iconic ravaged portrait of her.
Author: Grace Nichols
From: Weeping Woman:  Picasso, I Want My Face Back
Publisher: Bloodaxe Books (2009)
Title: Do Not Stand at My Grave and Weep
Synopsis: A reading chosen for many funerals, apparently inspired by a German Jewish girl visiting the poet in America in the 1930s
Author: Mary Elizabeth Frye
From: various - un-copyrighted published widely on internet
Title: A Widower in the Country & Nick Cave's introduction to the poem
Synopsis: A poem revolving around the unmentioned death of a farmer's wife, and his attempts to continue his everyday life, despite his unacknowledged emotional anguish.
Author: Les Murray
From: Poems that Make Grown Men Cry
Publisher: Simon and Schuster
Title: King Lear
Synopsis:  King Lear bemoans his misplaced trust in his treacherous daughters.
Author: William Shakespeare
From: various publishers
Title: The Men are weeping in the Gym
Synopsis:  A poem exploring the tensions of modern masculinity and emotional repression.
Author: Andrew McMillan
From: Physical
Publisher: Jonathan Cape (2015)