Main content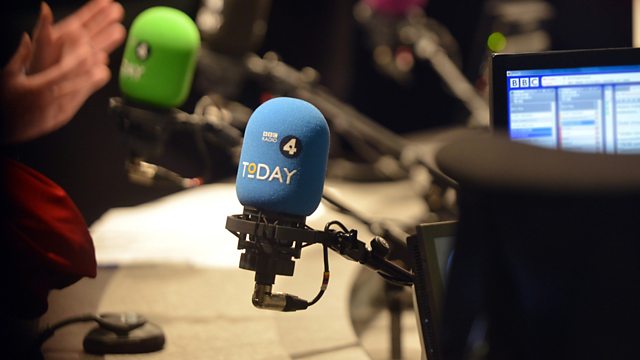 12/03/2016
Morning news and current affairs. Including Yesterday in Parliament, Sports Desk, Weather and Thought for the Day.
Clips

Today's running order
0710
It is unusual for a US political rally to be cancelled because of protests, but that is what happened at the Trump rally planned for Chicago when fighting broke out between supporters and opponents of the Republican front-runner in the race for the presidential nomination. Speaking on the programme is the BBC's correspondent Laura Bicker in Washington.
0715
More than half a million disabled people could lose out as a result of further changes over the next four years to welfare payments. Dame Begg is a former MP who used to chair the Work & Pensions Committee, and is a wheelchair user.
0720
There was almost unanimous agreement in the Lords yesterday that electronic slot machines known as fixed-odds betting terminals were dangerously addictive and a social blight. The BBC's Parliamentary correspondent Mark D'Arcy reports.
0725
Jonny Wilkinson calls him a genius and says he changed his life: the kicking coach Dave Alred is among those backroom people who power rugby and other sports and he is one of millions who will be watching the England versus Wales match at Twickenham this afternoon. Justin Webb has been speaking to Dave Alred.
0730
The US has been making efforts to smooth relations with the UK after President Obama criticised Britain and France for allowing Libya to become what he called a 'mess'. Speaking live on the programme is Colonel Rupert Wieloch, who was the senior British military commander in Libya from 2011 to 2012, and Martin Kobler, special representative of the UN Secretary-General and head of the United Nations Support Mission in Libya.
0740
War Horse, one of the most successful plays this country has seen for many years, finally comes to an end in London tonight. The author of the book on which the play is based is Michael Morpurgo - he is the subject of this week's Meet the Author. BBC arts correspondent Rebecca Jones went to meet him.
0750
EDF chief executive Jean-Bernard Levy has said in a letter to staff that the French utility company will not go ahead with its plan to build new nuclear reactors at Hinkley Point in Somerset unless it gets more financial support from the French state. Speaking on the programme is Business editor Simon Jack and Angus Macneil, chair of the Energy and Climate Change Committee.
0810
Donald Trump has called off a rally in Chicago after protests against the Republican presidential front-runner led to violent clashes. Justin Webb has been talking to WBEZ Chicago political reporter Tony Arnold, who was at the rally last night.
0820
Germany's populist anti migrant party Alterative for Germany is expected to make gains in regional elections tomorrow. The BBC's Berlin correspondent Jenny Hill reports and we speak live to David McAllister, an MEP and a senior member of Angela Merkel's CDU party.
0825
Keith Emerson, the co-founder and keyboardist of the progressive rock group Emerson, Lake and Palmer, has died in California aged 71. His death is being investigated as a suicide. We speak live to Jerry Ewing, editor of Prog Magazine and friend of Keith Emmerson.
0830
The shadow chancellor, John McDonnell, has announced a 'fiscal credibility rule', designed to ensure that a future Labour government will not spend beyond its means. Is Mr McDonnell's plan enough to help dispel the notion that the Labour Party's reputation of spending and borrowing too much? We speak live to John McDonnell.
0835
Police in Northern Ireland said yesterday they have foiled several murder attempts in the past week by dissident Republicans. David Ford is Northern Ireland Minister for Justice and leader of the Alliance party.
0840
In a world first, the BBC's technology programme Click has made an entire episode in 360 video. It will contain never-before-broadcast views of CERN's Large Hadron Collider, an immersive video games review and the world's first 360-degree conjuring trick. We have been speaking to Spencer Kelly, presenter of Click.
0850
Google's AlphaGo artificial intelligence program is playing the third in a best-of-five contest this morning against the current human world champion of the ancient Chinese game GO. Murray Shanahan is professor in Cognitive Robotics, Imperial College London.
All subject to change.