Main content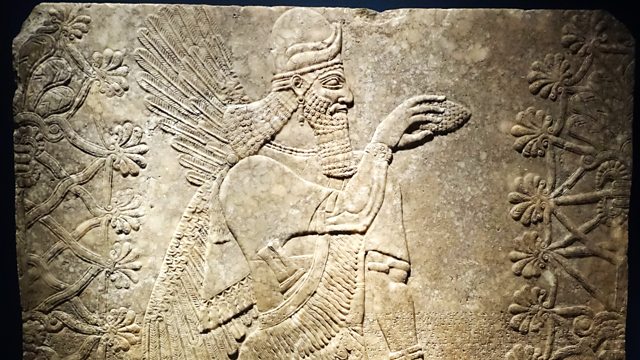 The Genie of Nimrud
On the murky trail of a missing genie, last seen in the ancient Assyrian palace of Nimrud, and a new chapter in the oldest tale ever told
The Museum of Lost Objects traces the histories of 10 antiquities or cultural sites that have been destroyed or looted in Iraq and Syria.
The ancient Assyrians were fond of protective spirits. They had sculptures of all manner of mythological creatures lining the walls of their palaces. One such sculpture was a stone relief of a genie. This was a powerful male figure - a bountiful beard and muscular thighs but with huge wings sprouting from his back. Three thousand years ago, it adorned the walls of Nimrud, one of the great strongholds of Mesopotamia, near Mosul in modern day Iraq. During the 1990s, this genie disappeared - believed to have been taken during the chaos of the first Gulf war - and ended up in London around 2002 - just before the mire of the second Gulf war. It's been kept by Scotland Yard for these last 14 years - locked in legal limbo, and unlikely to ever reemerge or return to Iraq. We explore the cost of looting to a country's cultural heritage, and tell the story of another valuable Mesopotamian antiquity that was looted, eventually uncovered, but managed to stay in Iraq. This is a tablet, and holds a new chapter from the oldest tale ever told - the Gilgamesh epic.
This episode was first broadcast on 9 March, 2016.
Presenter: Kanishk Tharoor
Producer: Maryam Maruf
Picture: Assyrian winged-genie from Nimrud
Credit: Brooklyn Museum
Contributors: Mark Altaweel, Institute of Archaeology UCL; Augusta McMahon, University of Cambridge; Mina al-Lami, BBC Monitoring; the readings are by Martin Worthington, George Watkins, and Susan Jameson
With thanks to Vernon Rapley, V&A; Sarah Collins, British Museum; Andrew George, SOAS; and John Russell Massachusetts College of Art and Design
Last on
Broadcasts

Museum of Lost Objects ‒ The Podcast
Podcast
Tracing the histories of antiquities and landmarks that have been destroyed or looted.