Main content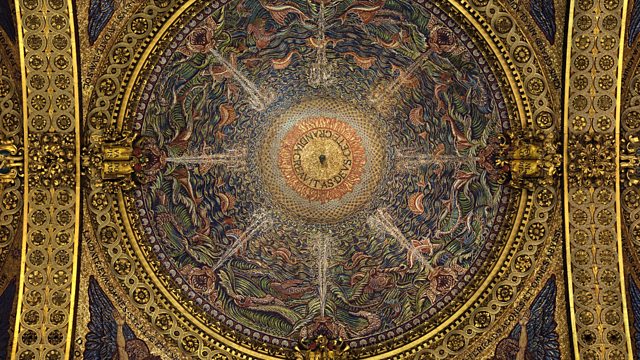 Plight of migrant children, Rabbi Lord Sacks, St Paul's Mosaic and Darwin
What needs to be done to support unaccompanied child migrants to the UK? Rabbi Lord Sacks wins the Templeton Prize, and do St Paul's Cathedral mosaics reveal support for Darwin?
The clearance of the migrant camp in Calais has raised concerns about the welfare of unaccompanied minors there. Kevin Bocquet reports on the efforts being made to offer young migrants a home in the UK.
Lord Jonathan Sacks, the former Chief Rabbi of the United Hebrew Congregations of the Commonwealth, has been awarded the 2016 Templeton Prize. He tells Edward how he plans to use the award.
A Chinese court has sentenced a Christian pastor to 14 years in jail for embezzlement after he protested about the forced removal of crosses from buildings. Martin Palmer discusses China's relationship with organised religion.
There has been uproar in Pakistan after the government executed Mumtaz Quadri, for the killing in 2011 of the Governor of Punjab for his criticism of the country's blasphemy laws. Shaaima Khalil reports from Islamabad and author Innes Bowen explains how some Muslims in the UK have reacted to the death of Quadri.
New high resolution images of the three mosaic domes of St Paul's Cathedral's Quire ceiling have gone online. Do they contain images that support Darwin's Theory of Evolution as some suggest? Darwin expert Nick Spencer has had a look.
A book out this week suggests students of applied sciences such as engineering are over represented in violent extremist groups in some Muslim countries. Steffen Hertog is co-author of 'Engineers of Jihad'.
For many families, Mothering Sunday will be a sad reminder of a stillborn baby. The Rev Lorna Hood is the former Moderator of the Church of Scotland and was a hospital chaplain for 22 years. She tells Edward why it was her work with women who had a stillborn baby that was the most challenging to her faith.
Producers:
David Cook
Helen Lee
Series Producer:
Amanda Hancox.
Chapters
Pakistan

Shaaima Khalil reports on the uproar caused by the execution of Mumtaz Quadri

Duration: 07:37

Mothering Sunday

Rev Lorna Hood talks about the challenges faced when was a hospital chaplain

Duration: 05:17

Engineers

Are engineering graduates over represented in violent extremist groups?

Duration: 05:07

Mosaics

HD images of the mosaic domes of St Paul's Cathedral's Quire ceiling have gone online

Duration: 03:55

Chinese Crosses

Martin Palmer discusses China's relationship with organised religion

Duration: 04:47

Young Migrants

Kevin Bocquet reports on the efforts being made to offer young migrants a home in the UK

Duration: 08:41

The Templeton Prize

Lord Jonathan Sacks has been awarded the 2016 Templeton Prize

Duration: 06:42