Main content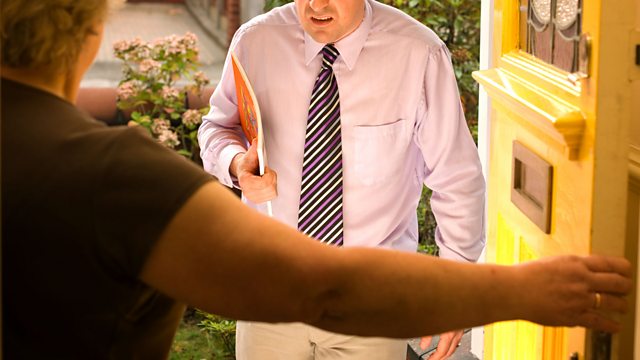 Secret salesman manual, Tesco, Social media break-ups
A look at the guide used by salesmen who conned hundreds of vulnerable people into taking out expensive loans. Plus, Tesco CEO Dave Lewis on the supermarket's efforts to cut waste.
You & Yours reveals an A-Z manual used by salesmen at a company that has been convicted of tricking customers into parting with thousands of pounds for work that could have been done at a fraction of the cost. It was used by Summit Roofguard Ltd, and details how salesmen can manipulate people into believing they have a great deal. The firm's two directors have been sentenced to two and a half years in prison for offences including unfair, misleading and aggressive commercial practices.
Tesco boss Dave Lewis speaks to reporter Samantha Fenwick about the supermarket's efforts to reduce food waste, as it rolls out a scheme in which left over food is given to charity.
Plus how social media has a way of prolonging a broken heart; the man who discovered through Google's social network that his ex-girlfriend was expecting a baby.
Presented by Peter White
Produced by Natalie Donovan.
Chapters
Trading Standards

A how to guide reveals how a company used misleading and aggressive selling practices.

Duration: 07:31

Social Media Break Ups

How Google Plus told someone that his ex was pregnant.

Duration: 06:48

Debt Management Companies

The Financial Conduct Authority shut one of them down as part of crack down on industry.

Duration: 04:51

Food & Farming Awards 2016

The judges drop in on MacLennans Supermarket on the Isle of Benbecular.

Duration: 04:48

Tesco

Tesco boss Dave Lewis talks about how waste food is now going to charity.

Duration: 06:36

Energy Market

Round up of the week's major energy stories.

Duration: 06:25