Main content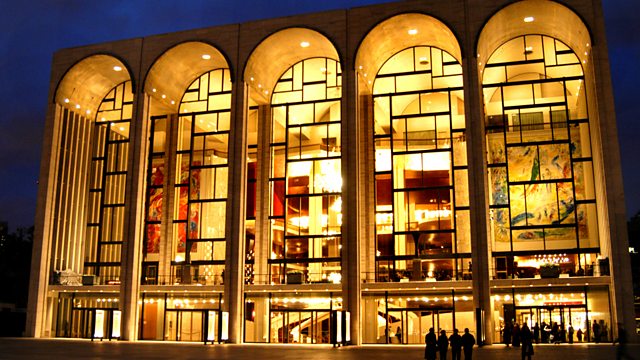 Puccini's Manon Lescaut
Live from the Metropolitan Opera, New York, a performance of Puccini's opera Manon Lescaut, starring Roberto Alagna and Kristine Opolais. Conducted by Fabio Luisi.
Puccini: Manon Lescaut
Presented by Loren Toolajian, with Ira Siff
Manon Lescaut ..... Kristine Opolais (soprano)
Des Grieux ..... Roberto Alagna (tenor)
Lescaut ..... Massimo Cavaletti (baritone)
Geronte ..... Brindley Sherratt (bass)
Edmondo ..... Zach Borichevsky (tenor)
Hotel manager ..... Philip Cokorinos (bass-baritone)
A musician ..... Virginie Verrez (mezzo-soprano)
Dancing master ..... Scott Scully (tenor)
A sergeant ..... Brandon Cedel (bass-baritone)
Street sweeper ..... Andrew Bidlack (tenor)
Sea captain ..... Richard Bernstein (bass)
Madrigal singers ..... Maria D'Amato, Christina Thomson Anderson, Stephanie Chigas, Rosalie Sullivan
The Chorus of the Metropolitan Opera, New York
The Orchestra of the Metropolitan Opera, New York
Fabio Luisi (conductor)
Outside an inn in Amiens, the young student Des Grieux meets Manon, who is on her way to a convent on the orders of her parents. The pair fall in love and escape to Paris. However, in Paris, Manon's head is turned as the elderly Geronte offers her a life of wealth and luxury, but she soon regrets her decision to exchange love for money with heartbreaking consequences.
"Desperate passion" is how Puccini described his third opera and first huge success, taking 50 curtain calls at its premiere. Soprano Kristine Opolais sings the role of Manon, and star tenor Roberto Alagna the dashing student who woos her. The Met Principal Conductor Fabio Luisi leads the sumptuous score, in Director Richard Eyre's new production, live from the Metropolitan Opera, New York.
Synopsis
ACT I
France, the 1940s. A square in Amiens. Edmondo, a songwriter, and his student companions flirt with some factory girls. His friend, des Grieux, also a student, stays apart from them. A coach arrives, bringing Geronte, a tax collector, and Lescaut, a soldier, who is accompanying his younger sister, Manon. Des Grieux falls in love with her at first sight, finds out that her father is sending her to a convent, and makes plans
to prevent this from happening. But Geronte, with Lescaut's connivance, intends to abduct Manon. Edmondo overhears his plans and warns des Grieux, who escapes with Manon to Paris. Lescaut consoles Geronte by telling him that Manon will not stay long with a student and that he will bring her back to him.
ACT II
A house in Paris. Manon has left des Grieux and is living a life of luxury with Geronte. She's bored and her brother promises to arrange for des Grieux to visit her. Some singers serenade Manon with a madrigal written by Geronte. Then she dances and sings for him and his friends. When they leave she tells Geronte that she will follow shortly, but des Grieux appears and Manon starts to seduce him. Geronte interrupts their lovemaking, chillingly threatens the two of them, and leaves, telling them he will return soon. Lescaut runs in, warning the lovers that Geronte is going to get Manon arrested and that she must escape. She delays, trying to collect her jewellery, but is arrested before she can escape.
INTERMEZZO
Imprisonment: The journey to Le Havre. The thoughts of des Grieux.
ACT III
Outside a prison in Le Havre by the harbour. Dawn. Des Grieux waits outside the prison where Manon is held. Lescaut bribes a sentry to allow his sister to spend time with
des Grieux, while he organizes a group to enable her escape. The effort fails, a shot is fired. Townspeople run in. The soldiers restore order and the captain of the ship processes Manon and the other prisoners—mostly prostitutes—before they are deported. In desperation des Grieux grabs Lecsaut's weapon and threatens the captain, who faces him down. Des Grieux pleads with the captain to be allowed to sail with them as one of the crew.
ACT IV
A desert. Des Grieux and Manon are on the run. They are at the end of their strength, collapsing from thirst and exhaustion. Des Grieux leaves Manon, searching for water. When he returns, he finds her dying. In her last breath she says she loves him.
- With thanks to Metropolitan Opera, New York