Main content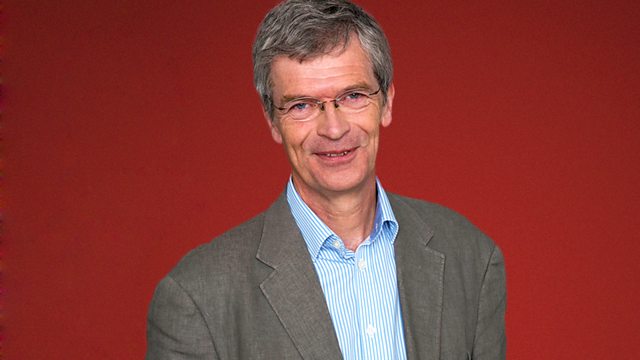 05/03/2016
In this week's selection of listeners' requests, Alyn Shipton presents music by two great names in the jazz of the late 20th century, the innovative vibraphone player Bobby Hutcherson and pianist McCoy Tyner.
Performers:
Artist  Count Basie
Title  How High The Moon
Composer Lewis, Hamilton
Album  Mustermesse, Basel, 1956, Vol, 2
Label  TCB
Number  02202 Track 2
Duration  4.15 start 0.10 on strong piano chord; EOM 4.08
Performers: Reunald Jones, Wendell Culley, Thad Jones, Joe Newman, t; Bill Hughes, Henry Coker. Benny Powell tb; Marshall Royal, Bill Graham, Frank Wess, Frank Foster, Charlie Fowlkes, reeds; Count Basie, p; Freddie Green, g; Eddie Jones, b; Sonny Payne, d. 28 Sep 1956
Artist  Lester Young with Una Mae Carlisle
Title  Beautiful Eyes
Composer Snyder, Whiting, DeHaven
Album  Lester Young Story
Label  Proper
Number  Properbox 8 CD 2 Track 11
Duration  3.06
Performers Una Mae Carlisle, v; Shad Collins, t; Lester Young, ts; Clyde Hart, p; John Collins, g; Nick Fenton, b; Doc West, d. 10 Mar 1941

Artist  Coleman Hawkins (with the Mound City Blue Blowers)
Title  Hello Lola
Composer McKenzie / Means
Album  Body and Soul
Label  Marshall Cavendish
Number  CD021 Track 1
Duration  3.15
Performers Red McKenzie, kazoo, Glenn Miller, tb; Pee Wee Russell, cl; Coleman Hawkins, ts; Eddie Condon, bj; Jack Bland, g; Pops Foster, b; Gene Krupa, d. 4 Nov 1929.

Artist  Humphrey Lyttelton
Title  Cakewalking Babies
Composer Williams / Smith / Troy
Album  Delving Back With Humph 1948-49
Label  Lake
Number  LACD 72 Track 3
Duration  2.57
Performers Humphrey Lyttelton, t; Harry Brown, tb; Wally Fawkes, cl; George Webb, p; Neville Skrimshire, g; Les Rawlings, b; Dave Carey, d. 2 Dec 1948

Artist  Bessie Smith
Title  St Louis Blues
Composer Handy
Album  Complete Recordings
Label  Sony / Columbia
Number  88725 403102 / 3 Vol 2 CD 1 Tr 17
Duration  3.10
Performers Bessie Smith, v; Louis Armstrong, c; Fred Longshaw, harmonium, 14 Jan 1925.

Artist  Acker Bilk
Title  Caravan
Composer Ellington, Tizol, Mills
Album  In Concert 1968
Label  Lake
Number  121 Track 7
Duration  4.04
Performers Al Fairweather, t; John Mortimer, tb; Acker Bilk, cl; Bruce Turner, as; Tony Pitt, g; Stan Greig, p; Tucker Finlayson, b; Ron McKay, d. 1968.
Artist  Alan Haven
Title  What's New
Composer Haggart
Album  Live at Annie's Room
Label  Fontana
Number  STL 5322 Track 1
Duration  3.00
Performers Alan Haven, org; Tony Crombie, d. 1966.

Artist  Dick Hyman / Dick Wellstood
Title  Who?
Composer Harbach / Hammerstein / Kern
Album  Stridemonster
Label  Sackville
Number  Track 4
Duration  5.57
Performers Dick Hyman / Dick Wellstood, p. 1986.

Artist  Bobby Hutcherson
Title  Old Devil Moon
Composer Lane / Harburg
Album  Solo / Quartet
Label  Contemporary
Number  S-14009 Track 5
Duration  7.52
Performers: Bobby Hutcherson, vib; McCoy Tyner, p; Herbie Lewis, b; Billy Higgins, d. Feb 1982.

Artist  Phil Woods
Title  Falling
Composer Beck
Album  Live at Montreux 72
Label  Verve
Number  424549-2 
Duration  8.40
Performers: Phil Woods, as; Gordon Beck, p; Ron Mathewson, b; Daniel Humair, d. 1972

Artist  John Hallam
Title  Everything But You
Composer Ellington, James, George
Album  Deep Purple
Number  Track 10
Duration  4.34
Performers: John Hallam, bcl; Tom Kincaid, p; ?b; ? d.

Artist  Marian Montgomery with Mart Rodger
Title  Love me or leave me
Composer Donaldson / Kahn
Album  Makin' Whoopee
Label  Bowstone
Number  OWSCD 2602 Track 17
Duration   3.43
Performers Marian Montgomery and Mart Rodger's Manchester Jazz band.