Main content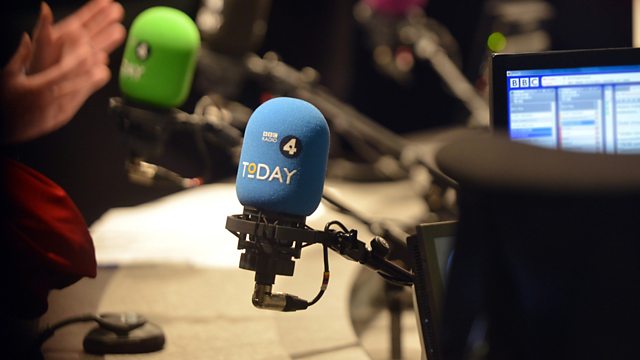 05/03/2016
Morning news and current affairs. Including Yesterday in Parliament, Sports Desk, Weather and Thought for the Day.
Last on
Today's running order
0710
We start with a very big decision by the Chancellor, not a U turn exactly because there wasn't a formal commitment to ditch the pension tax relief system, but nonetheless it had been seriously considered. Our political correspondent Chris Mason reports.
0713
The European commissioner responsible for refugees says that Greece has been overrun and overwhelmed by migrants. Our Europe reporter Gavin Lee is on the Greece-Macedonian border.
0715
If you have a relative in a care home suffering from dementia you will know only too well the challenges that they and the staff of the home face. A report from the organisation Marie Curie, published in the journal Dementia, suggests that the homes need more help. We hear from Dr Liz Sampson, from the Marie Curie Palliative Care Research Department at University College London and co-author of the research.
0720
China is aiming to become a world leader in advanced industries: semiconductors robotics, aviation equipment and satellites, and yet at the same time it's planning to cut down on internet freedom for its own citizens. How long can they live with the contradictions of their effort to modernise yet stay the same, and can they keep their economy from crashing like their stock market? In Beijing, nearly three thousand delegates are gathering for China's National People's Congress for its annual ten day session. Our world affairs editor, John Simpson, is in Beijing and has been reflecting on the state of China today. 
0730
After nearly five years of fighting and suffering for Syria's desperate people the truce that came into effect a week ago appears to be holding at least for the moment. Our Chief International Correspondent Lyse Doucet is in Damascas.
0740
Today we are launching a new regular Saturday slot; Meet the Author, where Jim Naughtie will be interviewing a range of writers. So to kick off the series, here's Jim with Neil Jordan, the Oscar-winning, Irish director who is best known for his ground breaking films The Crying Game and The Company of Wolves, but who has just published his new novel?
0750
Scarcely a week seems to go by these days without someone somewhere reporting yet another cure for cancer, or at least holding out the prospect that we're just on the brink of finding one. Everyone knows cancer has always been with us and always will be. After all, there are so many forms of the disease and yet why should we regard it as invincible? Various American presidents (including Obama) have promised it will be beaten. We hear from Pam Kearns, a Professor of Paediatric Oncology directing clinical trials at the University of Birmingham, and Professor Raj Chopra, Head of Cancer Therapeutics at the Institute of Cancer Research and Royal Marsden Hospital.
0810
There were two plans being considered by the Chancellor for the future of pensions. The most radical was a pensions ISA system where you got no tax relief on what you put in, but you paid no tax when you took the savings out. That would be a big short term tax revenue boost for the government. Less radical would have been changes that simply reduced pension tax relief for better off people; at the moment of course the better off you are the more you benefit because you get the tax relief at the top rate you pay tax. Today we are being told, in an unusual piece of pre-budget briefing, that they are off the table. No change in pension rules after all. We hear from Conservative MP for Wyre Forest and member of the Treasury Select Committee Mark Garnier, and Mick McAteer, Director of the Financial Inclusion Centre a campaigning organisation.
0818
It is eighty years to the day since the first test flight of the Spitfire. We speak to John Romaine, a pilot, engineer and owner of the Aircraft Restoration Company; he restored the Spitfire being flown today in Southampton.
0821
Back in the seventies, there were 12,000 launderettes in Britain. Now there are only 3,000 left and the Green Party's candidate for London mayor, Sian Berry says they need protecting. She says relaxed local planning laws are allowing developers to buy them and change their use. From a launderette here's our reporter Zoe Conway.
0830
The next few days may see the beginning of the end of the great migration crisis. Perhaps even that cautious assessment is too optimistic but there is at least a glimmer of hope that the various meetings of leaders this weekend and the continuing ceasefire in Syria may hold out some promise. European leaders are holding a summit with Turkey on Monday to try to sort out the mess that is the EU's migration policy. They may be closing in on a deal to try to return all non-Syrians who arrive on the Greek islands directly to Turkey, at current rates of arrival that could be about 50% of the total. But it is the kind of deal that may be easier to agree than to implement. Our Europe Correspondent Chris Morris reports from Mytilene, the main town on the island of Lesbos, where at least a thousand refugees and migrants continue to arrive almost every day. We also hear from Dimitris Avramopoulos, the EU Commissioner for Migration.
0845
More than seventy health experts and doctors caused a stir on Wednesday when they published an open letter calling for a ban on tackling in rugby played in schools. The co-author of the letter Professor Allyson Pollock appeared on this programme to argue the contact element of the game were too dangerous for children. But what do coaches think and should things change? The BBC's Bob Walker has been speaking to a couple of young players at Fernwood School in Nottingham. We hear from Adam White, executive committee member of England Rugby's Football Schools' Union, and former coach for schools, and Nick Gandy, Director of Sport at Hymers College in Hull, he's a Rugby Union coach for the Under 13s.
0850
The Norwegian author Karl Ove Knausgaard and the enigmatic Italian novelist Elena Ferrante are leading the charge of European authors who have found great success with English readers. Both authors are feted for their raw, lifelike depictions of character. While Knausgaard explores the nature of masculinity, Ferrante's novels focus on the theme of female friendship. Could these books give readers new insights into the opposite sex? We are joined in the studio by authors Kathy Lette and Tim Lott.
Broadcast