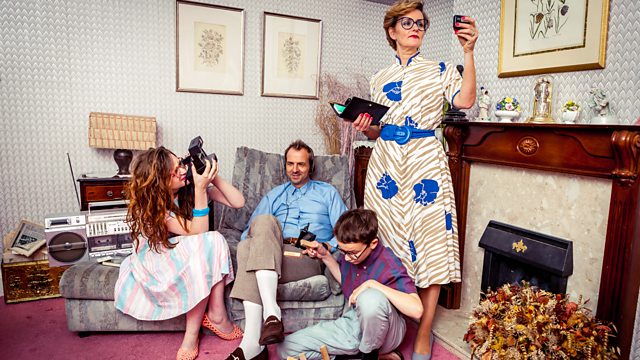 Like many modern families, the Ashby-Hawkins home is stuffed full of tablets, computers, phones and gadgets to distract them in their spare time. But for one summer, they agreed to give up all their 21st-century technology and travel back in time to discover the radical transformation of our leisure time since 1950.
The family's own home becomes their time machine as they are transported back to a different decade each week. Guided by presenters Giles Coren and social historian Polly Russell, the family's entire experience is underpinned by the Family Expenditure Survey, a government study which ran from the 1950s right through to 1999. The survey's detailed spending records give us the best possible clue as to what families were doing with their leisure time across the five decades.
The family embrace the 80s, where TV and shopping dominated our leisure time. It is also the decade where technology arrives in our homes in a significant way. Kids Daisy and Seth are thrilled by the new VCR and home computer, and there is even a pager for Steph, who is now a shoulder-padded 80s businesswoman. Dad Rob has got plenty to occupy him - when he is not trying out the kids' CB radio, his home sunbed, or having his highlights done, he is shopping for a Don Johnson makeover with 80s fashion guru Caryn Franklin. But what does the arrival of all this stuff mean for family life?
Last on
Credits
| Role | Contributor |
| --- | --- |
| Presenter | Giles Coren |
| Expert | Polly Russell |
| Executive Producer | Emily Shields |
| Series Producer | Nancy Bornat |
| Director | Tom McCarthy |
| Producer | Tom McCarthy |
| Production Company | Wall to Wall Media |