Main content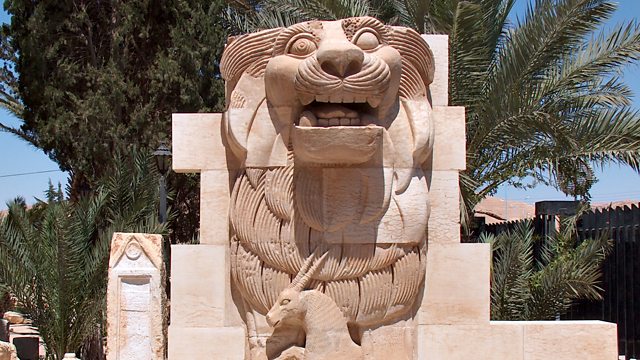 The Lion of al-Lat
The fearsome 2,000-year-old statue, regarded as one of the symbols of Palmyra.
The Museum of Lost Objects traces the histories of 10 antiquities or cultural sites that have been destroyed or looted in Iraq and Syria.
The Lion of al-Lat was a protective spirit, the consort of a Mesopotamian goddess. This 2,000 year old statue was one of the first things the so-called Islamic State destroyed when they took Palmyra in 2015. The Polish archaeologist Michal Gawlikowski recalls discovering the lion during an excavation in the 1970s, and we explore the wider symbolism of lions and power and how this was appropriated by modern rulers including Bashar al-Assad's own ancestors.
Contributors: Michal Gawlikowski, Warsaw University; Zahed Tajeddin, artist and archaeologist; Augusta McMahon, University of Cambridge; Lamia al-Gailani, SOAS
Presenter: Kanishk Tharoor
Producer: Maryam Maruf
Picture: Lion of al-Lat
Credit: Michal Gawlikowski
With thanks to Sarah Collins of the British Museum.
Museum of Lost Objects ‒ The Podcast
Podcast
Tracing the histories of antiquities and landmarks that have been destroyed or looted.