Main content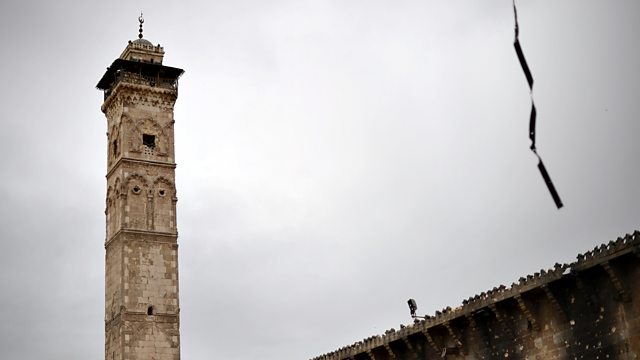 Minaret of the Umayyad Mosque, Aleppo
The unique and famous minaret of Aleppo's Great Mosque, which is now only a waterfall of rubble.
The Museum of Lost Objects traces the histories of 10 antiquities or cultural sites that have been destroyed or looted in Iraq and Syria.
Since 2012, Aleppo - Syria's largest city - has been a key battleground in the conflict, and hundreds of its residents killed or displaced. Aleppo, thought to be the oldest city in the world, is now left in ruins. One of the great monuments of the city was the minaret of the Umayyad Mosque (also known as the Great Mosque) which was toppled in April 2013. It's still unclear who was responsible - Syrian government forces and rebels blame each other. We tell the story of the minaret, a world heritage site that was connected to that other great Aleppo landmark, the souk.
Contributors: Nasser Rabbat, Massachusetts Institute of Technology; Zahed Tajeddin, artist and archaeologist; Heghnar Watenpaugh, University of California Davis; Jalal Halabi, photographer; Will Wintercross, Daily Telegraph
Presenter: Kanishk Tharoor
Producer: Maryam Maruf
Picture: Minaret of the Umayyad Mosque
Credit: Getty
With thanks to Haider Adnan of BBC Arabic, Elyse Semerdjian of Whitman College, and Aya Mhanna.
Museum of Lost Objects ‒ The Podcast
Podcast
Tracing the histories of antiquities and landmarks that have been destroyed or looted.