Main content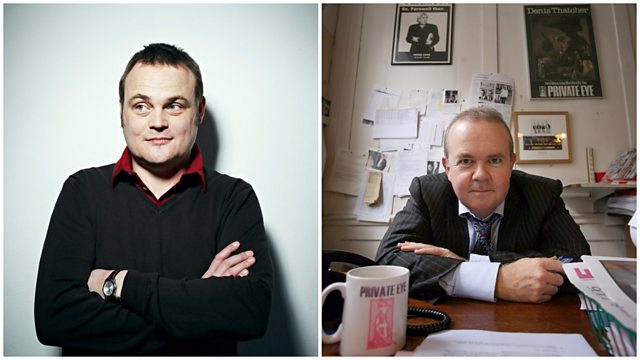 Al Murray interviews Ian Hislop
Al Murray, creator of the Pub Landlord, passes the baton to comedian and satirist Ian Hislop.
Series 11 of the show where one week's interviewee becomes the next week's interviewer. The first episode of Chain Reaction was broadcast on BBC Radio Five in 1991 when John Cleese was the first comedian in the hot seat. Now, 25 years on, a new series sees another raft of the world's best-loved comedians talking to each other about their lives and work. This week, Pub Landlord creator, Al Murray passes the baton to the comedian and satirist Ian Hislop.
After an early foray into stand-up as a character called 'The Murderer', Al Murray created his famous Pub Landlord character in the mid nineties as part of a touring show with Harry Hill. The Pub Landlord went on to tour venues and festivals worldwide before making his own chat show and sitcom for Sky. Outside of the Pub Landlord, Al is well known as a presenter of history documentaries and more recently as a candidate for parliament when he stood against Nigel Farage in South Thanet during the UK General Election of 2015.
Al's guest Ian Hislop is much more used to the cut and thrust of British politics both as a long-standing team captain on 'Have I Got News for You' and as the editor of satirical magazine Private Eye. As a dedicated fan and student of history, he has made several acclaimed documentaries on wide-ranging subjects including conscientious objectors and The Beeching Report.
Al grills Ian on his early days writing for such comedians as Harry Enfield, asks how we should define the role of the satirist and poses the intriguing question, 'what's it like being sued?'
Producer: Richard Morris
A BBC Radio Comedy Production.