Main content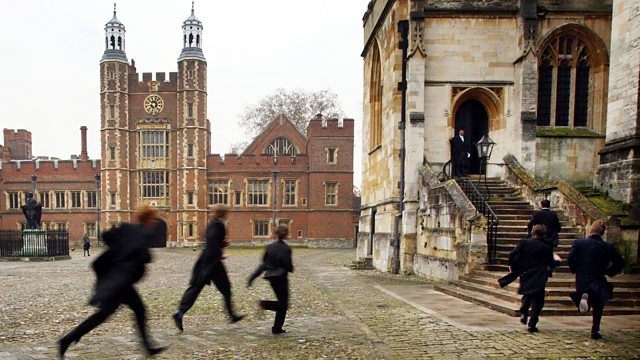 An Eton Experience
Penny Marshall meets some of those applying for places at Eton and top independent schools and follows them as they prepare for exams that could change the course of their lives.
Pupils at the Newham based Forest Gate Community School have been inspired by the success of former pupils like Ishak Ayiris, who won a coverted scholarship place in the Eton sixth form. It's a success story his parents could hardly imagine: Dad was a care worker until he got ill and Mum had been a baker before leaving Ethiopia but had struggled to learn English because of a hearing problem. Currently, Eton spends £6.5m on means-tested bursaries, with 73 of the 1,300 pupils have their entire fees paid.
Headmaster Simon Henderson wants more bursaries for boys from disadvantaged backgrounds, so that anyone with the necessary talent can be financially supported at the £35,000-a-year school. Penny joins him and some of the pupils to find out what they hope to gain from the experience. The transition can be a difficult period and some struggle with the move from state schools in run down areas an institution which has educated 19 British prime ministers, including the present incumbent.
It is a difficult area for heads like Simon Elliott at Forest Gate: on the one he wants his pupils to am high, but on the other he is keen that standards across state schools are constantly improving. With his school having no sixth form there is a chance to offer a real alternative and each year he establishes a small group of very bright youngsters whose own parents are on limited incomes. By working with them to broaden their cultural and social experiences he believes he can better prepare them for the rigorous entrance exams and interview process in the indepedent sector. At the same time he is keen that they consider the state school alternatives and is interested in finding out what they eventually opt for.
Last on
Broadcast